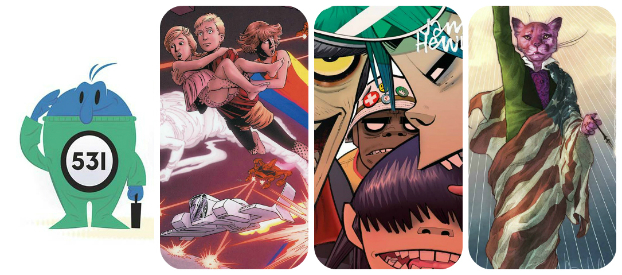 It's Wednesday, and you know what that means: a fresh load of comics and graphic novels! With so many publications hitting your local comics store, comics events or digital storefront, the BF team are here to lead you through the woods with our weekly staff picks. Satisfaction guaranteed!
Comic of the Week
I Am a Number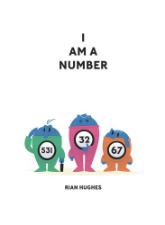 The influence of Rian Hughes in the comics world goes far beyond the number of pages he has turned in. Perhaps we shouldn't judge books by their covers, but for upwards of three decades now, Hughes has gone as far as anyone in transitioning comics from ephemeral toot into objects of desire you're happy to leave lying casually around the gaff. So, it comes as a bit of surprise that it's taken him until now to cook up his first solo graphic novel.
Patrick McGoohan might have been keen to stress that he wasn't a number in The Prisoner, but in this age of social media, those little digits ticking over in the corner of our posts are the currency in which a lot of us find ourselves measuring our worth. The silent vignettes in Hughes's hardback book depict – with his trademark visual wit and fluidity – a world in which the number you wear on your chest is all important, and where the hand of fate or misguided ambition can send you whizzing up and down the social rankings.
As polished and exquisitely executed as you'd expect, I Am a Number highlights the full skillset wielded by one of the most consistently inventive players in the game of graphic design.
Rian Hughes (W/A) • IDW Publishing/Top Shelf Productions, $19.99
– Tom Murphy
Exit Stage Left: The Snagglepuss Chronicles #1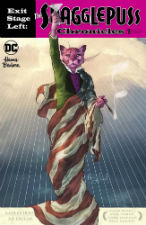 Mark Russell's take on The Flintstones was one of the surprise critical hits of 2016-17 with its inventive satirical take on the original cartoon capturing the true essence of the modern Stone Age family with a biting and contemporary wit. We enjoyed it so much here at Broken Frontier that Russell and Steve Pugh's efforts on the book were among one of the nominees in our recently concluded Broken Frontier Awards for 2017.
Joined by artist Mike Feehan, Russell's latest project in DC's line of comics based on animated projects re-imagines Hanna-Barbera character Snagglepuss and follows up on the short back-up in last year's Suicide Squad/Banana Splits Special. Set during the Cold War tensions of the 1950s, this version recasts Snagglepuss as a gay playwright and Broadway hit who finds himself being investigated by the House Committee on Un-American Activities.
If that sounds too radical a re-interpretation remember that similar concerns were expressed when The Flintstones was announced a couple of years back. This could well prove to be one of the sleeper hits of the year.
Mark Russell (W), Mike Feehan (A) •  DC Comics, $3.99
– Andy Oliver
Nemo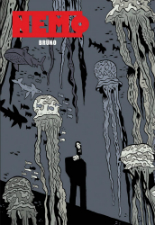 Published in 1870, 20,000 Leagues Under the Sea established itself as a compelling commentary on the Industrial Revolution's impact on the planet, and its message remains relevant 148 years later. Required reading for science fiction fans, Verne's Captain Nemo is an archetype of purpose and devotion to one's cause—and a character ahead of his time. His convictions and moral ambiguities cast him simultaneously as hero and villain; however, Nemo walks freely through the grey areas and refuses to be categorized in so simplistic a fashion as black or white.
Writer and artist Brüno provides a fresh retelling of Verne's epic adventure in Nemo, released as a hardcover graphic novel this week by IDW Publishing. One of my favorite traits of the graphic storytelling format is its ability to grant a fresh take to the familiar, literally transforming something old into something new, and Brüno's eclectic visual style should bring the ocean depths and their most famous denizen to life as never before.
I'm anticipating a nuanced B.P.R.D. vibe to the book, with characters of uncompromising conviction and roaming leviathans underscoring the peril of every moment spent at sea. Enjoy!
Brüno (W/A) • IDW Publishing, $19.99
– Karen O'Brien
Inside the Mind of Jamie Hewlett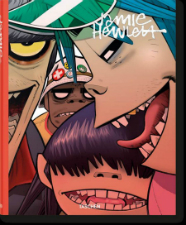 Back in the analogue days of the late 1980s, the arrival of Deadline ("The style magazine for underachievers") onto the shelves of the UK's unsuspecting newsagents marked something of a watershed. The magazine was soon synonymous with a style of high-energy, irreverent, pop-culture-dripping comics that rapidly became unavoidable in the small press. It also marked the propulsion into stardom of Jamie Hewlett, artist and co-creator of the mag's breakout hit, Tank Girl.
When Hewlett ended up in a flatshare with Blur warbler Damon Albarn (after interviewing him for the magazine), the blue touchpaper was lit on a creative partnership that soon went stratospheric. The pair created the enormously successful 'virtual band' Gorillaz, collaborated on an elaborate stage musical (Monkey: Journey to the West) and trousered a BAFTA award for their animation work on the BBC's coverage of the 2008 Beijing Olympics.
Jamie Hewlett's trajectory might have drifted slightly out of the orbit of Planet Comics, but this handsome lump of a book, including work from all stages of his career, provides the opportunity to dive deep into the output of one of our most mercurial talents, whose work always expresses exuberant pleasure in the act of drawing.
Jamie Hewlett (A), Julius Wiedemann (Ed) • Taschen, £40
– Tom Murphy
Power Pack Classic Vol. 1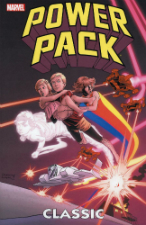 The 1980s was, arguably, the last great decade for original characters in Marvel and DC's super-hero universes. Thereafter, understandably, creators became far more savvy about giving up unique concepts as work-for-hire. A situation that, no doubt, has played its part in the last couple of decades of endlessly recycled storylines and creative dead ends for both fictional realities.
Power Pack is one of the true neglected gems of the '80s. The book's premise revolves around four pre-teen children bequeathed fantastic powers by a dying alien who find themselves caught up in the plans of the intergalactic invaders the Snarks and, eventually, encounter a whole host of Marvel Universe villains and guest stars. All the while trying to keep their new lives as super-heroes from their parents…
Mixing social commentary – the book tackled a number of issue-led storylines with sensitivity and nuance – and science fantasy, Louise Simonson and June Brigman's fondly remembered series was also a touching celebration of family. Other creators have attempted to put their spin on the characters since but they've either been the palest of imitations or completely missed the point and heart of the comic. Revisit the first ten issues of the Power family's adventures in this new reprint of Power Pack Classic Vol. 1.
Louise Simonson (W), June Brigman (A) • Marvel Comics, $24.99
– Andy Oliver