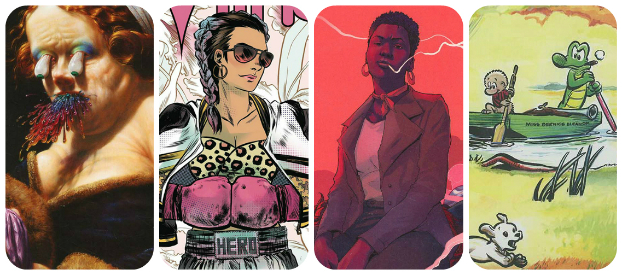 It's Wednesday, and you know what that means: a fresh load of comics and graphic novels! With so many publications hitting your local comics store, comics events or digital storefront, the BF team are here to lead you through the woods with our weekly staff picks. Satisfaction guaranteed!
Comic of the Week
Mine!: A Celebration of Freedom and Liberty for All Benefitting Planned Parenthood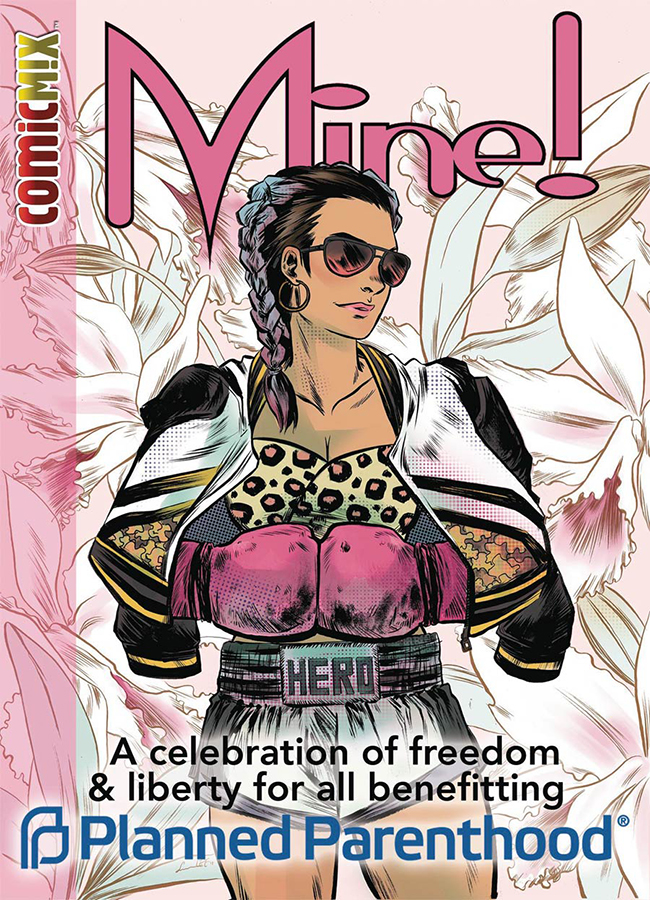 A worthy cause tends to bring people together and that certainly proved to be the case with this benefit anthology collecting the work over 150 creators with all proceeds donated to Planned Parenthood.
The immense pool of talent ranges from up-and-comers to Eisner, Harvey, Oscar and even Emmy award winning creators telling stories about trailblazing women, civil rights leaders, first visits to a PP clinic, and informational pieces debunking myths about sex and pregnancy. They include among many others Soo Lee, Vita Ayala, Mary Fan, Glenn Greenberg, Liana Kangas, Diana Leto, Stuart Moore, Mindy Newell, Denny O'Neil, Will Rosado, Sheilah Villari, Magdalene Visaggio, and Mark Wheatley.
I attended their their initial release party earlier this month. You can read the coverage here. And if you happen to be in the NY/NJ area, some of the creators will be at East Side Mags this weekend.
Anthology – Various creators (W/A) • ComicM!x, $24.95
– Tyler Chin-Tanner
Pogo Complete Syndicated Comic Strips Box Set Vol. 3 & 4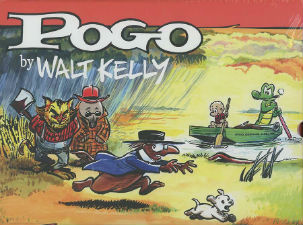 Beginning its life as a daily newspaper strip in 1948 and continuing until 1975, Walt Kelly's funny animal comic Pogo laid its roots in the Okefenokee Swamp of the Georgia-Florida state line, where the titular possum and an ever-expanding cast of critters charmed readers of all ages with their rich personalities, sprightly physicality, witty wordplay, and distinctive Deep South patois.
Now presented in a deluxe collectors' box set, Volumes 3 & 4 of the Complete Syndicated Comic Strips meticulously restore all the daily Pogo strips from 1955 and '56, which notably demonstrate Kelly's flair for political allegory with the introduction of the insidious wildcat 'Simple J. Malarkey' (caricaturing a certain Senator Joseph McCarthy) and his nemesis the 'Rhode Island Red' hen.
Edited and designed by Walt's daughter Carolyn Kelly, and extensively annotated by comics historian R. C. Harvey, the exploits of Pogo and his friends in these colourful volumes are ever current and well worthy of this special slipcase treatment from Fantagraphics.
Walt Kelly (W/A) • Fantagraphics Books, $75.00
– Ally Russell
Now #2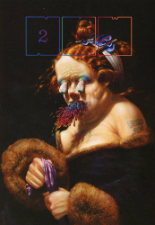 Nominated as Best New Series in our recent Broken Frontier Awards for 2017, Fantagraphics' Now has seen a welcome spotlight shone on the concept of the indie showcase anthology. Featuring 120 pages of material from an international array of creative talent this second issue is packaged in an immediately eyecatching cover by Christian Rex Van Minnen.
Inside look for work from the likes of Dash Shaw, Sammy Harkham, Tommi Musturi, Conxita Herrero, Joseph Remnant and so many more. Publications like this are a brilliant and informative stepping stone into the work of boundary-pushing creators. A vitally important purchase to pick up in your LCS this week.
Anthology – Various Creators • Fantagraphics Books, $9.99
– Andy Oliver
The Lie and How We Told It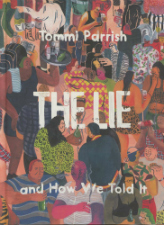 Australian illustrator Tommi Parrish's atmospheric painted comics are all rounded forms, rich colour and pattern (as if Yinka Shonibare took on Henry Moore), musing on pulsingly contemporary themes with a deadpan grace that is at the same time breathtakingly sensitive and on the money. So it's pretty exciting to see their first graphic novel for Fantagraphics deep dive on a single relationship we are probably all pretty familiar with – the once good friendship. This promises to be a bittersweet, head-messing visual treat.
Tommi Parrish (W/A) • Fantagraphics Books, $24.99
– Jenny Robins
Abbott #1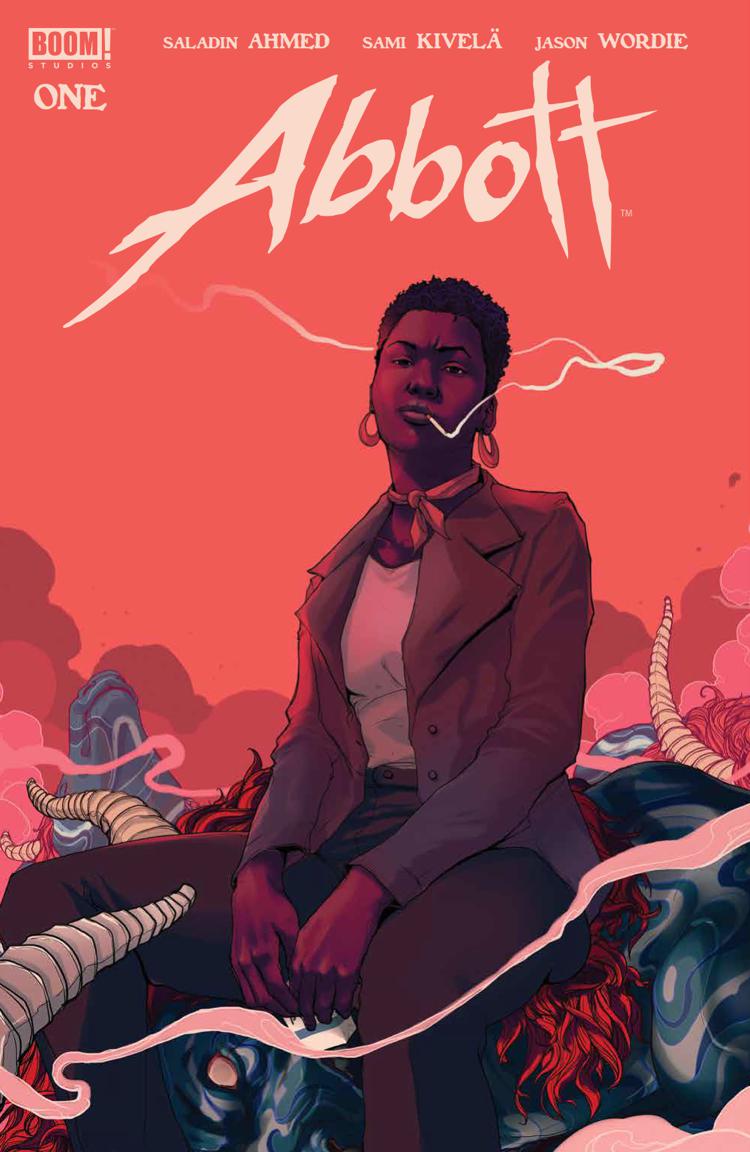 Hugo Award-nominated writer Saladin Ahmed (Black Bolt) has had a busy year. His novelette, 'Rules of the Game' is the first of four stories in Star Wars: Canto Bight, the latest book in the Star Wars line associated with Episode 8. It's a delightful tale of a vacationing rube lost in the bright city and the unexpected path his well-earned holiday takes. (I highly recommend the book for Star Wars die-hards.)
Taking a 180-degree turn from the glimmering lights of Canto Bight is the dark and gritty setting of 1972 Detroit in Abbott #1. Tabloid reporter Elena Abbott is a chain-smoking, hard-nosed reporter following a series of grisly murders that the police have dismissed as unrelated. But Abbott knows that these are the work of the same occult forces that killed her husband, and she won't stop until she uncovers the truth.
The tumultuous social climate of Detroit sets the stage for a gritty mystery with a dangerous dash of occult underpinnings that seem ideally suited to Sami Kivelä's (Beautiful Canvas) artistic style. Kivelä's clever page layouts and "camera" angles are pure '70s gold, and Ahmed's well-paced script keeps the action flowing and the period dialogue snappy.
Saladin Ahmed (W), Sami Kivelä (A) •  BOOM! Studios, $3.99
– Karen O'Brien
Only the End of the World Again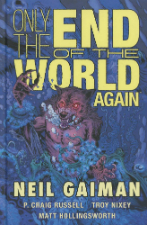 An adaptation of Neil Gaiman's genre mash-up short story Only the End of the World Again that poetically combines Lovecraft's aquatic apocalypse with a classic PI mystery vibe and a gruesome werewolf protagonist, first published in comic form in Oni Double Feature #6-8 in 1998 this new hardback edition includes every single page of P. Craig Russell's page layouts and Troy Nixey's inked pages, thus effectively giving you the story 3 times over.
Worth a look for this insight into the production process, but much more so for the joyful juxtaposition of the banal and macabre that is turned up to 11 in the prose and pacing of the story. A shamelessly pulpy yet at the same time wry take on some classic themes.
Neil Gaiman and P. Craig Russell (W), Troy Nixey and P. Craig Russell (A) • Dark Horse Comics, 
– Jenny Robins