As so much previously uncollected, or otherwise near impossible to find, vintage material has become available in print compilations over the last decade or so, it hasn't always been the more obvious work that has been the greatest joy. Sometimes that comes from the unexpected discovery of sequential art of which the reader may not have been so aware; comics that give extra insights into the creativity and practice of a respected artist. Scoop Scuttle and His Pals: The Crackpot Comics of Basil Wolverton is one such volume, with strips that prioritise outlandish characters and slapstick antics over the sci-fi/horror tales and the grotesquely caricatured characters he focussed on elsewhere.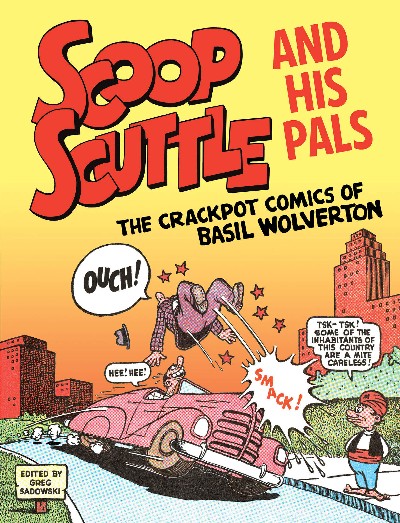 Brought together by Fantagraphics, and edited by Greg Sadowski, Scoop Scuttle and His Pals was nominated in our most recent Broken Frontier Awards in the Best Collection of Classic Material category. Restored from their original cheap presentation values these strips feature Wolverton characters Scoop Scuttle, Mystic Moot, Bingbang Buster and Jumpin' Jupiter, whose previous lives in print were largely as back-ups strips in periodical comics of the 1940s and 1950s.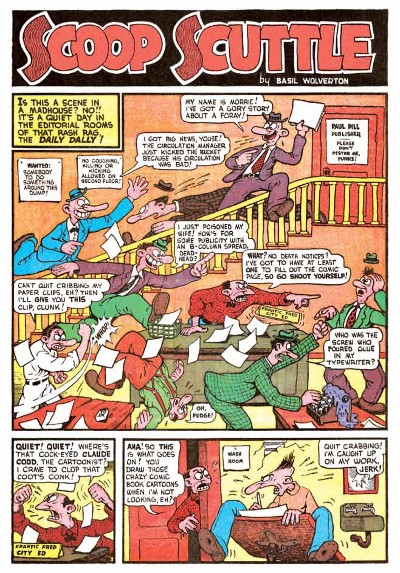 The bulk of the content herein is the eponymous Scoop Scuttle comics detailing the misadventures of the reporter alliteratively described in such gently deprecating terms as "The Daily Dally's Dippiest Dirt Digger" and the "Screwball Scribbler". Scoop's journalistic successes are usually happy accidents while he mostly blunders through his reporting assignments. Replete with gurning characters, energetic cartooning and packed with supplementary visual gags, each story is an example of beautifully paced comic build-up. There's one parody of Nazi Germany which is of particular note in a historical context.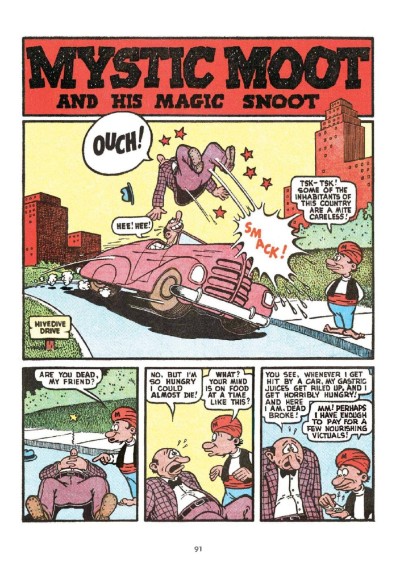 The highlight of these strips are the scenes where Wolverton gets to play with character interaction within a larger yet confined environment. A full-page sequence in the opening story, for example, with a one-panel shot of Scoop's newspaper offices with individual cast members' activities overlaid in individual panels, or a later similar courtroom segment.
Also reprinted herein are the magical exploits of Mystic Moot and His Magic Snoot starring an unlikely wizard whose magical powers are located in his nose. This is a premise that allows Wolverton's fearsomely inventive imagination to shine through in increasingly more unlikely scenarios. Crossing genres Bingbang Buster and His Horse Hedy takes us into the Western, with the manic action perfectly complemented by individual panels that can be so full of accompanying detail that they demand the reader dwells on them as individual cartoons rather than simply part of a sequence.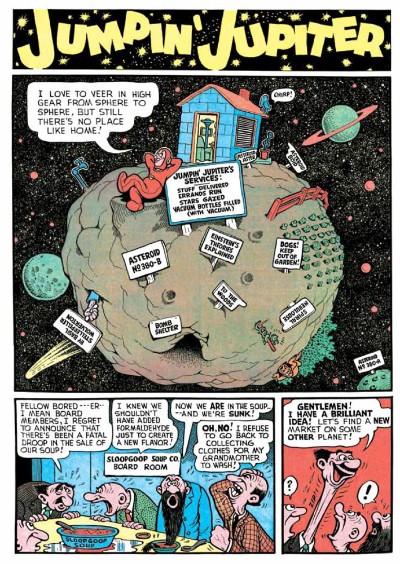 It's the final strip Jumpin' Jupiter (an unlikely space hero traversing the universe selling soup to aliens and encountering weird extraterrestrial civilisations) that will leave the reader feeling distinctly disappointed that only four episodes exist. Here we see some early examples of Wolverton's aforementioned penchant for the hypnotically grotesque that will go on to inform his later practice.
Packed with annotations, extras that give background details about Wolverton's process and production of his work, and fascinating insights into the publication history of the comics collected (a note that a whole run of unprinted Scoop Scuttle material was finished but is now believed lost to time being especially poignant) this is a comprehensive and essential Wolverton edition, not simply for fans of this influential cartoonist but also as a vital and painstakingly researched record of comics history.
Basil Wolverton (W/A), Greg Sadowski (E) • Fantagraphics Books, $29.99
Review by Andy Oliver