It's almost Wednesday, and you know what that means: a fresh load of comics and graphic novels! With so many publications hitting your local comics store or digital storefront, BF is here to lead you through the woods. These are the books that need to be on your pull list this week.
Comic of the Week
The Goon: Occasion of Revenge #1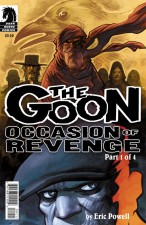 "Putting a hammer through your (bleep) skull comes to mind." Who else but Goon would give such an answer when a resurrected corpse sarcastically asks how he plans on striking him down?
Last month's One For The Road one-shot was the appetizer, Occasion of Revenge very much is the main course. After a quieter period for The Goon with only a handful of issues released over the past two-plus years, Eric Powell is finally carrying on the adventures of his bad-looking reluctant hero and his foul-mouthed sidekick, Frankie, on a regular basis.
Powell has taken a page out of the B.P.R.D. publication model for the continuation of Goon's tale with a larger epic unfolding over various mini-series, which each contain a full story by themselves.
Occasion of Revenge is a great jumping-on point for new readers and is sure to please long-time fans who can't wait to see Goon plant a crowbar square in the jaw of a Zombie Priest soldier.
Eric Powell (W/A) • Dark Horse Comics, $3.50
– Frederik Hautain
Tuki: Save the Humans #1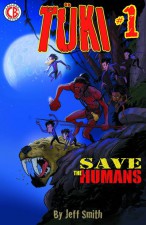 Collecting the entire first season of the latest webcomic from award-winning creator Jeff Smith (Bone, Rasl), Tüki: Save the Humans #1 follows the eponymous hero's journey of survival as he unwittingly becomes the first human being to leave Africa. Tüki's solitary existence takes a sharp turn when he encounters a mysterious stranger – another species of hominid – who sets him down the path of his new destiny.
Smith's trademark brand of epic storytelling is as refined as ever, balancing quotidian questions of survival with the massive evolutionary context of the story. His writing is warm and genuine while remaining full of danger and intrigue, and his art – in particular the sweeping landscapes of prehistoric Africa – is absolutely sublime.
The master of the epic takes on the biggest story of them all – the story of the entire human race. This is an incredible read.
Jeff Smith (W/A) • Cartoon Books, $3.99
– Reid Vanier
Gast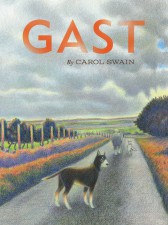 I was astonished a few months ago when a chat with a couple of young-ish UK cartoonists revealed that neither of them had even heard of Carol Swain. Hopefully the publication of Gast – her first book-length work since 2004's Foodboy – will propel her back to her deserved prominence in the current comics renaissance.
When she made her debut in the late 1980s, with a prolific burst of anthologised short stories and her own Way Out Strips comics, her unique style already seemed fully formed: spare, oblique, atmospheric and textured, characterised by an air of mystery and an a seam of dry, understated humour.
Set again in her native rural Wales, Gast promises the intriguing tale of Helen, a bird-watcher who becomes fascinated by the apparent suicide of Emrys, a 'rare bird', at a nearby farm. As Helen investigates the man's life and death – with the guidance of a talking dog – she also finds herself on a journey of self-discovery.
Carol Swain (W/A) • Fantagraphics, $22.99
– Tom Murphy
Capitol Hillbillies Volume 1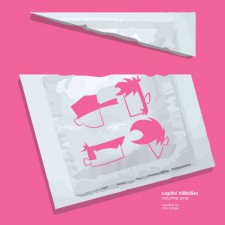 There must be something webcomicky in my water this week.
Capitol Hillbillies chronicles the lives of four friends – Stu, John, Clark, and William – living in the Seattle "gay-bourhood" of Capitol Hill. For creator Chris Lange, the webcomic serves as both a reflection and at times documentary of his own journey through sex, dating, and popular culture as a gay man. In both form and content, the strips are crude, cute, and cunning; proving, as Lange himself promotes, that "sodomy is funny".
After over five years of semi- to not-at-all-regular installments, Chris Lange's online baby is finally being published as a print collection. Capitol Hillbillies Volume 1 includes remastered versions of the first 200 installments of the strip, additional artwork, and some strip-specific commentary from Lange himself. This is a great opportunity for newcomers to experience one of the Internet's most brutally honest LGBTQ comics.
Chris Lange (W/A) • Northwest Press, $19.99
– Reid Vanier
Groo Vs. Conan #1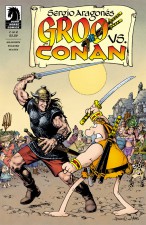 Not since Archie Meets the Punisher was published – almost twenty years to the day – has there been such an unlikely convergence of cult comics characters on the printed page. But whereas that partnership of Riverdale's finest son and the Marvel Universe's deadliest vigilante juxtaposed the two opposite ends of comics' moral spectrum, Groo Vs. Conan at least pits two characters with a similar vocation as wandering barbarians against each other. Even if one is destined to become a great warrior king and the other is a bumbling, disaster-prone buffoon!
With Groo team supreme Aragonés and Evanier on board, and the classic Conan look recreated for Dark Horse by Thomas Yeates, this titanic team-up looks set to be a most memorable clash of savage swords and cheese dip…
Mark Evanier & Sergio Aragonés (W), Sergio Aragonés & Thomas Yeates (A) • Dark Horse Comics, $3.50
– Andy Oliver
Supreme: Blue Rose #1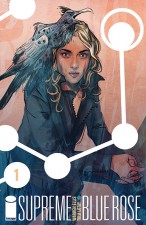 Image reintroduces Supreme in a new ongoing sci-fi/mystery series by writer Warren Ellis (Trees) with art from Tula Lotay (Elephantmen). It's a strange new world, as a dream sequence opens with a warning for Diana Dane, an unemployed investigative journalist, to beware of Darius Dax and ends with Supreme making a promise of action and adventure.
This will be a very different version of Supreme than you may be familiar with, but this talented creative team is very likely to pull it off with some terrific twists and turns.
Warren Ellis (W), Tula Lotay (A) • Image Comics, $2.99
– Karen O'Brien
Storm #1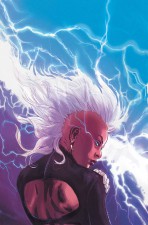 Since her first appearance nearly forty years ago in
Giant Size X-Men #1
, Storm has been a featured character in a number of different X-men series and miniseries where she's taken on the identity of a street thief, a goddess, a leader of Morlocks, a teacher, and a queen. But until now, she has never had her own ongoing solo series.
In Storm #1, Ororo Munroe strikes off on a solo mission of goodwill to safeguard the mutant race's continued existence. She'll travel the globe, confronting mutants and men, overthrowing tyrants, quelling tsunamis, and striving to see her dream of the world realized.
Greg Pak (W), Victor Ibanez (A) • Marvel Comics, $3.99
– Tyler Chin-Tanner