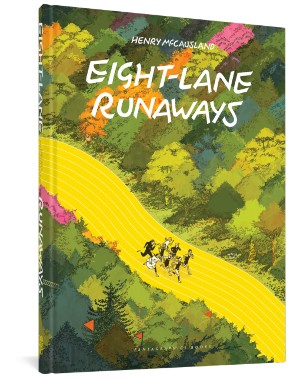 I was very pleased when Henry McCausland's Eight-Lane Runaways appeared on the scrawled sheet of "new bukks" (sic) that Andy Oliver pushes under our cell doors every Sunday morning. It gave me an unexpected chance to get properly stuck into a bit of work that I'd previously only enjoyed as a tantalising morsel.
I first came across it at ELCAF a couple of years ago, when I picked up a lovely copy of one of the risographed, hand-stitched individual issues from the criminally underappreciated Otto Press – a small press operating under the benevolent paw of the legendary Catford Cat in south-east London. However, with the first limited-edition issue already out of print, I never thought I'd see the whole thing through from soup to nuts. Fortunately, though, it has come to the attention of Fantagraphics, and now everyone can enjoy this inventive, funny and beautifully crafted delve into the storytelling possibilities of comics.
Trying to summarise its plot probably wouldn't be the most profitable way of approaching the book. The situation involves eight runners in some sort of race – albeit one with only the vaguest of apparent objectives and rules. The initial goal of the race seems banal, as an official tells one of the runners to "Take this stick and bring it back here". However, it soon becomes apparent that the notion of "the race" is a McGuffin – a stepping-off point for any number of flights of fancy involving the runners and the people they meet along the way. (Indeed, within two pages the stick has been stolen by 'The Pineneedles' – a gang of hoodie-wearing arboreal ne'er-do-wells.)
The runners are a convivial lot, and there doesn't seem to be much competition between them. Some variously take short cuts or jump on a train without upsetting anyone else, while others just drift off to find fulfilment elsewhere. They're a mixed bunch, from the silent Freddo, who identifies as a frog, to the ambitious Natalie Whey, looking to add to the collection of achievement patches sewn on her cape. Bobbie Blackberries attributes his "outrageous running ability" to falling into a bowl of boiling blackberries as a boy, while Khoklakola lets herself be guided by her sentient coat, which communicates in pictographic language.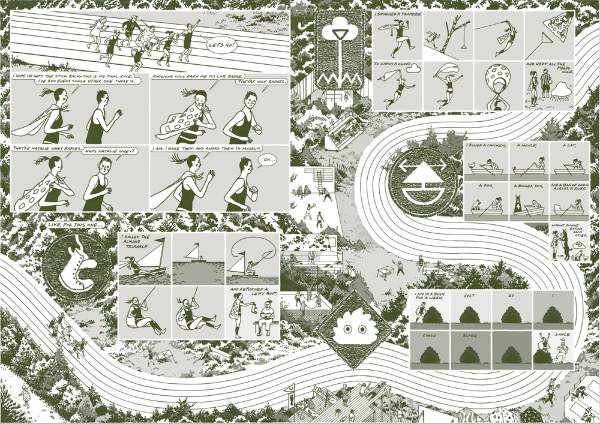 As the racers wind their way through a variety of landscapes, they run into an assortment of weird and wonderful encounters. McCausland imbues the book with a constant level of good-natured invention, mixing energetic imagination with surreal humour; the tone is dreamlike, but not forced or contrived. The ideas are casually tossed in but never overworked, with pretty much every page-turn bringing another delight, whether it's a group trying to fly a manned kite to the moon or a network of people connected by string who want to help each other.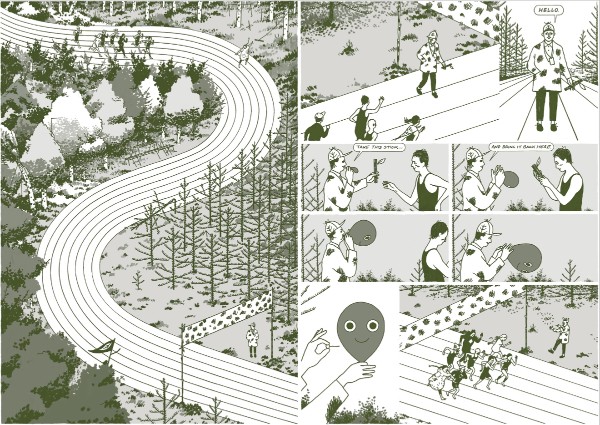 McCausland brings a featherlight touch to the busy artwork; in other hands, the sheer amount of detail and incident could be confusing or overwhelming. Some pages – especially the "money shot" double-page spreads – call to mind the work of Richard Scarry, forcing you to pause to drink up every bit of activity going on in the background. As well as his design chops, McCausland has a strong fluidity in his body language; there's a real sense of bodies in motion during the running sequences.
At the conclusion of the book, just one of the runners makes it to the finishing line and breaks the tape, so nominally there is a 'winner'. And the stick even makes a late return to the action. However, this really is a book in which the journey is more important than the destination. If you heard someone describe Eight-Lane Runaways in a sentence, you might expect some heavy-handed metaphor about life as a race, going round in circles etc. This isn't that book. Instead, it's a hugely enjoyable tribute to the unique qualities of comics storytelling.
Henry McCausland (W/A) • Fantagraphics Books, $24.99
Review by Tom Murphy