Seeking to escape the grim atmosphere of a family wake, a young boy slips out of his home and into the dark forest that surrounds it. There, amongst its foreboding environs, he encounters the strange entities that inhabit its stygian depths. Here he will come to terms with recent loss, and confront humanity's ultimate greatest fear…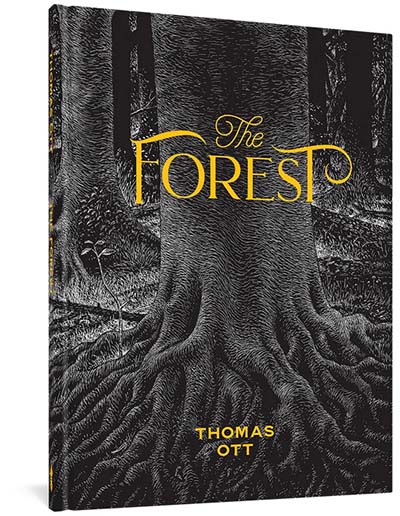 On a number of levels Thomas Ott's graphic novella The Forest evokes the feel of the practice of early pioneers of sequential art like Lynd Ward or Frans Masreel. Comprising 25 silent, single image pages it asks the reader to dwell on each illustration for far longer than they would a panel on what we have come to think of as a "traditional" comics page. As a result it changes our relationship with both page and story, providing a more meditative reading experience.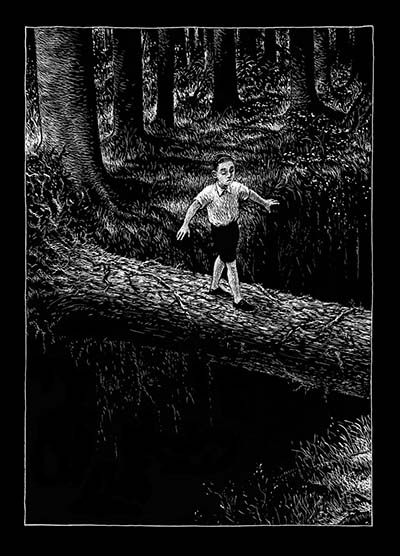 As any reader who analyses the way comics work is aware one of the unique properties of the medium is our control of how we experience their narratives – reading speed and comprehension are at our discretion. But here we have a 25-panel tale that invites us to interpret that connection in a very different way. To suspend the sequential for far longer than we usually would and, instead, to absorb the intricacy of the moment. It leads to a pensive connection with the page that ensures we absorb this short but quietly powerful story on a profoundly intimate level.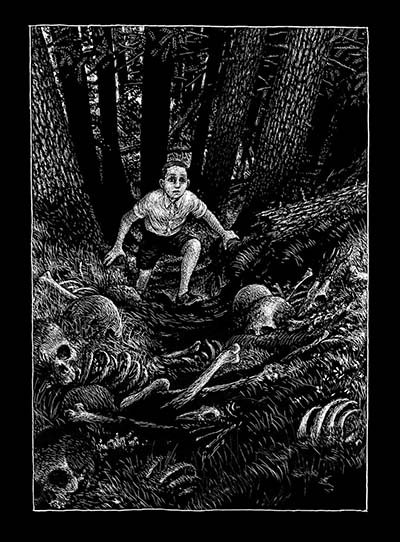 Ott's stunningly realised pages are created using the scratchboard technique, creating each illustration out of an initially negative canvas. It leads to a supernatural tale that is chillingly eerie and a level of detail that combines the everyday and the fantastic to morbid effect. The Forest is an atmospheric reflection on grief and coming to terms with loss. A haunting tale with universal truths at its heart.
Thomas Ott (W/A) • Fantagraphics Books, $16.99
Review by Andy Oliver