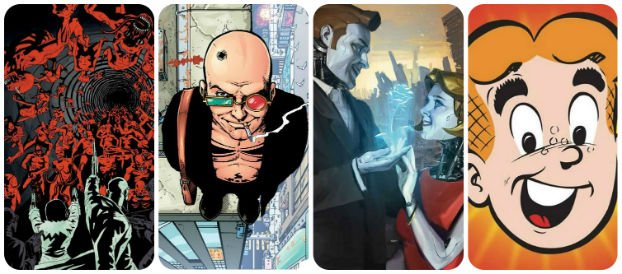 It's nearly Wednesday, and you know what that means: a fresh load of comics and graphic novels! With so many publications hitting your local comics store, comics event or digital storefront, the BF team are here to lead you through the woods with our weekly staff picks. Satisfaction guaranteed!
Comic of the Week
Hobo Mom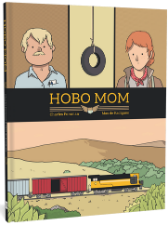 If you're situated in the UK and you're checking the social media of your favourite indie-focused comics store this evening then no doubt you will already have seen a post or two about Fantagraphics' Hobo Mom hitting British shelves on Wednesday. When shop staff are this excited about a new book coming in then you know you need to be taking notice…
Charles Forsman and Max de Radiguès' collaborative spirit was already very much in evidence some years back with Forsman publishing early de Radiguès Bastard work through the much-missed Oily Comics imprint and the latter's Brussels-based collective l'employé du Moi publishing the French version of The End of the Fucking World.
This transatlantic team-up brings the two acclaimed artists together directly as they turn the expressive clarity of their storytelling to the tale of vagrant, train-hopping mother and wife Natasha and her return to the husband and daughter she left years before. A tale of fractured family and personal freedom that you won't want to miss.
Charles Forsman and Max de Radiguès (W/A) • Fantagraphics Books, $14.99
– Andy Oliver
Caballistics Inc.: The Complete Collection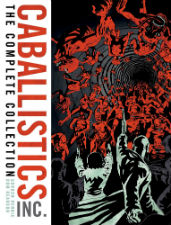 2000 AD's end-of-year Christmas special issue has revisited a number of unlikely characters from the past over the years but it's doubtful anyone was expecting that 2018's edition would feature the final instalment of a serial that hadn't appeared in the weekly comic for well over a decade.
Described as a series that mixed "Hammer Horror, John Wyndham, HP Lovecraft and Quatermass in a contemporary setting", Gordon Rennie and Dom Reardon's dark supernatural thriller followed the members of governmental agency Department Q, originally set up to face down occult Nazi menaces in the Second World War but sold off to recluse and former pop star Ethan Kostabi in contemporary times.
This week sees the entire saga collected together for the first time with that recent bonus chapter acting as fitting coda to the long-unresolved mid-2000s cliffhanger.
Gordon Rennie (W), Dom Reardon (A) • Rebellion, $19.99
– Andy Oliver
Stronghold #1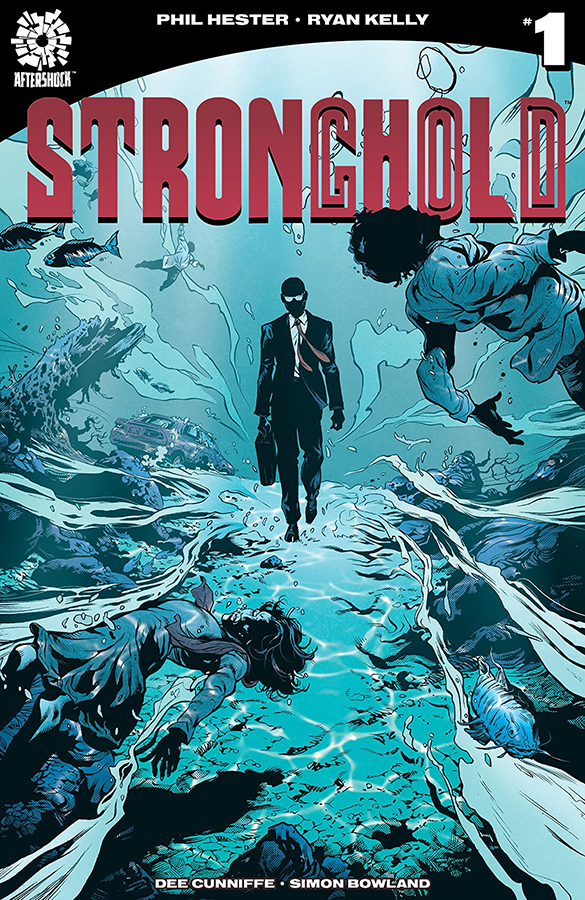 What if Earth was the perfect prison to hold a dark angel of immense power? With no memory of who he is or what he's capable of, Michael Grey goes about his day as an ordinary, midwestern insurance salesman while an undercover, global society keeps close watch on him.
But it's only a matter of time until even the best of plans start to unravel. After witnessing a horrible accident, Michael leaps into action to save the life of a child and begins to unlock some of his ability. At the same time, a member of the secret society starts to develop feeling for Michael, making her job of hiding the truth from him that much more complicated.
If you're looking for a dose of cosmic horror mixed with tragic romance, then look no further than AfterShock's latest offering in their year of "reading dangerously" campaign.
Phil Hester (W), Ryan Kelly (A), Dee Cunniffe (C), Simon Bowland (L) • AfterShock Comics, $3,99
– Tyler Chin-Tanner
Love Romances #1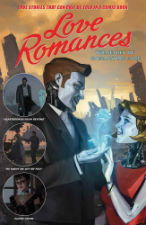 "Can robots fall in love? Is romance just a fantasy? Can love breach the corridor of death?" Just some of the questions asked in this latest one-shot return of a classic Marvel title celebrating the 80th anniversary of the House of Ideas.
Curiously scheduled for the week after Valentine's Day, story details are scant for this issue but these special editions have largely been a lot of fun to date and provided us with self-contained and accessible genre comics without the inaccessible excesses of the masks and costumes that make up most of the rest of Marvel's monthly output.
A strong creative line-up and a cracking cover by Pyeong-Jun Park ensure Love Romances is certainly worth a punt this Wednesday.
Dennis Hopeless, Gail Simone, Jon Adams et al (W), Jon Adams, Annapaola Martello, Roge Antonio et al (A) • Marvel Comics, $3,99
– Andy Oliver
Archie Milestones Digest #1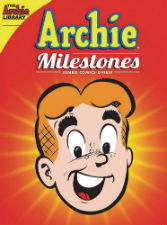 For a company known for decades as the purveyor of the ultimate comics comfort reading material, Archie have certainly made some adventurous publishing decisions over the last several years. From the many and varied horror versions of their characters to the unlikely adult-oriented crossovers with other media properties, through to the renumbering and repositioning of their flagship title as a YA-style drama series and the various TV re-imaginings, they've been unafraid to recast their characters in a seeming never-ending procession of alternate incarnations.
If there's one thing that has remained constant in their publishing line-up, though, it's been their bumper digest-sized publications which have continued to take us to a more traditional, all-ages version of Riverdale. This week there's a new addition to their number with the Archie Milestones Digest which promises to reprint stories that represent milestones in a cultural, historical and social sense alongside those pivotal tales from the world of Archie over the decades. A no doubt fun intro to an American comics institution for the uninitiated and a welcome nostalgia fest for the longer-term fans.
Anthology – Various creators • Archie Comics, $6.99
– Andy Oliver
Transmetropolitan Book One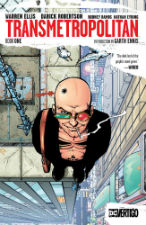 Originating as part of DC's Helix science fiction line in the late '90s, Transmetropolitan would quickly transfer to the Vertigo range after Helix's abrupt disappearance, running for several years until 2004. The cyberpunk socio-political commentary of Warren Ellis and Darick Robertson's series seems frighteningly ahead of its time now so perhaps it's fitting that DC are reissuing the first twelve issues as part of a new collection of trades that begin this week.
Investigating humans becoming aliens through cosmetic surgery and dodging hit men who have his ex-wife's frozen head in their possession are just some of the bizarre situations journalist Spider Jerusalem finds himself in here. With the last week's events reminding us of the constraints on creative freedom that are very much a part of the current incarnation of Vertigo here's a reminder of a time when the line was allowed to have some real bite.
Warren Ellis (W), Darick Robertson (A) • DC Comics/Vertigo, $19.99
– Andy Oliver