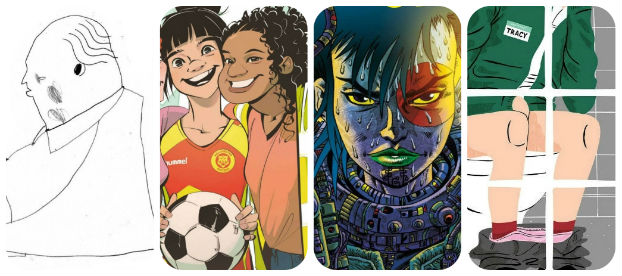 It's Wednesday, and you know what that means: a fresh load of comics and graphic novels! With so many publications hitting your local comics store, comics event or digital storefront, the BF team are here to lead you through the woods with our weekly staff picks. Satisfaction guaranteed!
Comic of the Week
Lettuce Bee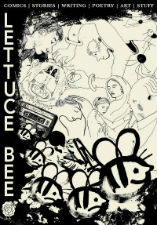 Simon Moreton and Ali Bamford have put together such a spectacular line-up of international self-publishing talent for their new anthology Lettuce Bee that, given our focus on the small press scene here at Broken Frontier, we just had to make our 'Comic of the Week' this week.
Featuring, among many others, the likes of John Porcellino, Delaine Derry Green, Joff Winterhart, Andrew White, Cherry Styles and BF 'Six to Watch' artists Jayde Perkin, Peony Gent, Sabba Khan and Brigid Elva, this zine-style collection of comics, writing, poetry and illustration has a DIY culture vibe that we really enjoyed when we received our review copy. Look for a review in the near future. In the meantime you can see a preview here and order it online here.
Anthology – Various creators  • Lydstep Lettuce, £6.00
– Andy Oliver
Marble Cake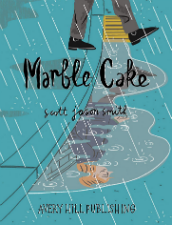 From our recent review by Jenny Robins here at BF…
Scott Jason Smith's Marble Cake is an ensemble comic which follows a number of disparate, loosely connected characters as they amble through life in South London. The art has a pleasing economy of line and colour and sits mainly within a round cornered 9-panel grid that gives a sense of casual voyeurism.
The central concept is explained in the blurb: How can we be sure if we are the main character in our own story, or just the bit part in someone else's? By showing us these people, seemingly randomly batted about by fate, Smith reminds us of the power we actually do have over our own fates and relationships.
Scott Jason Smith (W/A) • Avery Hill Publishing, £11.99
– Jenny Robins
Tammy & Jinty Special 2019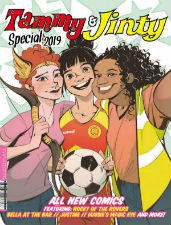 From our recent interview on the Tammy & Jinty Special…
Rebellion continue to bring classic comics characters of yesteryear to new audiences not just through their handsomely presented Treasury of British Comics editions but also through their semi-regular Specials like Scream! and Misty, and Cor!! and Buster. Re-imagining old faves for contemporary audiences they've been critially well-received to date and this month's Tammy & Jinty Special may well be the best of a very strong bunch to date.
Revisiting two of the biggest names in weekly comics for girls this Special is a mix of rebooted familiar faces like Bella at the Bar and Maisie's Magic Eye, alongside contemporary characters like Rocky of the Rovers, and all-new creations. Editor Lizzie Boyle has put together a fantastic line-up of indie creators including Rachael Smith, Yishan Li, Rachael Ball, Vanessa Cardinali, Sarah Millman and so many more. We're certainly eeping our fingers crossed here at BF that this excellent anthology finds its audience and leads to much deserved follow-ups in the near future.
Anthology – Various creators • Rebellion, £4.99
– Andy Oliver
Marilyn Manor #1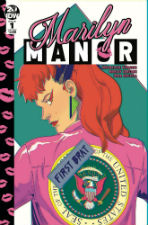 If you're ready for a freaky adventure through the early days of the decade of excess, then cut up your sweatshirts, unearth your leg warmers, and hang up your Patrick Nagel prints because writer Magdalene Visaggio's (Eternity Girl, Kim and Kim) and artist Marley Zarcone's (Shade the Changing Girl, Effigy) Marilyn Manor #1 is just the four-issue series for you.
Marilyn Kelleher is the spoiled daughter of the president, and when the White House goes dark for 17 days in August 1981, she and her best friend Abe—who swears he's possessed by the spirit of Abe Lincoln—do what any self-respecting teenagers would do, they throw a rager at 1600 Pennsylvania Avenue. Unfortunately, they also unleash long-dead historical figures and a few government secrets that are probably better off buried. From IDW: "Sex, drugs, rock 'n' roll séances, and secret passageways lead to time-bending mystical romps where past and present collide. But at what cost to Marilyn Kelleher, the world at large, and music television?"
On the eve of pop culture's biggest success—MTV, of course—this topnotch creative team takes a neon-tinted look at identity, classism, and friendship in a book that specializes in irresistible, over-the-top art.
Magdalene Visaggio (W), Marley Zarcone (A), Irma Kniivila (C) • IDW Publishing, $3.99
– Karen O'Brien
Desolation Wilderness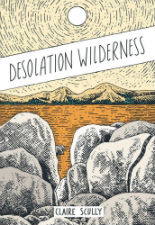 Claire Scully's Desolation Wilderness is a follow-up to her 2016 Avery Hill Publishing offering Internal Wilderness, giving her own unique twist on psychogeography in graphic narrative. Scully examines the relationship between memory and environment in her work with the tacit involvement of her audience being a vital component in that enquiry.
Emphasising the more experimental side of Avery Hill's ever eclectic output, Desolation Wilderness is a quietly powerful contemplative piece that invites the reader to interact with the page and find their own meaning in its narrative. Look for a review at Broken Frontier in the very near future.
Claire Scully (W/A) • Avery Hill Publishing, £7.99
– Andy Oliver
Counterfeit Girl TPB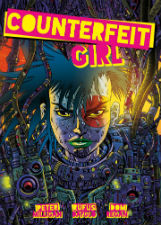 Collecting the 2016 2000 AD serial by writer Peter Milligan, artist Rufus Dayglo and colourist Dom Regan, Counterfeit Girl is set in a not-too-distant future. In a world run by multinational corporations, identity is everything and ID is currency.
Following the exploits of anti-corporation activist and identity thief Libra Kelly, Counterfeit Girl is a dystopian sci-fi story touching on very contemporary themes from Peter Milligan with striking art from the ever reliable Rufus Dayglo, and evocative colouring by Dom Regan. A most welcome collection to the 2000 AD trades back catalogue this week.
Peter Milligan (W), Rufus Dayglo (A), Dom Regan (C), Ellie De Ville (L) • Rebellion, £9.99
– Andy Oliver
Hot Comb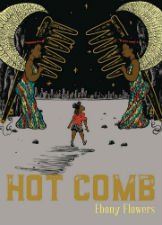 Bringing together the slice-of-life genre of observational comics with social commentary, Ebony Flowers' Hot Comb is described by publisher Drawn & Quarterly as exploring "the poetry in everyday life, all the while centering the lives and stories of black women."
The titular story examines a young girl's ill-fated attempt to find acceptance and stop appearing "too white" in the all-black area her family has just moved to, with other tales in the book touching on themes of coming-of-age, race and identity. The preview pages we've seen only further underline that this is one of your must-grab books in the LCS this week.
Ebony Flowers (W/A) • Drawn & Quarterly, $21.95
– Andy Oliver