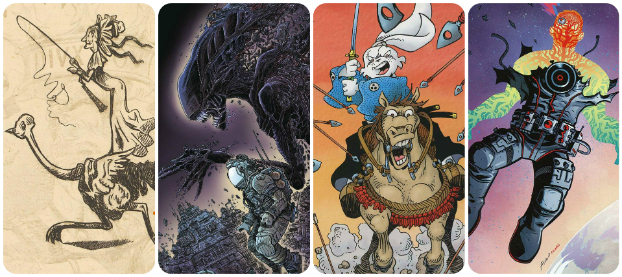 It's nearly Wednesday, and you know what that means: a fresh load of comics and graphic novels! With so many publications hitting your local comics store, comics events or digital storefront, the BF team are here to lead you through the woods with our weekly staff picks. Satisfaction guaranteed!
Comic of the Week
Marie Duval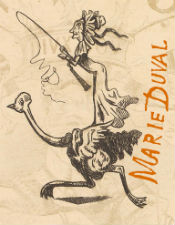 You may have seen our blog on the recent double launch event for Myriad Editions' comics reference works The Inking Woman and Marie Duval here recently at Broken Frontier, and if that intrigued you then you'll be pleased to learn that the latter hardcover officially hits shop shelves this very week.
Edited by Simon Grennan, Roger Sabin and Julian Waite Marie Duval traces the life and career of the titular ground-breaking Victorian cartoonist with a particular visual emphasis on her intuitive and insightful use of the form. Tracing both Duval's practice and its development, and putting it into the socio-political context of the age, this is the first of two absolutely essential books on comics history this month from Myriad.
Simon Grennan, Roger Sabin and Julian Waite (Ed.), Marie Duval (A) • Myriad Editions, £19.99
– Andy Oliver 
Aliens: Dead Orbit TPB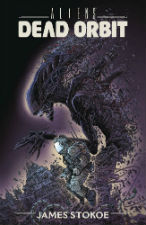 A new James Stokoe comic is always cause for celebration. With his incredibly detailed style and an approach to panel density akin to that of Geof Darrow, the gaps between releases can be pretty significant. Licensed books may provide him further distraction from creator-owned projects like his ongoing, sporadically-released fantasy epic Orc Stain, but he proved his ability to maintain his singular style as he toes a company line with Godzilla: The Half-Century War from IDW.
The Aliens franchise proved to be an even greater fit for Stokoe's monster designs, exaggerated human characters and propensity towards great, gross imagery. Dead Orbit is one of the few Dark Horse comics to get the xenomorph right, taking cues from the movie franchise while spinning them into a story that's all Stokoe's own. The ingredients are familiar — a horrific accident on a space station, the release of a killer alien, a plucky individual fighting for survival — but with a visually unique and compelling twist from the writer/artist.
James Stokoe (W/A) • Dark Horse Comics, $17.99
– Tom Baker
Usagi Yojimbo: The Hidden #1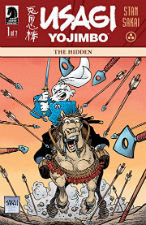 The perfect jumping-on point for new readers or those looking to get back to reading one of the best and longest running series in comics.
The new miniseries numbering on the cover makes it easier to keep track of individual story arcs, while the original numbering will be maintained on the interiors for longtime fans (this is issue #166).
In this 7-part adventure, Usagi arrives in town to visit his friend Inspector Ishida only to discover that two samurais have been murdered and the Shogunate is going to great lengths to keep out members of a new religion called the "Kirishitans." Could they be connected to deaths of the two men found with nothing on them but identical talismans?
Stan Sakai (W/A) • Dark Horse Comics $3.99
– Tyler Chin-Tanner
Moonstruck Vol. 1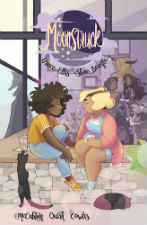 From the inimitable creator of Lumberjanes Grace Ellis and rising star of soft edges and pastel fades Shae Beagle, this whimsical, supernatural soap opera is off to a promising start. As far as I can make out the first arc focuses on werewolf barista Julie and her love interest Selena having to help Julie's colleague who mysteriously has his bum stolen by a Magician. It makes more sense if you know he is a centaur.
I dislike the phrase 'colourful cast' but between Beagle, Kate Leth and Caitlin Quirk this candy-hued concoction is a delight on the eyes, and the variety of furry and supernormal figures in shot more than earns any diversity kudos with novelty nobs on, without cliche.
Grace Ellis (W), Shae Beagle and Kate Leth (A) • Image Comics, $9.99
– Jenny Robins
Punks Not Dead #2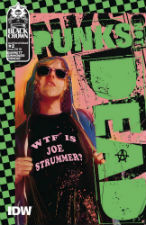 In case you missed the launch last month, IDW continues its great rock n' roll comic swindle this week with issue #2 of Punks Not Dead from writer David Barnett and artist Martin Simmonds.
The story centers on 15-year-old Feargal "Fergie" Ferguson, a ginger-headed, socially awkward youth whose family life is filled with prob-lehms – his dad's in prison, and his mum seems pretty vacant. So, it's only natural that Fergie copes with it all by creating an imaginary friend. However, in Fergie's case, this imaginary friend happens to be "Sid", a ghost who bears more than a striking resemblance to a certain infamous Punk Rock bass-player-turned-murderer.
Barnett and Simmonds swear that PND's "Sid" is not the legendary Sid Vicious; rather, the ghostly character is intended as an embodiment of the spirit of the by-gone Punk era. Fortunately for readers, the plot gets thicker with "D-4", a branch of MI5 charged with investigating strange supernatural occurrences. This team of spook-seeking spooks will certainly shed more light on Sid's true nature as the story evolves.
Issue #1 of Punks Not Dead was nothing if not fun. So, I say grab your safety-pinned leather jacket, spike your hair, don a snarl, and pogo down to your local comics shop for the second installment of this highly unique creation that's sure to spread a little Anarchy in the UK (and elsewhere)!
David Barnett (W), Martin Simmonds (A) • IDW, $3.99
– Matthew Box
Cave Carson Has an Interstellar Eye #1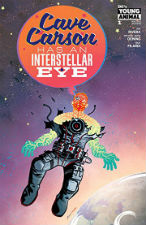 Michael Avon Oeming and Jon Rivera's resurrection of obscure spelunking superhero Cave Carson kept true to the character's psychedelic origins (he was created by France Herron and Bruno Premiani back in the sixties, off the back of Jack Kirby's success with sci-fi heroes Challengers of the Unknown) with the addition of family drama and past trauma that resulted in a) Carson's temporary abandonment of any underground adventures and b) a sweet cybernetic eye.
Following Young Animal's rip-roaring 'Milk Wars' crossover, his book has been relaunched as Cave Carson Has an Interstellar Eye, moving the action from below ground to the far reaches of space. The first issue has a fantastically wacky, cosmic sci-fi premise — Carson and his daughter Chloe go spelunking in a black hole! — and promises the addition of a new character to the extended Carson family in the form of "intergalactic music sensation Star Adam." Of course you want to see Oeming draw all that exquisite nonsense.
Jon Rivera (W), Michael Avon Oeming (A) • DC Comics/Young Animal, $3.99
– Tom Baker
Magpie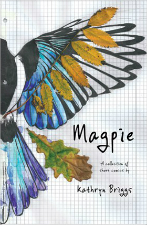 The hard-working team behind Throwaway Press – the micropublisher that has been bringing you the UK small press scene game-changing anthology Dirty Rotten Comics over the last few years – have also published a number of individual artist showcase books in the past (including work by BF fave Matthew Dooley). So it's pleasing to see them continuing that trend this year with a volume dedicated to Kathryn Briggs whose work we first featured way back in 2013 when we reviewed her Story(cycle).
Magpie collects a number of her short stories from anthologies with all-new material. Briggs's haunting, lyrical and profoundly layered work is always a highlight of any group project she's a part of and this compilation of her short-form practice comes highly recommended from those of us who have had an advance peek…
You can order the book online here.
Kathryn Briggs (W/A) • Throwaway Press, £8.99/$12.99
– Andy Oliver