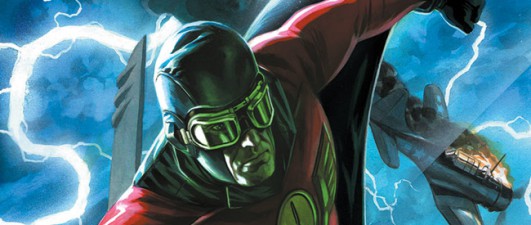 Jim Albright and his Secret Squadron continue the fight against super-Nazi holdouts in this action-packed love letter to the pulp heroes of the Golden Age.
The public domain has been a very deep and lucrative well for modern comic book publishers. Dynamite Entertainment built an entire company mining the public domain with varying degrees of success. Moonstone Books, arguably more faithful to the source material than Dynamite, also dedicates a massive portion of their publishing schedule to wonderful tributes to the heroes and heroines of the pulp era. Into this mix sojourns Dark Horse Comics who, while they've definitely carved a niche for themselves publishing a variety of licensed properties, has so far steered clear of diving headlong into the deep waters of the public domain.
With publisher Mike Richardson's pet project Captain Midnight, Dark Horse throws its hat definitively into the pulp revival ring. Once again tapping writer Joshua Williamson to chronicle the new adventures of the time-tossed hero and pairing him with the talented Fernando Dagnino, Dark Horse seems decidedly committed to not only paying tribute to the source material but expanding upon it with thought, craft, and a very real love.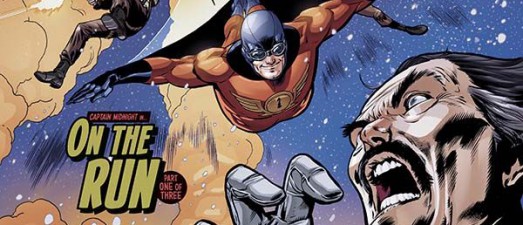 Taking up where the Dark Horse Presents serial left off, this first chapter introduces what seems to be shaping up to be Captain Midnight's new Secret Squadron. Featuring the granddaughter of his original female associate Joyce Ryan, this new supporting cast is not without its internal tension. Joining Jean Ryan in her quest to find Albright before the immortal Nazi harridan Fury Shark is her ex-husband Officer Rick Marshall and a by-the-books fed, Agent Jones. As the three square off over their competing plans for Midnight, the audience can't help but wonder how the super-aviator can adapt to a world where people are seemingly more preoccupied with their own problems than with bringing blazing justice to those who rightly deserve it.
Williamson masterfully juxtaposes the old with the new, taking every opportunity to underscore Albright's single-minded devotion to his mission and how that rigidity threatens to break the hero in ways his worst enemies couldn't have imagined. Dagnino captures the honor of the man in every pose and sweeping action sequence yet never forgets to infuse Midnight with a simmering intensity that at times outshines his supporting cast – as it should. And yet, it's the reactions to his plight from old and new friends alike that tells the reader the most about the good Captain. It's their almost palpable concern for Albright's safety and their need to help him adjust to the modern world that informs us about his silent, internal struggle.

Chock full of wonderful little nods to the source material, such as Ivan Shark's mauling by polar bears in the villain's final battle with Captain Midnight and the use of Agent Jones as the time-lost hero's government handler, Williamson and Dagnino's rejuvenation of Jim Albright and his associates hits all the right notes for new and old fans alike.
Joshua Williamson (W), Fernando Dagnino (A), Ego (C) • Dark Horse Comics, $2.99, July 31, 2013.