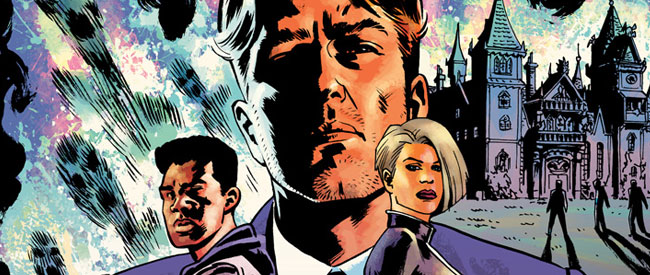 Blockbuster heist movie meets a Halloween horror film. It's a blast!
Despite some clunky dialogue and odd character actions, Joshua Williamson's Ghosted is a promising new series that is one part Ghostbusters, one part Ocean's Eleven, and one part House on Haunted Hill.  Ghosted is definitely on its own plane of existence in the comics realm, and no book comes close to its fun and ghastly direction.
Ghosted skips the typical comics drawn out introduction by immediately tossing readers in a jail cell along with lead character, Jackson T. Winters, who following his last failed heist has been rotting away in prison.  Following a brief orchestrated prison riot, Winters is confronted with his eccentric savior, artifact collector Anderson Lake, and guaranteed freedom on one condition: that Winters captures and returns a spirit to Lake's hands.  The premise of Ghosted is instantly grabbing, and once Winters begins to assemble his ragtag team of thieves the title steams ahead quickly.
 The only hiccup, and in all fairness it is pretty brief, is an early discussion between Winters and Lake where awkward words are exchanged and an even more uncomfortable slap is thrown; the whole sequence felt forced considering the two characters had only met a few brief pages before, yet as the book moves past the exchange, Ghosted is much smoother.

What helps Ghosted further stand out from the pack is Goran Sudzuka's art, which like the genre of the book is a similar mash-up of styles and flavors.  Sudzuka stands out on two occasions, as Winters first meets Lake in the halls of his mansion with the old man's collection of pillaged and purchased goods covering every inch of the walls, and later as Winters and his crew enter their haunted destination.  In both sequences Sudzuka's art provides a vast amount of information to the reader without requiring Williamson to force-feed it to readers, which is a fantastic break from a typical comic.  Sudzuka is as much a vital part of the success of Ghosted as Williamson.
Once Joshua Williamson begins firing Ghosted on all cylinders, the book moves at breakneck speed and is a blast to read. The mix of heist meets horror is such a fresh direction that Ghosted should be read by fans of either.  As Ghosted #1 comes to a close, Winters is caught in a seriously ghostly predicament, and you will not want to wait to see how he escapes it.
Joshua Williamson (W), Goran Sudzuka (A) • Image Comics, $2.99, July 10, 2013