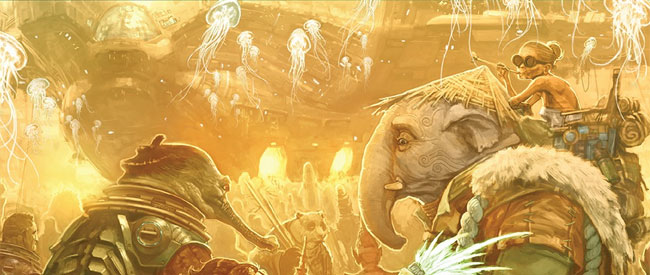 The third volume of this substantial, Eisner-nominated anthology, edited by Sonny Liew and Joyce Sim, sheds light on the vibrant indie comics scene in South-East Asia.
Here at Broken Frontier we're about nothing if not digging out that comics passport, slapping on the insect repellent and hitting the dusty road to the less explored parts of Planet Comics.
One of those parts is South-East Asia – a region I've been lucky enough to travel in a few times, but whose comics culture I've never fully managed to explore.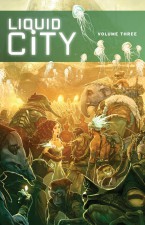 Thankfully, a guide book is now at hand, in the form of the latest edition of the Liquid City anthology, edited by Singapore-based artist Sonny Liew (Robot Malinky, The Shadow Hero) and Joyce Sim.
This is the third edition of the title, the second volume of which was nominated for the Eisner Award for Best Anthology in 2011. Published through Image Comics, it offers a fresh showcase for South-East Asian creators to reach a much wider audience; this volume includes contributors from Singapore, Malaysia, Indonesia, Vietnam and Thailand.
Let's get the obvious anthology caveat out of the way: with 22 stories (plus illos) over nearly 300 pages, not everything here is going to float every reader's boat. However, the levels of variety and quality are high, and you're sure to come out of the book eager to investigate further at least some of the creators. (Helpfully, their contact details are included at the end of the book, alongside their 'Story statements'.)
The starting point for the anthology, which was compiled via an open pitching/submission process, came during the jittery days of 2011-12, when a lot of people who should have known better were making a big old fuss over the Mayans' apocalyptic prophecies.
As Liew and Sim sought to get the volume off the ground, they asked their potential contributors one question: "If you knew the world was ending, what would be the story you would most want to tell?"
The stories that eventually populated the collection take a very wide-ranging view of that brief; while some address apocalyptic themes directly, others are much more personal and reflective. However, even if some of them fall quite a distance from the tree, there's still much to enjoy in the collection's diversity.
The stories tend to fall nearly into one of two overarching categories: autobiographical or 'real mainstream' stories, and those tinged with elements of the fabulous or fantastical, often including intriguing glimpses of the region's folklore.
I'm probably betraying my personal narrative tastes when I say that I found more of the autobio/mainstream stories to be of interest – but maybe it's no coincidence that a few of then were among the stronger stories frontloaded at the start of the book.
The collection's overall blend of the local and the universal is exemplified in the opening tale – the 11-page 'Disappear' by Malaysian artist Aks Kwan. With some very stylish graphic art, Kwan recalls a childhood experience that carries a palpable air of mystery and an evocation of a local folklore that is gradually evaporating in the connected modern world.
Childhood memories also drive two other strong entries early in the book: 'Geylang Hill' by Charlie Chan Hock Chye (Singapore) and 'Bloemen Blij Plukken Wij' by Tita Larasati (Indonesia).
The former is a simple three-page reflection on a childhood game and the unreliability of reminiscence, produced with a retro look on 'foxed' paper to give a sense of age and a sense of the degradation of memory. The latter, in a lovely energetic style with fluorescent colours, explores the issue of ethnicity and the fact that our family histories aren't always what we've been led to believe.
As the book develops, it's strongest entries continue to fall into these categories. 'Pig When Small, Cow When Big' by Nguyen Thanh Phong (Vietnam) is a bold and punky look (again, from a child's point of view) at the problems of unsafe food and unscrupulous farming practices.
Meanwhile, 'The Orson Welles of Darussalam', one of three very different stories by Jin Hien Lau (Malaysia/Australia), uses a more familiar alt-comicsy style to recall a time in childhood when a faulty satellite TV signal led the artist to believe that the end of the world was nigh.
One of the real highlights of the collection, 'Boy' by Ervin Cheng (Singapore), is an altogether more serious reflection on a young man's struggle to cope with his compulsory military service, which seems to him to mark the painful transition into manhood.
Graphically and narratively inventive, it uses the comics form effectively to depict the doubts and fears assailing the protagonist. Later in the book, Shuxian Lee (Singapore/Belgium) provides what I found to be its most visually stunning story, 'In a Different Universe', a tale of emotional betrayal related via a beautiful blend of comics and graphics.
In comparison, some of the more fantastic stories come across as a bit half-baked or trivial. However, there are a couple of notable exceptions. 'Let Me See the Giant Fall' by Benjamin Chee (Singapore) appears on first glance to be a straightforward fable about a village terrorised by a capricious Giant King. However, it is shot through with a strong political subtext about the nature of tyranny and the responsibilities of citizenship.
A couple of other stories in this strand are notable because of their strong execution. 'The Long Sleep' by Beng Rahadian (Indonesia) again uses a familiar alt-cartooning style to deliver a politically charged message about humanity in the wake of a natural disaster. 'Light', by Dominique Fam (Singapore), is beautifully rendered in lush digital art, but its fable-like tale of a lamp maker who becomes obsessed with capturing the light of a particular star is a little airy-fairy.
Later, in 'The Amazing Kelim', Andrew Tan (aka Drewscape; Singapore) uses a bold scratchy style and the deft use of mechanical tones to create a strong noirish ambience for his little riddle of a story. Other creators worthy of a mention for the boldness of their style include Christiyani Kabul (for the eco-themed 'Robbish') and Sam Seen (for the bold, 'wordless' sci-fi tale '10010110').
Admittedly, $29.99 is a lot to stump up for an anthology of creators you're probably unfamiliar with. However, if you dive in, you'll almost certainly find at least a couple of pearls in this rich and varied selection.
Various (W/A), Sonny Liew & Joyce Sim (Ed) • Image Comics, $29.99, June 2014