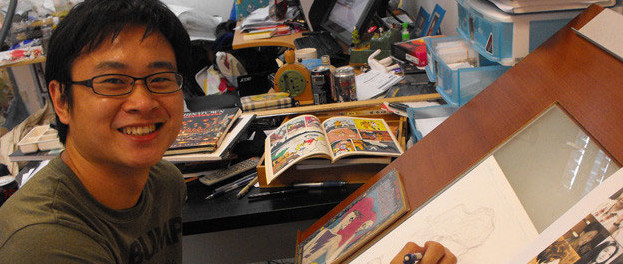 After yesterday's interview with Gene Luen Yang, today we talk to his artistic collaborator on The Shadow Hero (First Second Books), Singapore-based artist Sonny Liew, whose previous work includes My Faith in Frankie, a collaboration with writer Mike Carey for Vertigo, and his own Malinky Robot series.
Sonny's work on The Shadow Hero is an absolute delight, mixing energetic cartoony action with emotional truth and a real sense of time and place. It was great to hear about his unusual route to becoming a comics pro, via his upbringing in South-East Asia and his time as a philosophy student at Cambridge University!
What was your comics diet like growing up in Malaysia and Singapore?
I remember a bookstore in my hometown of Seremban, where my mom would buy me and my sister comics from the UK like the Beano, Dandy,  Topper, and Tammy. We couldn't get enough of all those characters – the Bash Street Kids, Gnasher, Billy Whizz, Smudge.
There were ones from Hong Kong too – Old Master Q, the classic Children's Paradise (Er Tong Le Yuan), and what I recognise now as bootleg copies of Doraemon.
In Singapore there was this second-hand bookstore located inside a wet market, where we'd pick up copies of Mad Magazine, Richie Rich, Casper and Archie.  They had superhero comics too – Spider-man was my favourite!
A lot of the covers were half torn off, which I thought was strange at the time. It was only recently that I learnt that it was part of the whole news-stand distribution system, where news-stands would return half a cover to publishers to indicate an unsold book.
My grandpa was an avid reader too, and amongst all the serious books on his shelves there were Donald Duck comics and Peanuts, as well as San Mao ones – the latter a classic Chinese comic without text that followed the travails of a poor orphan in 1930s and '40s China.
Apart from Spider-Man, what other superheroes were you attached to as a young reader – and now?
I went bananas about Superman when the movie came out. I'm not sure if Ultraman counts! But mostly Spider-man, I think – his wisecracks and his run-ins with J Jonah Jameson… I got very excited whenever he appeared in Electric Company. Later on there was Judge Dredd and the motley crew from 2000 AD.
I don't read a lot of superhero comics these days, though I'll still pick up a trade once in a while. Frank Miller's Dark Knight was fantastic (the follow-up I could barely look at, much less read), and Batman via the Chris Nolan movies is probably my fave superhero character  at the moment. I'm not looking forward to BenAffleckman though!
You took an unusual route to becoming a comics artist: was that always your ambition? And if so, what did your fellow philosophy students at Cambridge think of it?
I didn't really think about drawing comics til I was in college. On a summer break I decided to do a comic strip and sent it in to local newspapers in Singapore, and one of them actually picked it up. It was sort of influenced by Calvin and Hobbes and all the books on politics and philosophy I was reading at the time.
The process of creating the comics, coming up with ideas, drawing the actual thing, sending it out into the wide world… I felt engaged with it in a way I hadn't felt with just about anything I'd done before. (OK, there was soccer, but it was well clear by then that my talents there were very limited). So it was at that point I think I decided I wanted to something art-related at least, though I had no idea how.
My friends who saw the comics were amused, I think. There was even a Comics Society there, and they'd managed to invite Alan Moore as a speaker – but that was the year before I got there, sadly.
I remember visiting the dorm room of the president of the society and being astounded by the sheer number of comics strewn about. There was a comics store on the edge of town too. They had all sorts of indie stuff there, where I first encountered the work of Chester Brown, whose comics were to be a big influence.
Do you think that working from Asia imbues your work with a particular flavour?
I think it's inevitable that your surroundings play a role in your sensibility. However, these days everyone has access to everything, so in terms of comics from Asia being an influence, I think that's affected creators the world over.
I would like to make more comics with a local flavour, though. I'm hoping in the not-too-distant future to adapt a novel by a friend, Yangsze, called The Ghost Bride, set in 19th-century Malaya.
Were you familiar with Chu Hing's work before working on The Shadow Hero? Did you ever feel that Asian creators and characters were under-represented in the (North American) comics mainstream?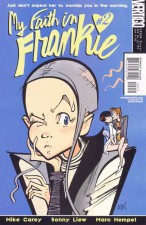 Heh,  no, I hadn't heard of him at all. I think Asian creators are well represented, though – Jim Lee, Tan Eng Huat, Leinil Yu, to name a few.
Characters, on the other hand – that's a different ballgame. Usually it's either guys who do Kung Fu or femme fatale Asian women who appear in comics here.
I've tried in my own small way to make a difference – turning Jeriven into an Asian diety in My Faith in Frankie, for example. But it's the same with other mediums like television and film.
Still, there's a revolution under way, I'm sure of it!
Could you give us a quick run-down of your collaboration process with Gene?
Well, I think Gene could have done The Shadow Hero on his own if he had the time!
The script I got was already polished, with thumbnails mapped out – there was always a danger I'd just end up redrawing his layouts in my own style. Which I guess would have been an easy way to do it.
But I thought I'd try to justify my contribution by re-jigging the layouts a little, enlarging or splitting panels here and there. After that I'd send the new thumbnails back to Gene and Mark Siegel [editorial director at First Second] for approval before doing the final art.
Although you've got quite a cartoony style, you create a strong sense of time and place in The Shadow Hero. Did you do much research?
Heh yeah, there was a lot of visual reference collecting – as you can see here.
Did it make any difference to your approach that the book was going to appear in digital form first and then in print?
Hmm – no, not really. The book was done in chapters, but it was completed before the digital issues were released, so it didn't make a difference during the working process. I did rush out a bunch of covers for the digital issues, which I still wish I'd had more time to do.
What can we expect from you next?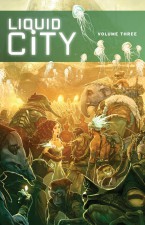 Quite a lot of things are coming out this year for some reason; Shadow Hero aside, there's Volume 3 of Liquid City, a South-East Asian comics anthology that I co-edit. Volume 2 was Eisner-nominated! That was out last month.
I also did a short graphic novel for the National Gallery here in Singapore, about the life of a painter called Georgette Chen.
What I'm most excited about though is a 280+ page book I've been working on called The Art of Charlie Chan Hock Chye. It's about a comic artist from Singapore who started out in the 1950s, and it's the most ambitious project I've ever tried, combining biography, history and archival material into something that gels together, hopefully. Both of those books should be out later this year!
Sonny has kindly given us permission to reproduce some process shots to show how a couple of pages from #2 of 
The Shadow Hero
took shape, from Gene's original thumbnails to the final versions. He describes the process in more detail on his blog.
Many thanks to Sonny for his time. You can find out more about him and his work at his blog or by following him on Twitter.
 The Shadow Hero has been published as individual e-comics by First Second Books, and will appear as a trade paperback this week, priced $17.99.