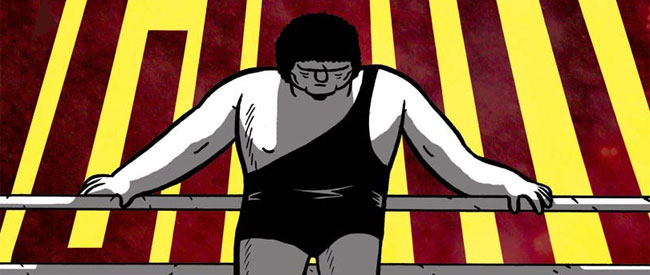 Box Brown brings his distinctive graphic style to a well-researched and entertaining biography of wrestling colossus Andre the Giant.
When ah were a lad, growing up in northern England in the nicotine-stained 1970s, professional wrestling meant one thing: 4 o'clock on a Saturday afternoon, and a couple of overweight middle-aged men grunting and groaning in the function room of a Yorkshire town hall, in front of a baying audience of furious old ladies.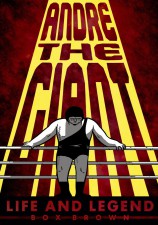 However, over in the States they were naturally thinking a bit bigger – and they didn't come much bigger than Andre Roussimoff, the 7-foot 6-inch colossus who bestrode the world of wrestling and became an iconic global figure.
As anyone who's read his work will know, Box Brown is a grapple fan of the highest order, and he takes his enthusiasm to the next level with this meticulously researched 240-page biography of the man who became known simply as Andre the Giant.
From his childhood in 1950s France, Andre's life was defined by his extraordinary physique, the result of a medical condition, acromegaly, that caused him to grow uncontrollably – and to carry on growing.
After moving to Paris to work as a removal man, he soon found himself recruited into the local wrestling scene. Before long he was fighting in front of sell-out crowds in Japan and Canada, paving the way for his entry into the lucrative Big Time of the US scene.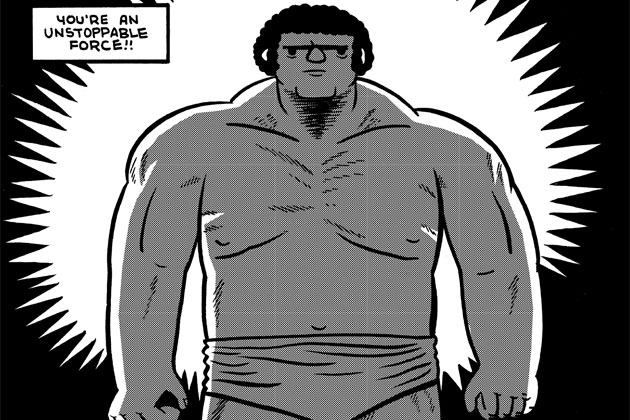 Brown's familiar art style translates well to the biographical form, given the cartoony, larger-than-life nature of the life on the wrestling circuit. If anything, Brown's stylised graphics actually serve – in a strange way – to somehow humanise the characters.
So even if you're not a huge fan of the pro wrestling circus, there's enough narrative skill and human interest here to engage the average reader. Without going down the whole 'When the front door closes, the laughter stops' route, Brown vividly evokes the various sides of Andre's character – a man who travelled the world and achieved great fortune, but also a man who struggled with a life-long disability that left him in an increasing amount of pain and isolation and dangled the Damoclean threat of an early death over him.
However, while there's no doubting Brown's respect for his subject and scrupulous dedication to accuracy (Andre the Giant includes annotations, a glossary and a bibliography), the book as a whole is a bit choppy and episodic, flipping from anecdote to anecdote without an overarching structure to knit it together.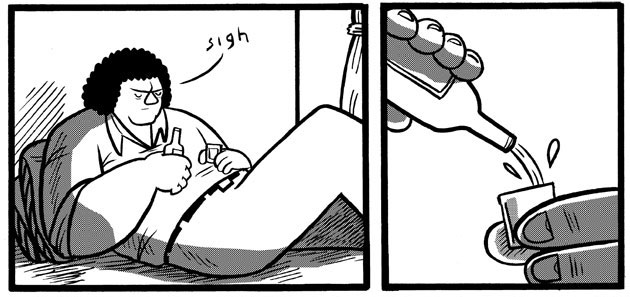 On some occasions it also feels a little restrained by the facts, despite Brown's always pleasing artistic interpretation of events. The book seems to flow a lot more enjoyably in the sections where Brown is speculating over events (such as Andre's early life in France, including a reported encounter with his family's neighbour at the time, Samuel Beckett) than it does where the events or exchanges being depicted have been well documented.
A couple of interesting strands of Andre's life also remain under-explored – particularly his non-relationship with his daughter (and her mother), which is dealt with in a very sketchy/elliptical way. At one stage in the book Andre speculates that he'd like to settle down as a family man once his wrestling and travel commitments were over with, but we don't come away with that strong a sense of how Andre might have felt about the situation.
For all its documentary strength, the book really comes to life when there's a bit more authorial intervention from Brown – particularly in his analysis of a couple of Andre's most noteworthy bouts, where he lifts the lid a little on how wrestling works.
The climax of the book is Andre's concluding 'blow-off' with Hulk Hogan at Wrestlemania III, in front of a crowd of 93,000 at the Pontiac Silverdrome – an event thought of as the high-water mark of pro wrestling in the 1980s.
By that stage in his career, the debilitating effects of his illness were becoming increasingly onerous (and surgical attempts to ease the strain on his frame were complicated by the fact that his size left anaesthetists in the dark about how to deal with him; this is a man who was left feeling "tingly" by having drunk a bottle of vodka).
Now fighting as a 'heel' (bad guy), he took the fall that set up Hogan as the undisputed superstar of the wrestling circuit; as Brown summarises it, "That night, Hogan became a god… And Andre made it happen".
Throughout his career, as depicted by Brown, Andre comes across as an occasionally flawed but essentially decent man, who was happy enough to pass the time drinking and playing cards with his buddies until he could get back to living the simple life at his ranch. To extend that analogy, life dealt him a strange hand, but he certainly made the most of it.
In conclusion, whether you're a hardcore wrestling fan or an aficionado of fine cartooning, the chances are that you'll find something of interest in the pages of Andre the Giant. Box Brown's obvious affinity with his subject and the craft of his pages make this a highly enjoyable book.
Box Brown (W/A) • First Second Books, $17.99, May 2014