In The Shadow Hero, Gene Luen Yang and Sonny Liew pick up a lost fragment of comics history and create a charming and long-overdue origin story for the first Asian-American superhero.
A quick glance at the shelves in your common or garden comic shop would quickly demonstrate that as much as we might wish it otherwise, superheroes have been the defining genre in the comics marketplace – even to the point where 'comic book' and 'superhero' are largely synonymous in the mind of the 'civilian' population.
However, while we spend a lot of our energy here at BF trying to alert you to all the other games in town, every now and then a superhero book comes along that's just so enjoyable that we can't ignore or poo-poo it.
And while every week seems to bring another publisher trying to give a new gloss to the spandex gang, what makes The Shadow Hero (by Gene Luen Yang and Sonny Liew) so charming and pleasing is that it goes right back to Golden Age basics.
In his previous major work, the acclaimed two-volume epic Boxers and Saints, Yang tied together intense human drama and magical realism to shed new light on an important moment in Chinese history – the Boxer Rebellion at the end of the 19th century.
The Shadow Hero – collecting the title's six digital issues in a trade paperback – takes a similar approach to look at another aspect of Chinese history from a few decades later: the diaspora experience of the country's migrants to the US. However, here the blend of drama and fantasy is shot through the prism of the superhero genre rather than a historical epic.
The project's background is an enthralling mystery story in its own right. It started when Yang, browsing through a blog of public domain Golden Age stories, came across a long-forgotten character called The Green Turtle, created for a very brief run in the mid-1940s by the equally overlooked Chu Hing – possibly the first recorded Chinese-American comic artist.
Fascinated by this lost fragment of comics history, Yang's further investigations brought up some interesting possibilities. The Green Turtle's literary origins are, fittingly, shrouded in a fog of rumour and mystery.
Yang's research suggested that Chu Hing may well have intended the Turtle to be an overtly Asian character, but it was rumoured that his publisher thought having a non-white protagonist might create a fuss among his readers (if you can imagine such a thing!) and insisted that Chu made him a Caucasian instead.
The artist bridled at this, with the result that throughout the character's brief run (across five issues of Blazing Comics), we never see the face of the Green Turtle. We never hear his origin story, either; in what appears to have become a bit of a running gag, every time he is about to reveal his background to his trusty sidekick, Burma Boy, fate intervenes to interrupt him.
In breathing new life into this forgotten hero, Yang and Liew have gone back to the start to give him his missing origin story, while making a few nods to the original source material. In tribute to the character's creator, the protagonist is now the anglicised Hank Chu – the son of an immigrant Chinese grocer in the fictional 1930s city of San Incendio.
Hank is happy enough working in his father's shop, looking forward to the day when he might work similarly alongside his own son. However, after an encounter with the city's resident superhero, the Anchor of Justice, Hank's ambitious mother decides that there's nothing she'd like better than for her son to don a costume and fight crime (despite his clear lack of anything approaching a superpower).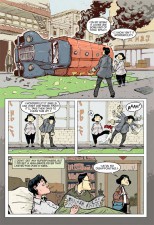 After the devastating tragedy of Boxers and Saints, the delightful tone of The Shadow Hero comes as a surprise; Yang has a real gift for comedy in his set-ups and dialogue. Hank's mother in particular threatens to steal the show on a number of occasions, such as when she pushes her son into to spilt toxic sludge in the hope of activating some sort of latent superpower.
And while the neatly structured narrative hits all the expected beats of a superhero origin story, Yang's script also finds ways to neatly subvert the conventions of the genre; when Hank can't get a lift to his big showdown with Tong crime boss who is extorting money from his family, he ends up travelling there by bus (in full costume).
He also makes witty use of some of the features of the original strip. It seems that the original publisher, keen to foil Chu Hing's plans, ensured that the Green Turtle was always given an exaggerated pink skin tone. Here, Yang and Liew incorporate that by having it as a side-effect of Hank's encounter with the toxic sludge. The mysterious 'Turtle shadow' that accompanied the original character is also incorporated here, giving the work a supernatural edge.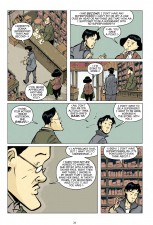 However, there's also depth to Yang's writing: Hank's mum's thirst for colour and excitement – being lived out through her son's adventures – is driven by a sharply drawn sense of disappointment at the drab way her life has turned out. And when Hank's ham-fisted attempt to take down the Tong has tragic consequences for his family, he has to learn an important lesson about power and responsibility that runs through the core of the superhero genre.
In all of this, Yang seems to have found the perfect collaborator in the Singapore-based Liew (who also co-edits Liquid City, an anthology of South-East Asian comics). His work is a constant delight: dynamic enough for hard-hitting action scenes, elastic enough for farcical comedy and capable throughout of generating a strong sense of time and place, indicating the depth of his research.
The Shadow Hero doesn't try to push back the boundaries of the comics form. What it does – gloriously – is to create a story that mixes comedy and drama, the conventional and the unexpected, to provide an engaging, illuminating and pleasurable reading experience.
And who doesn't love those, whatever costume they wear?
(Don't forget to check our our recent interviews with Gene Luen Yang and Sonny Liew.)
Gene Luen Yang (W), Sonny Liew (A) • First Second Books, $17.99, July 2014