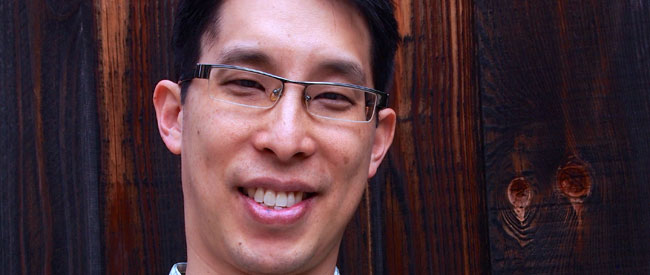 Fresh from the acclaim for Boxers and Saints, his epic two-volume treatment of the Boxer Rebellion in China, Gene Luen Yang has collaborated with Singapore-based artist Sonny Liew to pick up a little-known piece of comics history. In The Shadow Hero, published digitally and now in print by First Second Books, Yang and Liew have brought back a short-lived but very noteworthy Golden Age superhero – the Green Turtle.
The character's origin is fascinating: created in the 1940s by a generally overlooked Chinese-American artist, Chu Hing, it's widely believed that the Green Turtle was meant to be an Asian-American hero.
However, to skirt his publisher's squeamishness about the character's race, Chu Hing never showed the hero's face, and the Green Turtle was always cut off in mid-sentence when he was about to reveal his background to his sidekick, Burma Boy.
Determined to give both the Green Turtle and Chu Hing their deserved day in the sun, Yang and Liew have picked up the mysterious character (who only ran for five issues of Blazing Comics) and given him his long-awaited origin story, in a thrilling but playful look at both superheroics and the immigrant experience in early 20th-century America.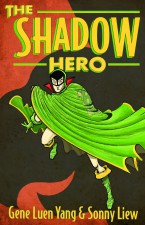 With the trade paperback out this week, Gene Luen Yang generously took the time to answer a few of our questions.
Assuming you grew up with superhero comics, were you ever aware of issues of representation? Did you ever feel that comics were populated by characters who weren't "like you"?
Gene: I loved superheroes as a kid, and one of the reasons was their masks. Especially masks like Spider-man's – you could imagine anyone underneath.
As I got older, as I learned to articulate some of the alienation of growing up as a minority, I became more aware of the lack of superheroes "like me." There were a few, but they were almost all martial arts-based.
What superheroes were you attached to as a young reader – and now?
I was a huge Marvel Nerd. I loved Spider-man, the Hulk, the Fantastic Four. And the Silver Surfer too – I know he only wears a pair of silver Speedos, but he's such a great character.
Nowadays, the DC characters have grown on me. When I was a kid, I thought the DC Universe was stupid.  I couldn't stand that there were so many characters with "Lad" or "Lass" in their aliases. But Bruce Timm's animated version of the DC Universe changed all that. He got me to love the Justice League. I think I might love the Justice League even more than the Avengers now, all because of Mr Timm and his team.
How did you become aware of Chu Hing's work?
I first encountered his story on the Internet, on a blog called Pappy's Golden Age Comics Blogzine. The blog features public domain Golden Age characters.
The Green Turtle and Chu Hing have been on there a couple of times. When I first read about the Green Turtle and the rumors surrounding his creation, I was fascinated. I couldn't stop thinking about him, so I knew I had to do something with the character.
The origins of the superhero genre seem tied to the American immigrant experience. Why do you think that might be?
Well, the creators of almost all the major American superheroes are the children of immigrants. Jerry Siegel and Joe Shuster created Superman; Bill Finger and Bob Kane created Batman; Stan Lee, Jack Kirby, and Steve Ditko created the Marvel Universe. They were all the children of immigrants, and I believe they embedded their experiences into the superhero genre.
The children of immigrants often have to navigate between two identities, two cultures. We often use one name at home, another at school. We sometimes try to hide one existence from the other. All of this is a part of the superhero genre.
Superheroes seem to tap into mythic and universal archetypes; the God forms of the Boxers in Boxers and Saints were similar. Were you thinking of superhero comics when you were working on that?
Oh, absolutely. Boxers and Saints is a two-volume graphic novel about the Boxer Rebellion, a war that was fought in China just over a hundred years ago.
The Boxers were an army of poor, illiterate teenagers from the farmlands of China. They believed they could use a mystical ritual to call down the gods from the heavens. The gods would possess their bodies and give them superpowers.
When I read about them, I immediately thought, "This is like a real-life, Chinese version of Shazam!" I consciously drew on the language of superhero comics to tell that story.
Despite its serious moments, The Shadow Hero has a lovely light-hearted tone; is that how you see superhero stories working best? Do you agree with Grant Morrison that they provide an opportunity to show the best of which we're capable?
Superheroes are very, very American. They were invented in this country. They became popular as America grew into its role as a superpower. I guess I agree with Grant Morrison. In many ways, superheroes embody American ideals.
But I also think the superhero genre is very flexible and can accommodate all sorts of different tones. There are certainly fads that blow through, and some of them can hang around long enough to feel oppressive. I'm thinking of the "grim and gritty" trend that's gone on and off for a couple of decades now. But even there, I can point to lots of amazing "grim and gritty" comics.
Could you outline briefly how you and Sonny work together? As a writer/artist, is it hard to relinquish control to another artist?
I wrote the script as thumbnails. Sonny did all the character designs. He researched different 1930s Chinatowns for the backgrounds and redid panel compositions that didn't work.
Working with Sonny was a joy. He's a phenomenally talented storyteller with a deep knowledge of how the medium works.
[We've got 
more details on the collaboration process in our interview with Sonny Liew.]
The Shadow Hero focuses on exploitation within the immigrant Chinese community rather than hostility from without. Was that something that struck you as particularly invidious?
In preparation for writing The Shadow Hero I did some reading on early Chinese immigrants. Tongs – these Chinese gangs – were a big problem in the late 1800s and early 1900s.
They were a product of American immigration policies. America didn't let very many Chinese women immigrate, in an effort to encourage the Chinese men to go back to China after they finished working. Many of the young men, separated from their old families with little hope of establishing new ones, joined the Tongs for protection and solidarity. But the Tongs were often violent, causing many problems for the average Chinatown resident.
Hank's mom steals the show on more than one occasion. How much truth is there behind the myth of the 'Tiger mom'?
Ha ha! Hank's mom is inspired by a few of the women at my childhood church. They had the best of intentions, but they were very… opinionated.
I wanted Hank's mom to start off as a stereotypical "Tiger mom," but I hope that Sonny and I are able to move the character beyond that. We want to show that her stubbornness is rooted in her disappointments. We want to show her grow in compassion and understanding.
Finally, will we see more of the Green Turtle?
I would love to do more Green Turtle stories, but there are no plans yet. It depends on how the first book does, what First Second Books thinks, what Sonny's schedule is like. We'll see. I just hope The Shadow Hero gets more people interested in Chu Hing and his character.
Many thanks to Gene for his time. Don't forget to check out our interview with Sonny Liew, his artistic collaborator on The Shadow Hero.
The Shadow Hero has been published as individual e-comics by First Second Books, and will hit the shelves as a trade paperback this week, priced $17.99.