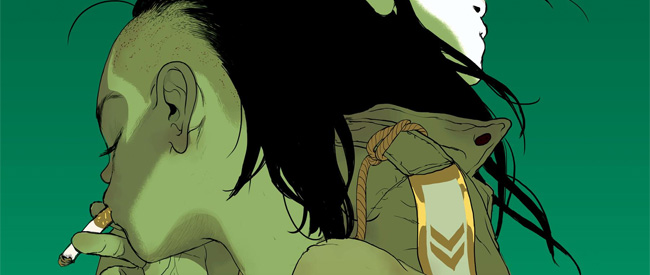 Just over 15 years ago, as Y2K and fears of global calamity faded into shameful obscurity, the world was shocked by a startling photograph taken by an Associated Press photographer, Apichart Weerawong.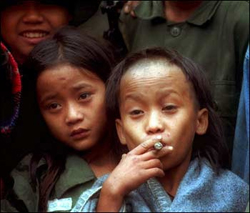 A haunting image of 12-year old twin boys Johnny and Luther Htoo, the photograph called attention to the plight of the Karen people, who were being forcibly removed from their traditional homelands by the Burmese army to make way for a lucrative oil pipeline.
The brothers were rumored to possess magic powers, granting them invulnerability and vast armies of invisible soldiers, among other abilities. For a time, they waged an ill-fated guerilla war against the Burmese military, drawing hundreds of followers to their cause as the strength and influence of their "God's Army" reached a peak.
The Htoo brothers' tragic story – one of forced displacement, unspeakable violence, and misguided worship – still resonates to this day, serving as the inspiration for a new graphic novel from artistic brothers Asaf and Tomer Hanuka and writer Boaz Lavie.
Published by First Second, The Divine takes place in a fictional South-east Asian nation called Quanlom and chronicles the encounter of a naïve explosives expert with a pair of mysterious twins, who lead a native guerilla army in a campaign of retribution against the military. Like the claims made for the Htoo brothers, the twins possess magical abilities and worship a monolithic serpent called Leh.
Set against a violent backdrop of government corruption bolstered by Western exploitation, The Divine weaves together grave real-world geo-political issues with a robust mythology, with deep roots in Burmese folkloric tradition. The result is an engrossing, visceral tale of secret wars, child soldiers, and supernatural dread.
We chatted with the entire creative team via email about The Divine's connection to the Htoo brothers and why the graphic narrative is the ideal medium for a story possessed of such nuance and complexity.
BROKEN FRONTIER: Evidently there was a lot of research performed before creating the book. What was the inspiration for The Divine's plot and setting?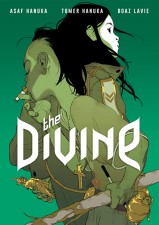 TOMER HANUKA: The initial seed of the idea came from a news story, about a very real pair of twins, the Htoo brothers. Nine-year-olds left to fend for their own in the jungles of Burma, and leading a ragtag army of child soldiers.
Everyone around them believed they had superpowers. There was also a striking photo of them. The whole thing felt like the raw materials of myth, and yet it was tragically real.
Why set the story in a fictional nation rather than an existing South-east Asian state?
BOAZ LAVIE: The Divine is not the real story of the Htoo twins. We didn't try to take the real story and turn it into comics. It's 100% fiction and few of the major themes in it have actually very little to do with the real story.
To separate The Divine even more from the historical reference, we did a couple of things, one of them the invention of this fictional nation of Quanlom. It freed us in many senses – we could go ahead and imagine this place, creating our own mythology of it. Of course it's all inspired by specific South-east Asian references, but the book isn't committed to them, only to our own vision.
There is a rich, vibrant mythology at the heart of The Divine. Why did you decide to inject the plot with a healthy dose of the supernatural?
ASAF HANUKA: One of the advantages of the comics form is its ability to depict the unnatural and fantastical. When everything is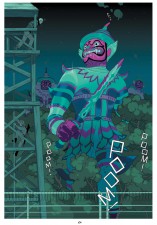 created with lines and colors, you don't need fancy special effects to convince a reader he is looking at something that might not be real, but could be. As kids, we loved that quality in comics, and it was clear to us we wanted to make the best [use] of it. It's also the most fun to draw!
On a more conceptual level, fantasy is the only advantage kids have over adults. And since one of the themes in the book is the conflict between the two, it made sense to find a way to inject fantasy into reality.
While researching the book, which particular piece of reference had the most impact on you as artists and storytellers?
TH: The local art and folklore of Burma were a great source of visual ideas. The giant statues that come to life in the story actually exist at the entrances to temples. As visual storytellers we are very much at home in western culture, so exploring Burma and South-east Asia was (for us) an untapped resource of new visual ideas.
With three very strong creative voices all contributing to the story, how was it decided who did what? That is, how did your creative process work?
TH: Back in the late '00s I created a series of illustrations imagining a world where this story could take place. Around that time Boaz joined the team and wrote the story, with the caveat that he starts from scratch. Once the writing was completed, he met with Asaf on a bi-weekly basis, where they would think up visual ideas and "direct" the scenes together in the form of a rough layout that Asaf drew.
When we had a locked mock-up of the book (this took a few rounds, and some 100 pages that were left on the cutting room floor), Asaf created tight pencils of each page, which I inked and colored (all pixels by the way; the book is 100% digital).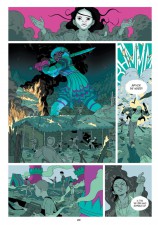 BL: We fought a lot. But eventually it all added up to something that also represents our different passions, which is good. Creative disagreement can be very beneficial in such a complex process, as long as you know how to handle the personal tension. If everything went smoothly, it would have probably been too boring for us to keep working on it for so long.
All three of you have a diverse background outside of comics, including work in animation, film, and graphic illustration. How did your work in other disciplines inform your creative approach for The Divine?
TH: For me it was about designating a color palette for each sequence, trying to set an emotional tone. As an illustrator, I often go for a very "subjective" color treatment, getting at a heightened sense of drama. I wanted to spread this logic across an entire scene, and then zoom out a bit more and see the whole book in sequences of color pairings, where you can read its temperature almost as a narrative.
The Divine touches upon a number of timely, relevant socio-political issues, such as the existence of child soldiers and the forced (and often violent) relocation of entire communities. These are issues that affect millions of people worldwide yet feel far removed for those of us in the West. Do you feel that comics are well-suited to dealing with issues of this complexity?
BL: We don't quite agree with the idea that comics is a limited, "low" art form, suited only for specific themes. I think that this is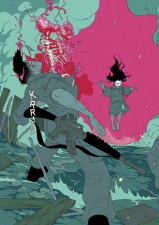 how cinema was looked at, in its early days, but this notion has changed completely. Comics, in the US more than in France, maybe, are still popular mostly for doing genre.
We are using genre tropes and elements in The Divine, both in the story and in the art, but that's only because we were interested in experimenting with them – telling this rather difficult and dark story with the most engaging and even entertaining tools. We hope that the result is still very serious, thought-provoking even, while being as fun and as captivating as genre comics can be.
What's on the horizon for the three of you, creatively? What new projects are you currently working on?
TH: We've been working on The Divine for almost ten years in some form or another. It was a complicated operation, but very gratifying. So, we're jumping straight into a new project, still very much in the conception stage.
So there isn't much to say, except that it's going to be brutal.
Published by First Second, The Divine is available now and costs $19.99.