For the better part of two decades, James Kochalka has been honing his inimitable cartooning style across an increasingly staggering bibliography of comics work. In between, he's found time to produce animated shorts for Nickelodeon, front indie rock band James Kochalka Superstar, and teach at the Center for Cartoon Studies.
The Glorkian Warrior Eats Adventure Pie, the artist's imminent release from First Second Books, picks up where 2014's The Glorkian Warrior Delivers a Pizza left off. However, the book's special brand of inspired space-faring lunacy requires no introduction to enjoy. Kochalka took the time to chat with Broken Frontier about The Glorkian Warrior's latest escapades, his prolific body of work, and finding his own artistic strengths.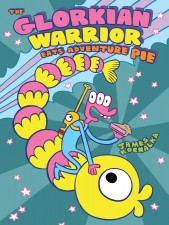 BROKEN FRONTIER: One of the things I notice in your work is a knack for creating characters that are simple but memorable, from Johnny Boo to Dragon Puncher. The Glorkian Warrior is no exception. Is there anything in particular that helped you to bring him to life?
JAMES KOCHALKA: When I'm designing the look of the characters I basically just doodle, doing a bunch of different variations on their basic shapes until one of these doodles has the spark of life.  When I hit it, I just know.  It's like… the other doodles are just drawings, but THIS doodle is a real person.
Then, when I'm working on the actual book I sort of feel like the characters I'm drawing are actually me.  That spark of life that they have is my spark of life, from somewhere inside me.  Maybe they end up as an exaggerated form of some aspect of my personality.
While your body of work spans an impressive range of genres, you've made your mark on children's entertainment in the media of comics, music, animation, and games. What is the most rewarding thing to you about creating something that children will love (and parents might dig, too)?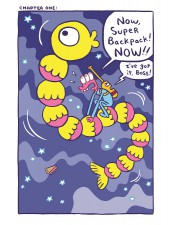 Creating these stories is a lot like playing, and it's fun to play.  Not to say it isn't also a great deal of work.  But there's
real satisfaction to be had in working hard as well.  So my primary joys are personal: it's fun to imagine stuff and draw it, and I enjoy the sense of satisfaction from seeing a project through to completion.
I also read the rough drafts of the books as bedtime stories to my own children while I'm writing them.  So there is the additional joy of that closeness of snuggling and sharing and laughing together with my kids.  Then I send the books out into the world so everyone else can join in the fun… and when they like it, it's great.
I have fun, living life and making stuff.  If I can spread some of that joy to other people, that's fantastic.
The Glorkian Warrior's world wouldn't be the same without your dynamic and vibrant art. Could you talk a little about the visual side of your process with this graphic novel?
I've never been able to draw with exacting precision.  I can't draw "on-model" like a professional animator, where the character has exactly the same proportions every time you draw it.  Potentially that could be a weakness, but I've tried to turn it into a strength by using the looseness of my line to create dynamic body poses and facial expressions. If I can't keep the shape of Glorkian Warrior's head exactly the same each time, I can let the shape of his head better portray his constantly changing emotional state instead.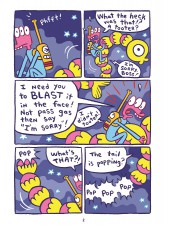 And for color… well, I'm not a natural colorist.  I don't really know how to pick colors that are harmonious together but still distinct from each other.  But rather than shy away and play it safe and avoid making bad mistakes I find it more interesting to just go for it and pump my coloring mistakes up as big as possible – again, just trying to turn my artistic weaknesses into strengths.
Readers can now take control of the Glorkian Warrior in Glorkian Warrior: Trials Of Glork (developed in collaboration with Pixeljam). What did you learn while working on your first video game?
Maybe I learned how to let go.  We did several nearly complete versions of the game before settling on the version that we finally brought to completion.  I did hundreds of drawings of awesome things, drew gorgeous and gigantic game levels, but all that will never be seen.  I had to learn to be okay with doing all that work and just tossing it out.  I'm used to bringing every single project to completion.  I don't tend to cut stuff free like that.
With the Kickstarter launched in 2010, it seems like the idea for the game actually came before the books. Given your versatility in numerous media, do you have a particular way of discovering what the best format is for a particular idea?
Glorkian Warrior did begin as a video game idea, and I worked on the game idea for a few years on my own before hooking up with PixelJam and doing that Kickstarted drive.  But I had also already started drawing the first Glorkian Warrior graphic novel before then too.  I worked on both simultaneously.  I even wrote a bunch of songs about Glorkian Warrior too.  I will probably record a Glorkian Warrior rock album soon, but I'm still writing songs for it.
I choose characters to work with based on the spark of life I find in those doodles I described earlier, and I choose the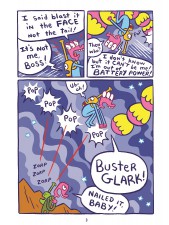 medium just at total whim.  I enjoy consuming so many kinds of art forms myself that I want to engage with them and enjoy them from the inside as well as from without.
Among other honors, you have the prestige of being the first Cartoonist Laureate of Vermont. What was that like?
It was like being named the State Flower.
It really was an incredible honor, and it continues to be.  In fact, the honor has only increased since when it was first given to me.  I remember when I had my inauguration at the state house it really was not a big deal.  It was like an afterthought, almost.  But people's attitude about the position changed over the years that I held it.
We have a new Cartoonist Laureate of Vermont now – the great New Yorker cartoonist Ed Koren.  I attended his inauguration as well, and the reception there, for both of us, was several levels above what I had experienced three years earlier or whenever it was.  At one point Governor Shumlin leaned in close to me and said softly, "You know, you're our cartoonist laureate for life."  And there's some truth to that… I will always be the first Cartoonist Laureate of Vermont, and every time a new Cartoonist Laureate is named it simply adds to my own stature.
Plus, it's just nice to have something to be proud of.  It makes me feel good even when I'm sitting alone all by myself.
You've been a guide for young creators through your comics criticism and as a teacher at the Center for Cartoon Studies. What's one piece of advice you'd share with someone reading this who's thinking of sharing their own stories?
Share them!  Don't be shy.  As soon as you share your work, your own perspective on it will change.  You can't effectively grow as an artist without sharing your work with others.
Sometimes people are afraid of sharing their work because they think its not good enough, or – even worse – they let that fear prevent them from making any work at all.  Make something, share it, learn, and make more.  I still live by this today, several dozen books into my career.
Is there any type of project (in genre or format) that you haven't tried yet that you'd like to take on?
Maybe I'd like to write a prose novel someday.  I would probably have to include a lot of drawings though, to make up for my lack of skill with words.  Right now I'm just doing a lot of reading.  So far this year (up to Feb. 20) I've read The Strange Library and Colorless Tsukuru Tazaki and His Years of Pilgrimage by Haruki Marakami,  Moominland Midwinter by Tove Jansson (for like the 10th time), The First Bad Man by Miranda July, A Wrinkle in Time by Madeleine L'Engle (for the first time since my childhood), and I'm about half way through Starship Troopers by Robert A. Heinlein.