Gene Luen Yang tells us about Secret Coders – a new series of books that brings together his passion for art, science and teaching to create a thrilling adventure set in a Hogwarts-style school for computer coders.
Computer science teacher turned A-list comics creator Gene Luen Yang (American Born Chinese, Boxers and Saints) is the writer of Secret Coders – a graphic novel for kids that combines comics and coding to get young people interested in computer science.
A collaboration with artist Mike Holmes, it also tells the two of two fast friends in a mysterious and unusual school who get into curious adventures along with a small robot turtle.
Gene took the time to talk to us about his passion behind the project.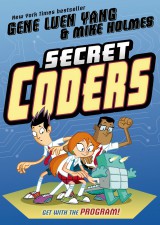 Your book Secret Coders is set in a rather unusual school where coding comes to life in magical ways. When and why did you first become interested in computer coding?
I first learned how to code during the summer after my fifth grade year. My mom didn't want me to spend all summer in front of the TV, so she signed me up for a bunch of enrichment classes. I only remember one of them – an introductory programming class.
We used Logo, a programming language that allows you to give a little turtle commands to move about the screen and draw. I loved it, in part because Logo connected coding with art.
I eventually majored in Computer Science in college. I worked as a software developer for two years, then became a high school computer science teacher. For all my adult life I've either made programs or taught others how to make programs.
Your story takes a 'magic school' idea and swaps the magic for a different sorcery – coding. Why do you compare coding to magic?
Coding is magic. With magic, a wizard speaks a few words and some action happens. It's the same way with coding, only the words are usually typed instead of spoken.
The big difference is, when you read about kids learning magic to become wizards, you can't do the same thing. You don't get to be a wizard. But when you read about kids learning coding to become coders, you can do the same thing and become a coder yourself.
Why do you think it's important for kids to have a story like this that teaches them about computer coding?
Studies have shown over and over that storytelling is the most effective way to teach. Weaving educational content into a narrative makes the educational content more memorable.
I don't expect Secret Coders to replace a good computer science teacher, but I do hope that it will intrigue kids enough to get them to sign up for coding classes.
Although it does teach some of the concepts behind coding, Secret Coders is also a children's story about friendship, adventurers and growing up.
How do you find that balance between making the book an educational tool and an enjoyable story?
I hope we've found a balance. I structured each chapter the way I structured my lessons when I was teaching. I'd begin with some review, then I'd introduce a new topic, then I'd give my students a chance to solve a problem using what I'd just taught. The chapters in Secret Coders are structured the same way.
Mike and I also tried to create believable characters with quirks and desires and flaws, characters that feel real despite being cartoons.
Your two main characters start off as enemies but quickly become fast friends. What was your inspiration for these characters?
Hopper is inspired by Grace Murray Hopper, one of the most famous coders in the history of computer science. She fundamentally changed the way humans program computers by inventing the compiler – a piece of software that translates instructions written in a language humans can understand into instructions written in a language for computers.
Her best friend Eni has a number of inspirations, one of whom is Chris Bosh of the Miami Heat. Bosh is one of the best basketball players in the world, but he's also a nerd. He wasn't just on his high school's varsity basketball team, he was also a part of the National Honor Society and his school's math club.
He entered college intending to major in computer imaging and graphic design. Even now, he's a huge advocate for computer science education. Sometimes, sports and academics are pitted against each other, as if they're incompatible. Plenty of people, like Bosh and my character Eni, are able to straddle both worlds.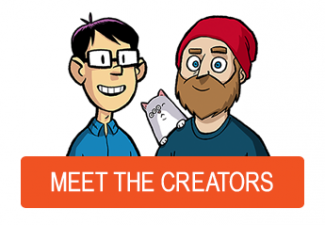 Comics are a very visual way of telling stories. How do you think that visual nature works together with code to create a book like Secret Coders?
When I taught computer science, I used a lot of visuals. I drew on the board a lot. I'd draw out variables, counters, and pointers. That's when the idea first came to mind. A lot of what I was doing on the board could also work as a comic.
Certain concepts are most easily conveyed visually. This is true for every academic subject, not just computer science.
Your first issue ends with a half-puzzle, half-cliffhanger. Without giving away any spoilers, what's next for the code adventurers of Secret Coders? How deep into the technicalities of coding would you like to see these books go?
Hopper, Eni, and Josh will discover the secret of Stately Academy! They'll encounter more robots and learn more complex coding concepts. In the next volume we talk about random number generation and parameters.
There are currently three volumes of Secret Coders planned. Mike and I are hoping for six!
Gene Luen Yang  (W), Mike Holmes (A) • First Second Books, $17.99 (HB), $9.99 (PB)