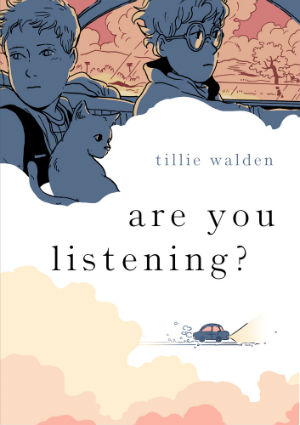 Tillie Walden's ability to root the profoundly human in the dreamily fantastical and make it seem all the more recognisable and universal for those extravagant visual trappings has become one of the signature components of her work. In Are You Listening? she takes that to new levels with a story where the literal and the symbolic flow in and out of each other, and where the relationship between perception and reality is cloaked in powerfully resonant metaphor.
Teenager Bea is on the run when she encounters Lou, a decade or so her senior, and the two embark on an unlikely road trip across West Texas. Encountering a lost (and apparently magical) cat and deciding to take it back to its home, the duo's journey becomes more mindbendingly nightmarish as time progresses. Travelling through an ever shifting landscape that warps and changes itself at will they find themselves pursued by the sinister agents of the Office of Road Inquiry as the echoes of the past begin to impact on the present. As they get closer to their final destination, truths are revealed and the bond between the two young women becomes ever more pronounced and important.
We talk a lot about Walden's ever inventive page designs and command of the structure and language of comics in reviews (and it will surprise no one to hear that both are key elements of Are You Listening?) but her use of colour deserves far more attention. Here her autumnal reds, oranges, purples and pinks re-enforce the eerie otherworldliness of the story giving it a timeless atmosphere as everything melts into a permanent eerie twilight.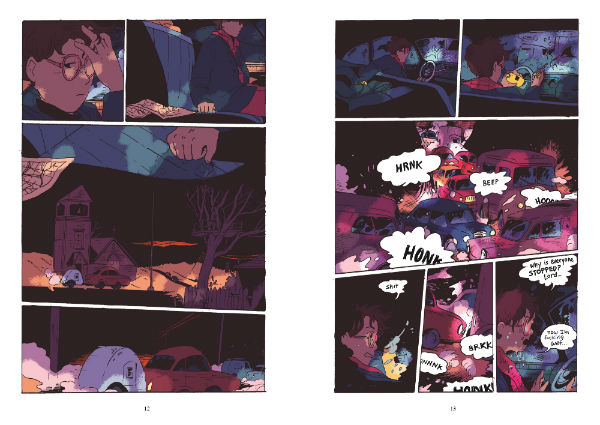 Environment is a key part of this narrative, with the irony of a story set on the open road that is nevertheless so claustrophobic furthering the intensity of events. Their surroundings seem to be shaped on one level by the characters themselves, subtly evolving around them at first but gradually turning into dark reflections of their experiences in the most dramatic, even ostentatious, fashion as the very fabric of existence seems to tear apart.
Are You Listening? is about many things – survival, identity, trauma, loss and acceptance. Like all Walden's work we as much react to it as read it, and our investment in the two main players is vital in that regard. The emotional potency of the quieter unspoken moments between them is one of the most memorable aspects of that relationship, communicating so much about the characters on a purely instictive level. One pivotal sequence towards the end, for example, underlines the fargility of Bea's world with a stripped back, minimal eloquence.
The inevitable destination of Are You Listening? is one that the reader must arrive at for themselves but on the way to those ultimate revelations Walden takes us on a route that is existentially surreal but visually articulate. A brooding and unforgettable work from one of the great comics talents of our time.
Tillie Walden (W/A) • First Second, $17.99
Review by Andy Oliver