To describe Forest Hills Bootleg Society merely as a coming-of-age story seems woefully inadequate given the number of thematic strands that run through its pages. As a revealing afterword notes, Dave Baker and Nicole Goux's graphic novel has been a work-in-progress that has evolved in focus over an extended period of time. What readers familiar with the duo's previous collaborations on books like Fuck Off Squad and Everyone is Tulip will instantly recognise, however, is their signature combination of strong character-led storytelling and fluent expression of the language of comics. Hardly surprising, then, that Forest Hills Bootleg Society was nominated for Best Graphic Novel in the 2022 Broken Frontier Awards.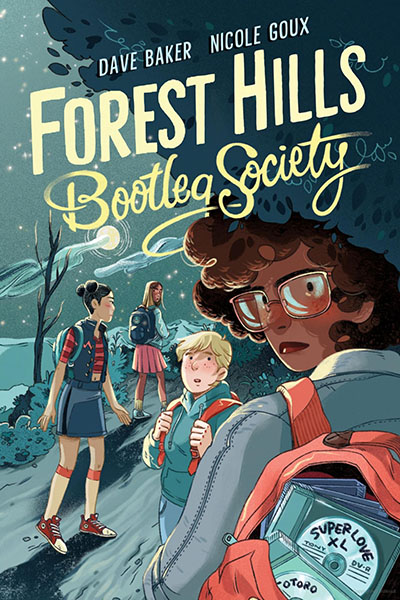 The Forest Hills Bootleg Society, as it will come to be known, consists of four members. There's Brooke whose life before she came to Forest Hills was characterised by loneliness and isolation; anime-obsessed Kelly who is in a romantic relationship with Brooke; would-be trapeze artist and overly aspirational Melissa; and the religious and somewhat repressed Maggie. It's 2005 and while the first three girls are boarders at the conservative Forest Hills Christian Academy, Maggie is a local with far less ambition.
When the foursome get the idea to start selling bootleg copies of anime films they attract a customer base of high school boys excited at the prospect of a protagonist shooting laser beams from her breasts. As the girls' new business venture begins to take off they come to the attention of the school's ruling clique and find their profiles rising among their schoolmates. But the success of the Forest Hills Bootleg Society does not come without a cost. Cracks begin to appear in their friendships, Melissa becomes mixed up in Brooke and Kelly's relationship and, pushed to the side by her friends, Maggie begins to have serious moral doubts about what they are doing…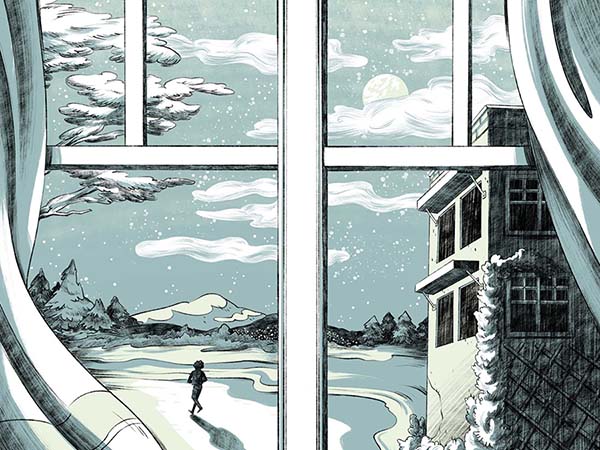 Goux and Baker give us that rarest of all things in comics here – teenagers whose voices feel authentic and genuine. This is a cast of flawed main players, which is as it should be when we consider the awkwardness of our own teen experiences and the mistakes, thoughtlessness and dumb decisions that characterise those years. It's exactly because of those fallibilities and vulnerabilities that Brooke, Kelly, Melissa and Maggie seem so real to us and, as a result, our empathy with them is ensured.
There's so much here then that feels familiar. The bonds of friendship that can shape us and become so central to our understanding of our identities that the revelation of their fragility can be devastating in its realisation. The oppressive forces that we all want to rebel against at that point in our lives, in this case represented by the religious authoritarianism that surrounds the cast. The desire to fit in and find your place within your peer group while at the same time trying to discover your place in the world. And how betrayals of trust can overwhelm and subdue us in those most impressionable of times.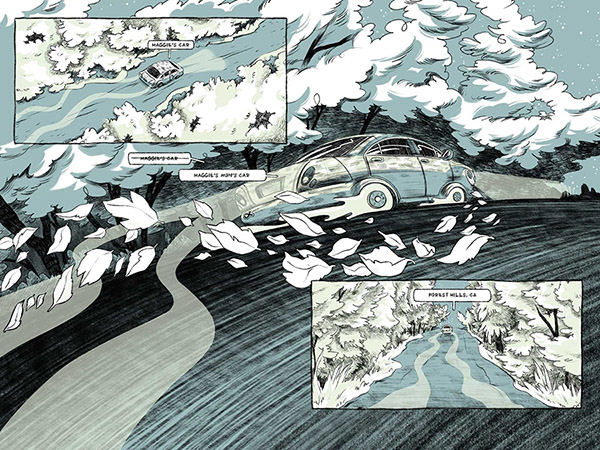 These themes are so perfectly communicated due to the ways in which the structure of the page and the employment of the tools of the form are so carefully manipulated and exploited in Forest Hills Bootleg Society. There's a jaunty application of cutaways that take a sidestep from the main narrative to give us character background on the cast, filled with neat touches like "insult bingo cards" or reflective commentary on their personalities through their attire and possessions. Maps of Forest Hills give us an idea of the wider environment the four protagonists exist within, and wordless double-page spreads tell us more about the area and the characters by immersing us in the moment than exposition ever could.
This is a creative team who have already shown us in past work how keen their understanding of the possibilities inherent in sequential visual storytelling is and that's very apparent here, especially in regards to comics' relationship with the passage of time. Multiple overlapping panels spread across a page sitting on a wider image, for example, providing a sense of time's movement from multiple character perspectives and fully embracing that whole "doing what only comics can do" ideal. Larger central panels giving us characters observing what is going on in smaller sequentials sitting at the top and bottom of a page, and constant shifts in page construction to influence the speed or focus of the reader's eye without them necessarily even realising the little nudges they are getting in regards to their connection with the page. It's technically brilliant in delivery and one of those books just begging to be pushed under the eyes of anyone who still argues that comics are a simplistic and limited medium.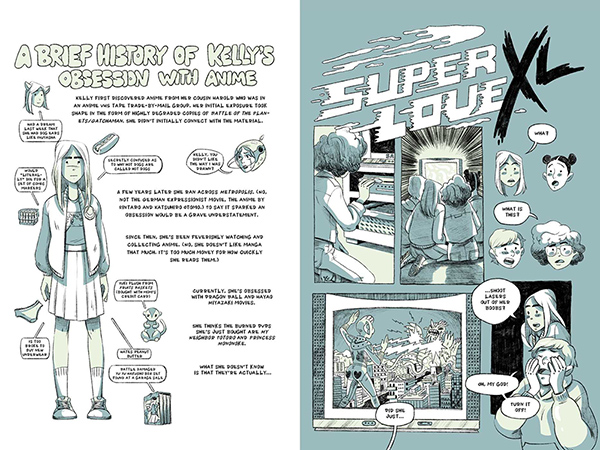 If there's one critical point to be made about Forest Hills Bootleg Society it's that there's arguably too much going on for the page count. A dramatic latter scene featuring supporting characters doesn't get quite the build-up it needs to have the impact it deserves and there are world-building hints about the extended world of Forest Hills that tease at stories waiting to be told, especially in regards to a local deceased cartoonist and his character The Lurker. But perhaps that also means a return to Forest Hills is not out of the question in the future. We can only hope.
Ultimately this is a graphic novel in which I suspect every reader will find their own truths; a profound narrative strength in its own right. Resonant and recognisable, Forest Hills Bootleg Society is a coming-of-age story that is quite beautiful in its poignancy, honesty and emotional vulnerability.
Dave Baker & Nicole Goux • Atheneum Publishing, £11.99
Review by Andy Oliver