Meg-John Barker and Jules Scheele's Graphic Guides from Icon Books have already been met with great critical acclaim for their concise and easily digestible account of the intricacies of the issues involved in talking about gender and queer history. Their third, recently published book in the series is Sexuality: A Graphic Guide which follows their previous collaborations on Gender: A Graphic Guide and Queer: A Graphic History. I chat with the duo today at BF about why graphic narrative is such a connective medium for exploring the subject matter, how their collaborative process works, and reactions to the books so far…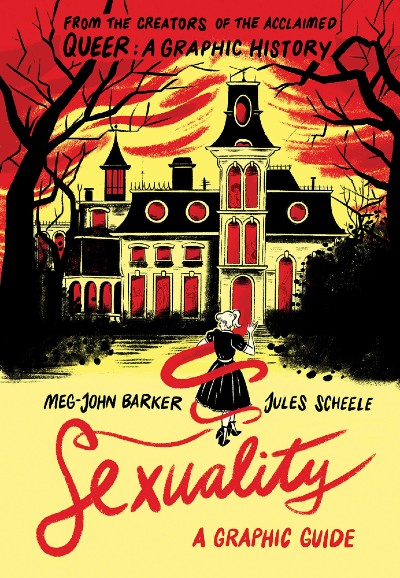 ANDY OLIVER: Before we discuss the graphic guides can you introduce yourselves to the Broken Frontier audience and tell us about your respective backgrounds and bodies of work?
JULES SCHEELE: Hi there, I'm Jules Scheele – I'm an illustrator currently living in Glasgow. For work, I specialise in graphic storytelling and illustrations that help translate and bring a human touch to difficult concepts. My personal art mainly focuses on queerness and mental health, and I draw a lot of autobio comics about my experiences with these topics. I also love making zines – I started making my own in 2008 after attending my first comic convention and haven't really stopped since.
MEG-JOHN BARKER: I'm Meg-John Barker, MJ for short. I primarily write books, zines, and blog posts aimed at helping people in their relationships with themselves, with each other, and with the world. My background is in academic psychology and sociology, existential psychotherapy, and queer activism, so I draw on all of those things, as well as Buddhist philosophy, in my work.
My main published books are the graphic guide series which I co-create with Jules and our editor Kiera, and a series of 'anti-self-help' books which I've written alone and with other folks. By 'anti-self-help' I mean that I locate the problems that we all experience in the cultural messages we receive, in systemic and structural injustice, and in forms of intergenerational and developmental trauma, rather than in there being  something 'wrong' with us as individuals. With those books I'm currently focused on the 'How to Understand Your…' series with Alex Iantaffi. These are a nice accompaniment to the graphic guide series because they help people to explore the same topics more personally, and Jules also does the covers and illustrations for them as well.
AO: Your latest book from Icon is Sexuality: A Graphic Guide, your third graphic guide after the acclaimed Queer: A Graphic History and Gender: A Graphic Guide. How would you describe the aims and scope of the series as introductory reference works? And what are some of the key discussion points covered in the latest offering, Sexuality: A Graphic Guide?
BARKER: This series is all about introducing what we know about sexuality, gender, and related topics in an engaging, accessible, and somewhat playful way. When I'm writing the books I visualise the kinds of people who might find such a book useful – such as somebody who is exploring their gender or sexuality, somebody who is coming across these ideas for the first time on a course, and somebody who is confronted by friends or family members who challenge their existing understandings. I bring in everything that I know – from theories, research, activists, therapists, and so on – and weave it together to give a comprehensive sense of how it all works.
We try to make sure that the books tell an entertaining story through these topics, while each page is also a stand-alone visual introduction to a particular idea or practice which readers could usefully reflect on for a while. A major aim of mine is also to showcase the work of those who I think have the most valuable things to say in these areas, in the hope that readers will find people who speak to them to follow up on further.
AO: How did your collaboration on the books come about?
BARKER: Icon were looking to add a book on Queer Theory to their 'introducing' series of small comic books about various academic areas and thinkers. They approached me to write it and I nearly said 'no' because queer theory is a really complex philosophy which I do love, but which I also find pretty complex and intimidating. In a way I think that response of mine is one of the things that made the eventual book – Queer: A Graphic History – so popular, because I was intent on making queer ideas accessible to readers who might feel the same way I did, and I cast my net wider than queer theory to also include the various meanings the word 'queer' can have for people, and activism as well as academic thought.
Icon didn't have an existing illustrator on their books who would've got this area well enough to do justice to the topic, so they approached Jules to come on board…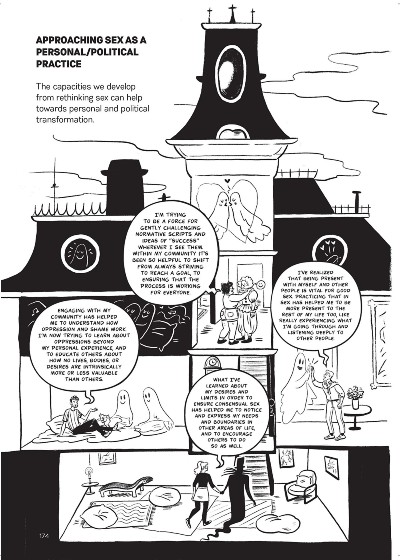 SCHEELE: Our editor approached me after a zine festival I was tabling at – she had seen a lot of the personal work I do and thought I would be a good fit to illustrate. This was my first offer for a published book so I jumped at the chance – especially after reading the script and meeting MJ, and realising how well we work together and just how useful this book could be to people. Halfway through illustrating, Icon decided to publish it in a new, big and glossy format to better show off the graphic aspect (as opposed to the pocket book style of the "Introducing…" series), which helped get the book into comics shops, gallery spaces, etc, and opened up the possibility of following up with the Gender and Sexuality books.
A): Over the last decade with the rise in popularity of graphic medicine, graphic memoir and graphic journalism there's been a noticeable increase in the use of comics to educate, inform and share experience. Why does graphic narrative work so well for this series of books in exploring gender and sexuality? Why do you think as a medium it connects with readers on such an empathetic level?
SCHEELE: Personally, I'm more of a visual learner than anything else, so it makes a lot of sense to me to tackle difficult concepts this way. I'm an avid reader but I've always struggled with non-fiction or "learning" reading – for example, when I see illustrations that support this type of writing, it just makes a more lasting impression on me, and I can process the information with greater ease than trying to digest big blocks of text with jargon in them.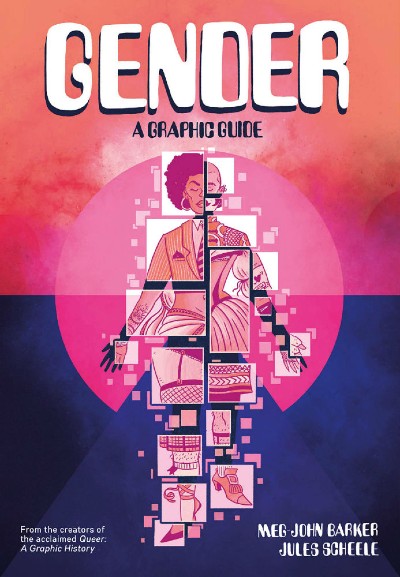 I think there's also an accessibility point here – it's easier to feel intimidated by a big academic text, or feel like it's not "for you" if you do not come from an academic background. Queer theory in particular has this reputation of being impenetrable. A lot of these texts produced in an academic context can come across as quite dry, or depersonalised to readers, and bringing graphic elements (ranging from infographics to little vignettes with relatable human characters) to them can provide a way in.
BARKER: Another plus with the visual element is that we can depict a range of characters engaging with the topics. I think that helps the reader to feel welcomed whatever their starting point is. They can see themselves explicitly included, both in relation to the topic and in the diversity Jules depicts in the characters (in relation to gender, age, race, disability, etc.) As the series has developed we've worked this up more and more so that now the characters really have their own arc through the books in terms of how their understanding evolves and how they apply it to their lives. So with Sexuality we have the main characters coming to understand their own sexualities, and developing their relationships with each other – and with some of the other characters who pop up along the way.
The visuals on each page mean that readers can see the feelings that the characters are grappling with, rather than just reading prose about how gender is a fraught topic, for example. So it definitely helps to bring something more empathetic and emotive to a non-fiction book. We can also use our background themes in the book to draw in visual pop culture references which makes the material more approachable and familiar – like The Wizard of Oz for Queer, Sci-Fi and Doctor Who for Gender, and Scooby Doo and the Rocky Horror Show for Sexuality.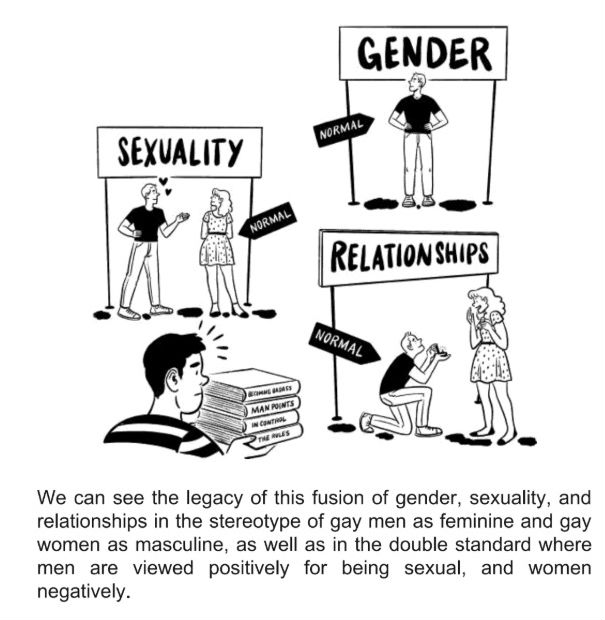 AO: One of the greatest strengths of the series for me has been the way it invites us to question the social constructs we may have taken for granted, think about a wider lived experience, and to challenge our conditioned thinking. With that in mind what has been some of the most rewarding feedback you've had from readers about the books so far?
SCHEELE: This is so nice to hear! The most emotionally rewarding feedback for me is when young people come up to me at conventions or events, to tell me that they have given one of the books to their parents, and that it has made them have a more understanding and empathetic relationship. That, or when people tell me it helped them have a kinder relationship with themselves and their queerness.
BARKER: Thanks so much for saying that, it's really good to hear that it landed with you in that way. My favourite feedback so far was from someone on twitter who said something I was so happy about that I wrote it down! 'MJ is a phenomenal purveyor of truly intersectional social justice thought'. That meant a lot because we're drawing on intersectionality throughout these books – always trying to be very clear how gender and sexuality intersect with other axes of oppression in shaping all of our lived experience (such as race, class, disability, etc.) Intersectionality is a concept with its roots in Black feminism, so I would certainly be cautious in describing myself as intersectional, despite drawing so much on those ideas. It meant a lot that somebody else felt that we had done justice to intersectional thought.
At the other end of the scale the latest book was called 'cheeky' in the blurb and it felt good to think that we'd produced something fun and friendly enough to be described in that way, despite the serious and complex topics it covers.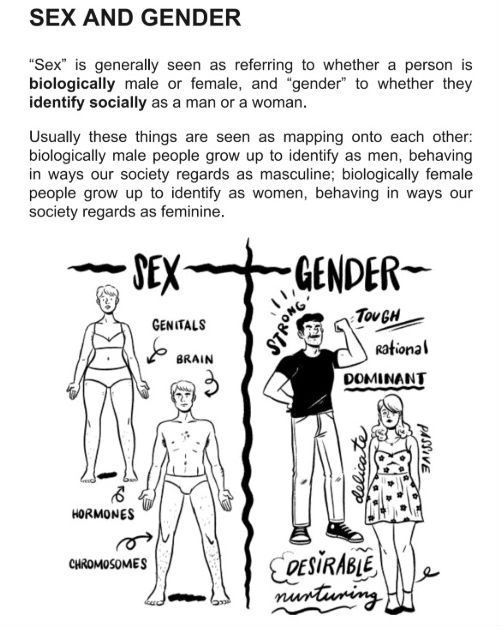 AO: Given the complexity of the issues you cover in Sexuality: A Graphic Guide what have been the main challenges in ensuring the book remains accessible and easily digestible without losing sight of the intricacies of the subjects being discussed?
BARKER: That is certainly the biggest challenge: how to weave together all these amazing ideas, research findings, activist practices, etc. into something that is clear and coherent, and then how to pare it down to the most important points, and to put those across in a way that are concise and accessible without losing the nuance or complexity.
I tend to start by putting all the reference books to one side and asking myself what I – and the friends, colleagues and clients who I have worked with – have found most personally useful in all of that knowledge and wisdom. For Sexuality I had the touchstone of my two favourite essays on the subject – one by Audre Lorde and one by Gayle Rubin. I kept returning to the ideas in those as the ones that I found really life changing.
SCHEELE: For me it was making sure that the illustration supported the writing in a way that brought across the emotionality of it – anticipating gut reactions people might feel reading about a concept that was new or foreign to them, or supporting insecurities people might feel about these subjects by showing our characters struggling with those themselves, and therefore giving them someone in the book to relate to. Also, keeping a playful edge to the drawings so the complexity of some of the ideas can be put across simply, like having the Scooby Doo mask removal scenes there to show the "real" monsters (patriarchy, capitalism, colonialism) behind the scenes.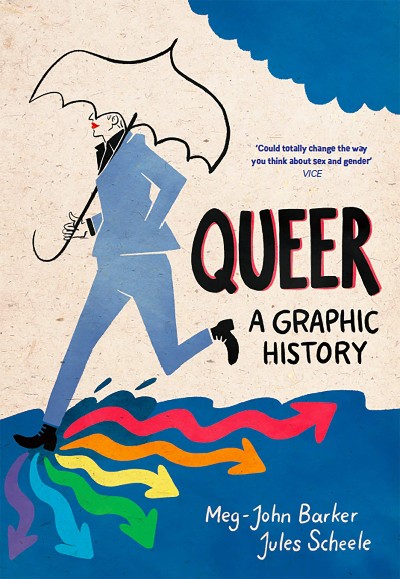 AO: How does your collaboration work practically in terms of matching sections and text with the accompanying graphic element, whether that be comics, single illustration or visual metaphor?
BARKER: In the first phase I write the text of the book in table form. There's one table for each chapter, with 4 columns in each table: page number, title of page, text to go on the page (both explanations and quotes), and my ideas for the visuals.
In the second phase our editor, Kiera, goes through my work, editing, checking, and adding her ideas for what visuals might work. Once we're happy between us it's over to Jules…
SCHEELE: I'm very lucky that MJ and Kiera have a very strong grasp of visual language, so once we get together to talk through the script and come up with ideas for the illustrations, we are usually already on the same page! We go through the script page-by-page to discuss initial ideas and then add on to those, while I check whether it's possible to have all the information proposed on one page without it getting too cluttered, etc. A lot of the actual illustration planning for me happens during the drawing of it, so once I send in the pages for a chapter we go through a round of feedback to adjust anything that doesn't quite work.
AO: Jules, can you tell us a little about your artistic process and what mediums you work in?
SCHEELE: Around 2015 I have started working mostly digitally, to accommodate short deadlines and make it easier to edit things for layout reasons – the first book, Queer, was drawn in Photoshop on an old Cintiq that a pal very kindly passed down to me, and the second two were drawn in Procreate on an iPad Pro I treated myself to in 2018, so I could work on the go (I spent a lot of time travelling for work before the pandemic). This is why the drawings in Gender and Sexuality are a bit more free and gestural – just from the difference of having the iPad on my lap like a sketchbook, rather than sitting up at my desk in front of the Cintiq (not particularly good for your back, though). I use custom brushes and palettes – Kyle T Webster inking brushes in Photoshop, and Max Pack and Rusty Nib brushes in Procreate. The palettes I put together over time according to my own taste. I do layouts/roughs and pencils first but I'm not always too diligent or detailed with that, so I make a lot of choices at the inking stage – I've had to learn to draw fast through doing a lot of live drawing, which has been invaluable for my work on these books!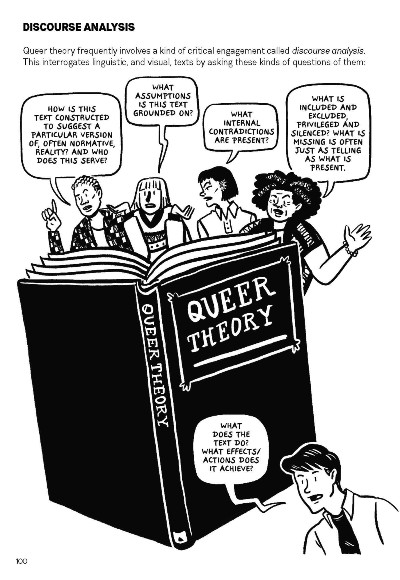 AO: There are extensive bibliographies in the series but for readers looking to discover more about the wider ranges of genders and sexualities are there other key resources online that you would recommend?
BARKER: For gender I'd definitely recommend the amazing selection of books by trans writers that my other publisher, Jessica Kingsley, is putting out. They've done an amazing job of supporting trans creatives through a period in time which has been incredibly hard for trans people. I'd also highly recommend the work of Gendered Intelligence, Trans Pride, TransCreative, TransPose, TransActual, The Museum of Transology, My Genderation, Open Barbers… oh too many to mention! For sexuality check out BishUK, Scarleteen, the Consent Collective, Consent Culture, Oh Joy Sex Toy, and the Culture, Sex, Relationships podcast.
SCHEELE: Apart from those already mentioned by MJ, I love any writing on the current challenges faced by trans people in the UK by Harry Josephine Giles. I follow a few substacks by trans writers I also love – Isaac's Law by Isaac Fellman, and Sad Brown Girl by Jules Gill-Peterson especially. Queer Sex by Juno Roche has been a great resource, too. Comics-wise, I'm really into Carta Monir's work about sex and sexuality. This is a very specific recommendation, but if you're transmasculine and gay/bi and aren't sure how to feel about it, I recently read We Both Laughed In Pleasure: the collected diaries of Lou Sullivan, and it has been invaluable to me! Lou was a trans man who struggled accessing gender-confirming care in the 1980s because he identified as a gay man. He was a tireless activist and pioneer for grassroots movements supporting transmasculine people and helped people understand the difference between gender identity and sexual orientation. Like many other queer men, he died of AIDS in 1991, but his diaries hold such determination, joy and optimism in them – it's probably my favourite book I read this past year.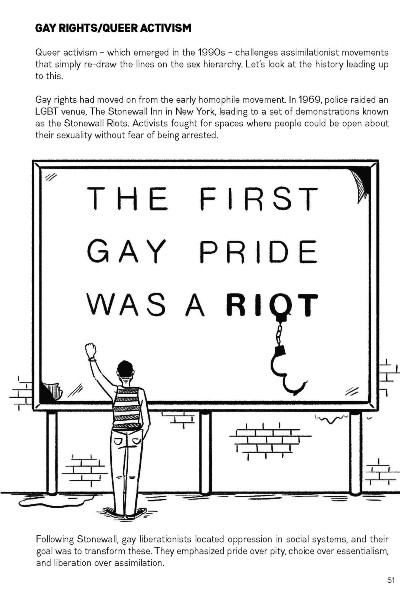 AO: And, finally, what else are you both working on right now, both inside and outside of comics? And can we expect any more books from you both in the Graphic Guide series?
SCHEELE: I've started illustration work on a book with JKP about trans voice therapy with some wonderful people (including MJ!), which I'm really excited about. The lack of structure and motivation in lockdown has put the brakes on my personal work a bit, but I'm working on some light and fun zine ideas (mostly fanzines about music), which I hope will get me started again. There's a script for a personal comics project in which I try to tackle narrative fiction rather than stream-of-consciousness autobio that's sitting on my desktop, and I'm hoping (fingers crossed) to get started on it next month. There's also a really exciting project in the works that I can't talk about yet, which is killing me a wee bit, but hopefully I can announce it online soon!
BARKER: I've recently become a full time writer which is just wonderful. At the moment I'm slowly working towards a Graphic Guide on Mental Health, and I'd love to do at least one more graphic guide with Jules and Icon after that about love. In my other series I've just finished How To Understand Your Sexuality, with Alex Iantaffi, and we're going to write How to Understand Your Relationships next time it's possible to be in the same place as each other. Writing together over Zoom wasn't so much fun although we made it work!
Although I have nowhere near the artistic talent that Jules does, I also write and illustrate my own zines and I'm keen to do some more of those, on the topic of befriending different parts of ourselves. I'm also blogging regularly – about mental health, primarily, and planning to put out some book collections of my posts about trauma, plurality, and consent soon. I'm doing some more creative writing too, and supporting a number of friends and mentees with their own writing projects. I'm definitely keen to put more out there about the therapeutic potentials of writing and comics.
For more on Sexuality and the other books in then Graphic Guide series visit the Icon Books site. Follow Meg-John Barker on Twitter here, and Jules Scheele on Twitter here and Instagram here.
Interview by Andy Oliver