What marks out Shelby Criswell's Queer As All Get Out: 10 People Who've Inspired Me as different from many of the other excellent graphic biographies on queer activists/pioneers is its focus. Rather than spotlighting more renowned figures Criswell instead brings arguably lesser known names from history whose lives have inspired them to the page. Published by the ever socially conscious Street Noise Books it's another excellent addition to their growing catalogue of topical comics work with an emphasis on marginalised voices.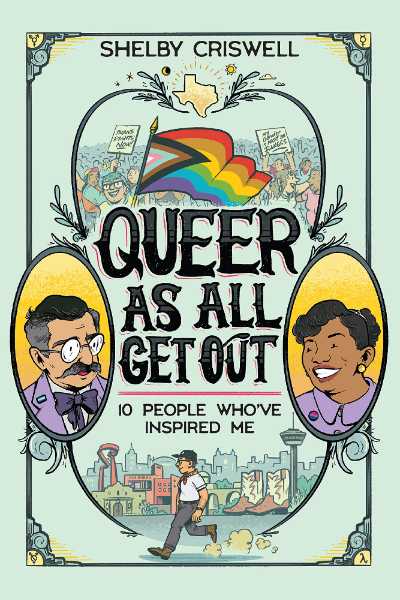 Using their own experiences of growing up genderqueer in the US South as a reflective framing sequence Criswell provides a series of short accounts of the lives of ten individuals, some of whose contributions have not gone unnoticed but are deserving of greater celebration, and others who have largely been lost to history. They include Mary Jones, We'wha, Magnus Hirschfeld, Dr. Pauli Murray, Wilmer "Little Axe" M. Broadnax, Sister Rosetta Tharpe, Carlett Brown, Nancy Cardenas, Ifti Nasim (below) and Simon Nkoli.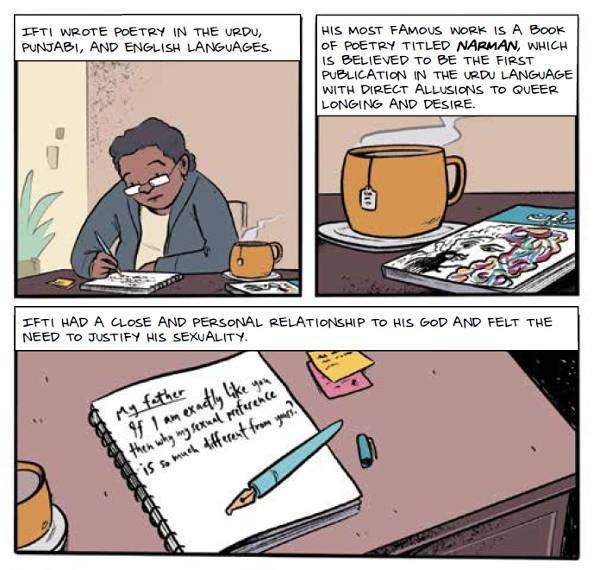 What elevates Queer As All Get Out beyond an important account of queer history is Criswell's frequent commentary on why every person's life is so important to them, and what they have learnt from their examples. Each mini-bio has accompanying thoughts on the groundwork their subject left for others to build on, what they teach us about our contemporary perceptions of sexuality and gender, and observations on the historical repression of queer identities.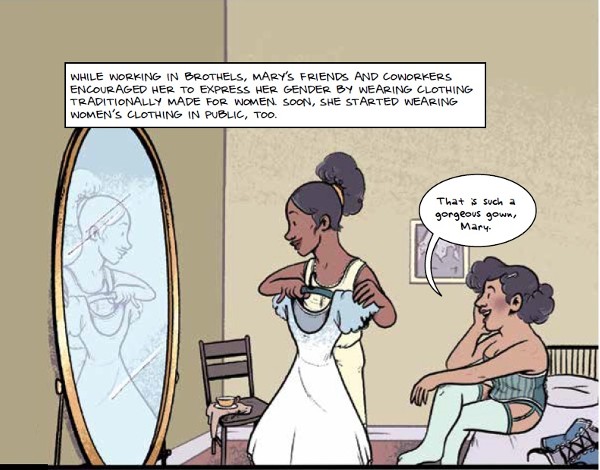 This is not to say that Queer As All Get Out is a sombre work. In fact it's very much the opposite. Without ever downplaying the harsher realities Criswell's accounts have a celebratory quality, underlining the positive lessons the reader can take from each story alongside the darker elements. Its subjects are varied in background and historical perspectives. Nancy Cárdenas, for example, the Mexican gay rights campaigner who came out on national TV in the early 1970s; Pakistani poet Ifti Nasim; 19th century Black trans sex worker Mary Jones (above); anti-apartheid activist Simon Nkoli; and Magnus Hisrchfeld whose pioneering work led the way to gender-affirming medical treatments and procedures.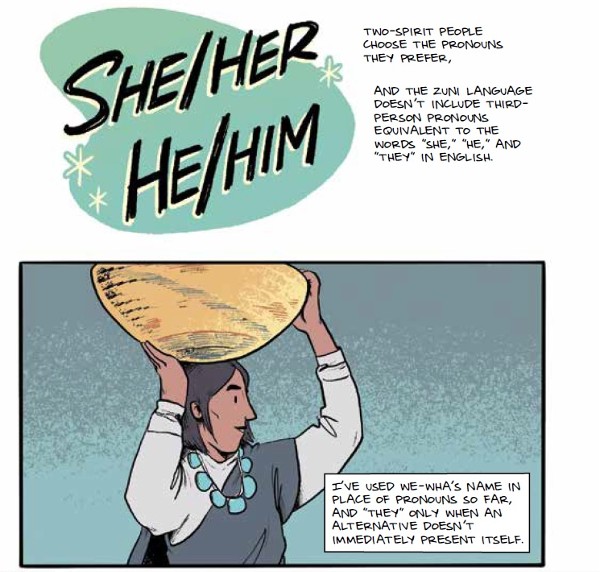 Some of the biographies are pieced together from what little documentation exists, like the story of Carlett Brown which leaves us wondering whether she ever successfully transitioned and managed to lead the life she wanted. Others, like that of two-spirit Native American We'Wha (above) are a reminder that gender constructs have not been universally adopted through history and how socially conditioned we are in accepting binary definitions.
Criswell's visual style favours the accessible over the experimental which ensures the focus is on the book's subjects rather than its presentation. This is a book that immediately leaves the reader wanting to make their own investigations into the lives of the people it depicts. Something of which I feel sure Criswell would most assuredly approve…
Shelby Criswell (W/A) • Street Noise Books, $18.99
Review by Andy Oliver