PRIDE MONTH 2023!  As our reviews go, today's look at Tillie Walden's Alone in Space is going to be a slightly different reading experience. This collection of Walden's first three books from Avery Hill Publishing – The End of Summer, I Love this Part and A City Inside – alongside earlier comic strips when she was between the ages of 16-20 – contains some of the very best LGBTQ comics work of recent years so fits in perfectly with our Pride Month celebrations. But, it hardly needs saying, we have already reviewed the bulk of its contents here at BF. So, instead of our usual approach, I will be pushing readers in the direction of our original coverage before looking at the previously unpublished material within its pages.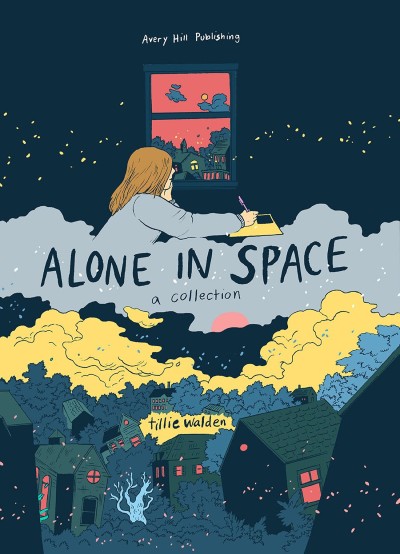 Alone in Space begins with Walden's first graphic novel The End of Summer, the Gormenghast-ian dark fantasy from 2015. Set in a sprawling and remote castle at the beginning of a years-long winter, Walden's debut follows the stories of the idiosyncratic family that lives within its environs. Our principal focus is on the young and sickly Lars with other main players including his twin sister Maja and his giant cat Nemo.
From my original Broken Frontier review: The taut atmosphere and that air of tragic predestination that permeates the pages of The End of Summer is one of the book's greatest dramatic triumphs and that's in no small part due to the story's setting. Walden's elaborately designed castle interiors have a haunting quality that is fascinatingly contradictory in the response it elicits from the reader; both echoing and cathedral-like in their expansive environs and yet claustrophobic and imposing at the same time. Allied with her careful attention to the overlapping sub-plots of the individual family members, as they escalate towards their inescapable conclusions, it lends a sense of inexorable doom to the proceedings.
Read the full review of The End of Summer here.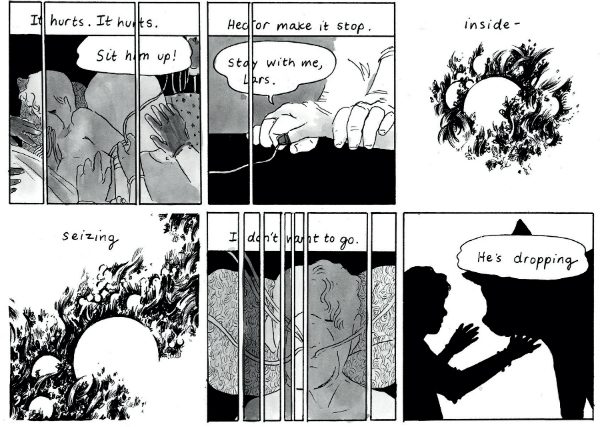 While its reproduction in Alone in Space doesn't benefit from the smaller page size Walden's debut is still a remarkably confident and mature work. As I said at the time "You're unlikely to read anything else this year that so fully manipulates the pure mechanics of the comics form to the degree that The End of Summer does. It really is that remarkable a piece of work and Tillie Walden really is that remarkable a prospect."
Not exactly the most difficult assessment of a creator's imminent career trajectory that I have ever had to make.
The second comic in this compilation is I Love this Part, Walden's LGBTQ graphic novella that followed the burgeoning relationship between two girls in a small US town.
From my original Broken Frontier review: "…our protagonists' existences are presented as revolving entirely around each other rather than their external environment. This is achieved by their often comparatively disproportionate realisation on the page which is juxtaposed with the backdrop of the wider world; streets, landscapes, mountain ranges and buildings are all dwarfed by their presence. It's a visual incongruity that emphasises the insularity of their joint actuality; a bubble of pooled experience that overshadows everything outside its confines as the girls' relationship becomes the ultimate expression of their being. As such, the vastness of reality becomes insignificant when placed against the emotional enormity of their connection but, as the story progresses, it's a perspective that we will gradually draw back from…"
Read the full review of I Love This Part here.
Walden's third Avery Hill book was A City Inside, an "expansive yet concise meditation on the experience of growing up."
Ally Russell Shields reviewed A City Inside at Broken Frontier in 2017: Transcending the themes of love and loss typically associated with 'female youth literature', A City Inside defines its heroine not by her relationships with those around her, but by what she accomplishes for herself. The days of her adolescence are not spent dwelling on the pains of growing up, but rather invested in laying the foundations for future happiness, much in the same way that Walden's devotion to her craft has already seen her achieve so much as a cartoonist.
Read the full review of A City Inside here.
For the seasoned Walden aficionado, though, it will be the final section of Alone in Space, collecting short strips that she created between the ages of 16 and 20 that will be the big draw here given their previously unpublished in print status. With brief introductions from Walden adding context to their content (her frame of mind at the time of creation, for example, influences, or their origins as college assignments) they provide a fascinating historical record of her evolving early practice.
While some of these comics are occasionally, by Walden's later standards, rawer in tone and presentation – the rather bleak 'Glare' for example – they are still astonishingly confident in storytelling terms. 'Slumberland' is a Little Nemo homage that would no doubt have made McCay proud, while her use of visual metaphor to embody emotional states in 'Cramped', 'Sun in My Eyes' and 'Journal Entry' is sublime in its connectivity.
It's the sheer sense of craft in these stories, though, that impresses the most. The page structures and compositions of 'In the Palm of Your Hand' as it traces the relationship between its characters in bold graphic allegory. Or the way in which Walden guides the reader's eye around events to such great effect in 'What It's Like to Be Gay in an All Girls Middle School'. There's even a selection of ephemera at the very end of Alone in Space which includes the poster for the 2015 Avery Hill Publishing exhibition at Orbital Comics, another Little Nemo-inspired design, and also the greatest crossover in UK indie comics history (below).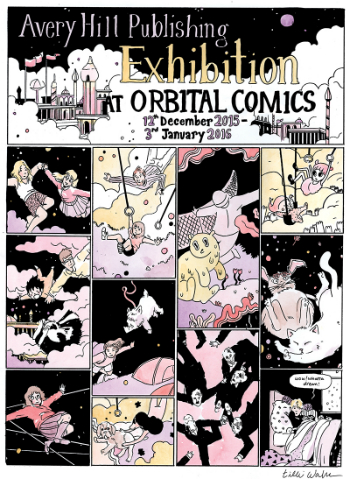 For the dedicated Walden fan Alone in Space is the definitive collection of her early work but it's also the perfect entry point into comics for anyone in your life unaware of the possibilities of the medium. A must-own celebration of the emergence of one of the finest cartoonists of our time.
Tillie Walden (W/A) ) • Avery Hill Publishing, £24.99
Review by Andy Oliver