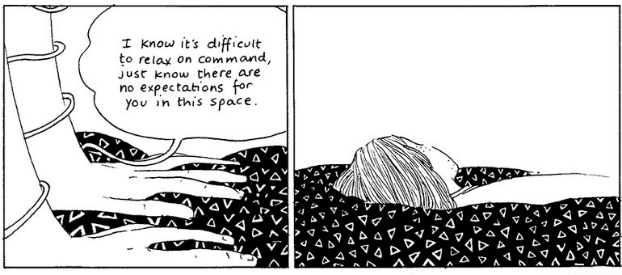 ELCAF WEEK!
So deftly crafted and deeply considered is Tillie Walden's coming of age story A City Inside that those unfamiliar with the artist might fairly assume its wisdom to be imparted from an experienced, senior perspective to a younger protégée with much still to learn. Yet, born in just 1996, the prolific creator takes on the roles of both mentor and mentee with remarkable success in this beautifully rendered third graphic novel of her career so far. The winner of the Broken Frontier Award for Best One-Shot in 2016, this expansive yet concise meditation on the experience of growing up is well worth revisiting ahead of Walden's appearance at ELCAF 2017.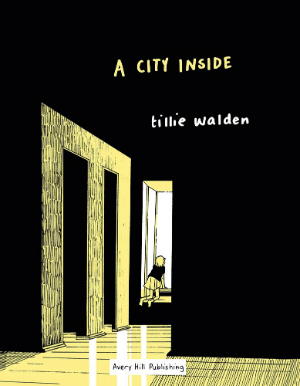 Another intensely personal reflection on the transformations of young adulthood, A City Inside offers a thematic follow-up to I Love This Part, which earned Walden an Eisner Award nomination in 2016. Where that story meandered through stolen moments and snatches of conversations painted in dreamy watercolours, A City Inside is decisive in its structure, bookended firmly in the present while the main body of the work journeys across time and space. Gone are the loose pinks and purples of its predecessor, replaced by solid black inks. The romantic relationship remains with as much fragile beauty as before, but moves out of the spotlight, as ideas of self-realisation take to the fore. Perhaps most significantly, the story is now narrated by an unseen adult oracle, rather than conveyed through teenage dialogue.
This shift in perspective to the second-person not only demonstrates a prodigious maturity in its writer, marking a sort of coming of age of her own, but also gives her protagonist an out of body experience, allowing her to see her whole life from the removed viewpoint we all wish we had in a 'letters to my younger self'-style interchange:
"Years will pass. You'll gain weight and cut your hair short. You'll feel unrecognizable, but some part of it feels right enough that you don't feel the need to change".
We observe the uncomfortable disconnect between the nameless young woman and her environment as she physically and emotionally outgrows each stage of her youth. The childhood home she cohabits with her father; the comfortable domesticity she shares with her first love; her fears of breaking out and being alone. Where these inhibiting backdrops fade and shrink around her, she must leave them behind, and build a bigger and brighter world in which to live. All she needs in order to arrive there is the encouragement to jump; the confidence that it will all be alright in the end. "It's all yours. And when the sun sets and the shadows begin to form, you'll realise you're a queen", the narrator inspirits.
Transcending the themes of love and loss typically associated with 'female youth literature', A City Inside defines its heroine not by her relationships with those around her, but by what she accomplishes for herself. The days of her adolescence are not spent dwelling on the pains of growing up, but rather invested in laying the foundations for future happiness, much in the same way that Walden's devotion to her craft has already seen her achieve so much as a cartoonist.
Employing surrealistic proportions akin to the over-sized girls in I Love This Part, moving characters to live within the structures of their own imaginations as in 2015's The End of Summer, and populating the resulting dream world with the cats and koi fish that float through her ongoing webcomic On a Sunbeam, Walden calls upon and further establishes her arsenal of artistic trademarks that secure her as one of the leading voices in comics today. A City Inside announces that Tillie is no longer just the format's teenaged prodigy, but that she has graduated to the ranks of accomplished creator with an enviable catalogue of work to her name.
To find out more about Tillie Walden's work visit her website here. You can also follow her on Twitter here and buy A City Inside from the Avery Hill Publishing's online store here priced £7.50. On a Sunbeam can be read online here. 
Tillie will also be a guest on the Broken Frontier Panel: Comics and the Micropublishing Revolution at ELCAF on June 17th. More details here. You can buy Tillie's books from Avery Hill Publishing who will be at ELCAF at Table 55 from Friday-Sunday.