The philosophy behind 'Small Pressganged' at Broken Frontier has always been not just to provide an outlet for small press coverage in a comics media dominated by "mainstream" stories but also to actively seek out and promote exciting newer creative voices that deserve to be seen and enjoyed by a greater audience. To that end it is always exciting to see self-published artists I have pushed in this column gaining that greater recognition – just last week we saw Jade Sarson, for example, winning the Myriad First Graphic Novel Competition at the British Library – and today it's a pleasure to present some preview pages from a creator I described as "my major self-published find of 2013" in the 2013 edition of my annual 'Ten UK Small Press Comics You Need to Own!' feature.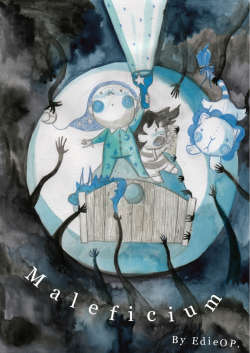 That talent is, of course, EdieOP whose graphic novel Maleficium will be published by rising Brit micropublisher Avery Hill later this year. I am always delighted to see those championed in 'Small Pressganged' moving onwards and upwards in the comics world. I first reviewed Edie's Jonah and Seven Blows to the Head here, have also covered her work in David O'Connell's excellent ink + PAPER anthology here, and her most recent self-published comic Dangerfun here. Indeed, when our friends over at the Forbidden Planet International blog asked me to take part in their industry-wide 'Best of 2013' features at the end of last year it was EdieOP I selected here as the name everyone should be looking out for in 2014.
I've described her mischievously macabre work in the past in these terms: "A nefarious imagination is only one part of the recipe for success for EdieOP's tangled tales though. What really brings them to melancholic life is the ingeniously beguiling and childlike artwork that lures you into her narratives with an inoffensive charm, only to spring its grotesque visual trap on you when you are wholly incapable of escaping its clutches." And her new book Maleficium looks like it will continue that signature EdieOP blend of the childlike and the sinister!
Avery Hill Publishing summarise Maleficium's premise here:
Huxley Leighton-Lomax lives a normal life with his dad and sister Matilda. He likes practising wizardry, drawing at school and occasionally likes to feed the dark shadows that move around his house at night. A full-fledged wizard would know to be careful when trading with dark forces but what harm can a few bowls of cornflakes do?
Below we are very lucky to have  EdieOP tell us a little more about the origins of Maleficium, its scope, and its relationship with her other work in her own words!
On the genesis of Maleficium…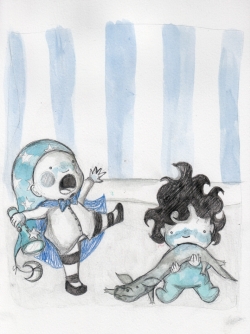 Maleficium is a story that evolved from an in-joke about things going missing in the house. I always used to lose things and then they'd turn up in the place that I thought I'd left them an hour later, so I used to say the fairies had borrowed it. As the joke went on I got a bit more elaborate with the storytelling and naturally a bit more sinister. I started to make up stories that things would disappear into the Nether but only my things would ever come back so I used to say that I was friends with the Nether.
It then kept evolving when I was giving thought to the theory if it were a supernatural force would it get stronger if it was acknowledged and interacted with? It was at this point that the in joke had sort of gained enough momentum for me to consider developing it into an illustrated story. So I was working off the idea that every house had access points to the Nether and it thrived on disorganisation and mess but I didn't feel that on its own had enough oomph to be a story. That was when I thought about introducing a character and Huxley was born!
Initially Huxley was the Little Wizard and he sort of came to life on his own. I always have a vague idea of what I want my characters to be like to start with but once I start drawing them they sort of take on their own personalities.
On the book's themes and their relation to her other work…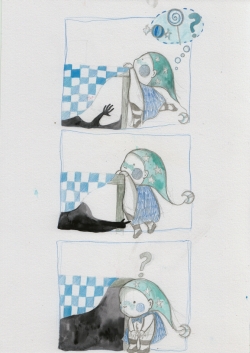 The occult was a big theme for this book, it's sort of meant to look like magic but really it's a lot more insidious. This is a pretty exciting theme that I m still exploring and learning about and I've never really had chance to look at it before in my other books. Maleficium also shares the autobiographical element most of my work uses; most things I write are strongly underpinned by my personal experience or things that I notice (or just make up, haha!)
On the artistic process…
My Maleficium kit currently consists of:
– Blue mug full of blue pencil crayons, various pencils, graphite sticks and paintbrushes
– Jar of blue ink wash
– Jar of water
– Two separate custom watercolour palettes, I made up a blue set of half pans and then one of greys, blacks and indigos for the shadows.
– Quink
– Shed loads of paper
At the moment the project is in its chaotic development stage, I've already retired the blue watercolour set because I think I was getting a bit carried away. I'm currently working between three separate sketchbooks; a huge fat pad with Saunders Waterford paper in it, this was my special occasion sketchbook and the paper in it is lovely. Then I have my sketch-sketchbook where I stick photos, packets, write in, scribble on, general work through ideas. Lastly three sets of mixed media heavyweight paper pads which I'm working my finals/pages onto.
With the colour scheme I'm still currently exploring the balance between blue and graphite, I want to include both but I don't want one to be too overwhelming, at the moment the blue is too heavy which is why the watercolours are getting retired! I'm also messing around with building things too, I've just ordered a torch online so that I can build Huxley's wand to draw.
Previous EdieOP comics Jonah, Seven Blows to the Head and Dangerfun
On where the project's level of complexity and ambition ranks in comparison to previous work…
Pretty high up actually, I'm intending for it to be the longest book I've written/illustrated but I¹m not setting myself a page amount because I don't want how long I want it to be to interfere with the story. I'd rather it sort of work itself out. Being the longest story I've written is quite challenging too because I'm having to be aware of pacing, structure and the ending to make sure it's not too slow or boring. It's also probably the most complex thing I've written as well because there's a lot going to be happening in the background for the reader to pick up on so it's almost like writing two stories. So overall I'd say I've set myself a challenge!
Maleficium will be published by Avery Hill Publishing this year. For more on their back catalogue check out their site here. Discover more about the "sunny side of sinister" at EdieOP's site here.