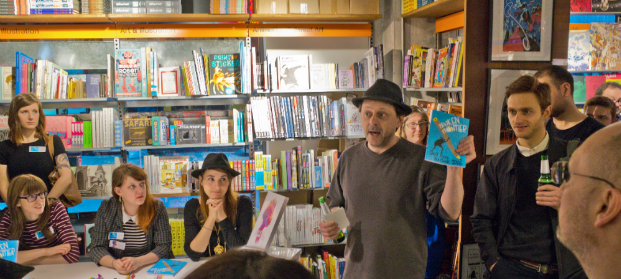 Friday 29th April was a banner day for Broken Frontier. Not one but two BF collections of comics were launched at the esteemed Gosh! Comics shop in London's Soho. The Broken Frontier Anthology – our handsome Kickstarter-funded hardcover of creator-owned comics – was receiving its European debut. While our first Small Press Yearbook – the end product of our 'Small Pressganged' column's 'Six UK Small Press Creators to Watch' initiative – enjoyed its first outing in the wild.
But, while Friday night was an important night for BF, the real spotlight was on the stellar line-up of creators in attendance. From the BF Anthology we had Alison Sampson (Genesis), David Hine (Strange Embrace), EdieOP (Maleficium and also a Small Press Yearbook contributor!), I.N.J. Culbard (Brass Sun), Jamie Coe (Art Schooled), Karrie Fransman (Death of the Artist) and Mark Stafford (The Man Who Laughs).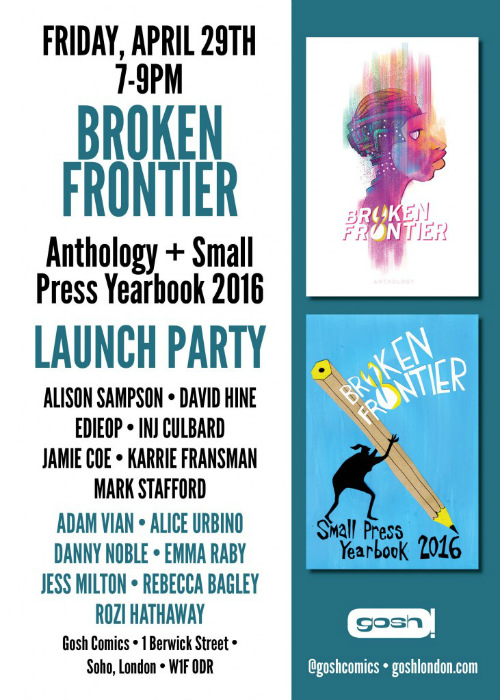 On the Yearbook side we had the lead storytellers Adam Vian (Long Lost Lempi), Alice Urbino (Dimension), Danny Noble (Was it… Too Much for You?), Emma Raby (The Dead Moon: A British Folktale), Jess Milton (Red), Rebecca Bagley (Tick) and Rozi Hathaway (The Red Road). Such was then scope of the Yearbook, however, that the evening also saw appearances from back-up story artists Alex Potts (A Quiet Disaster), Gareth Brookes (The Black Project), Jessica Martin (Elsie Harris Picture Palace), Kim Clements (Rabbit Thoughts), Mike Medaglia (One Year Wiser) and Owen D. Pomery (Between the Billboards).
That makes a grand total of no less than 20 established and up-and-coming talents in attendance! Below we revisit the evening courtesy of the photographic skills of Mauricio Molizane De Souza (except top image by Paul Frank Rogers)…
The Broken Frontier Anthology is on sale at Gosh! Comics priced £30.00 while the Small Press Yearbook is currently on sale at both Gosh! and Orbital Comics for just £6.00. You can order the Anthology online here and the Yearbook online here.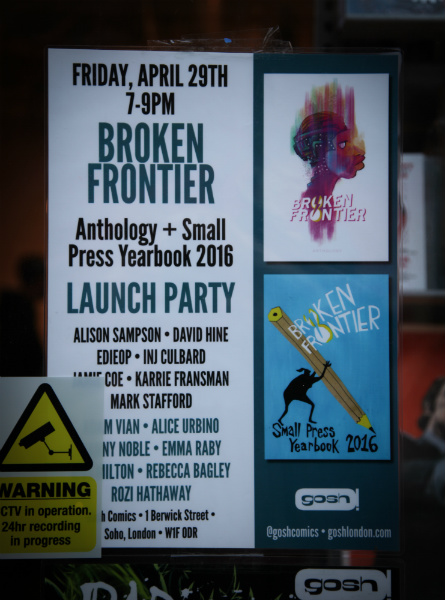 The big night beckons…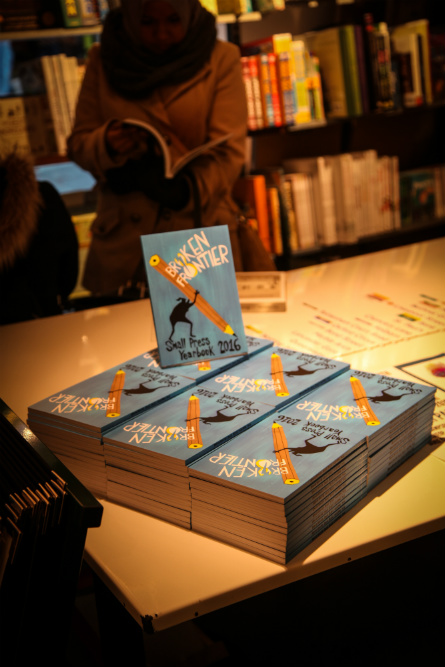 Ready for the crowds…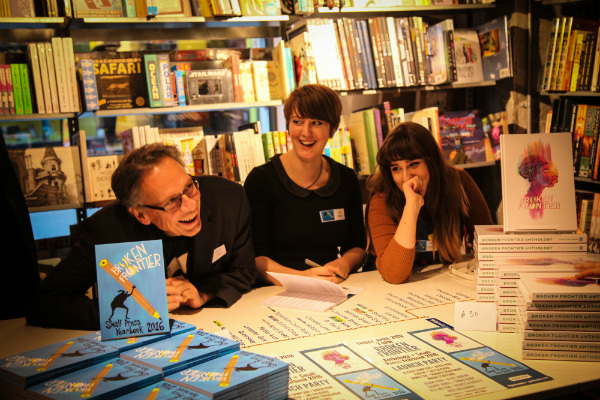 David Hine, Jess Milton and Alice Urbino are first up to sign.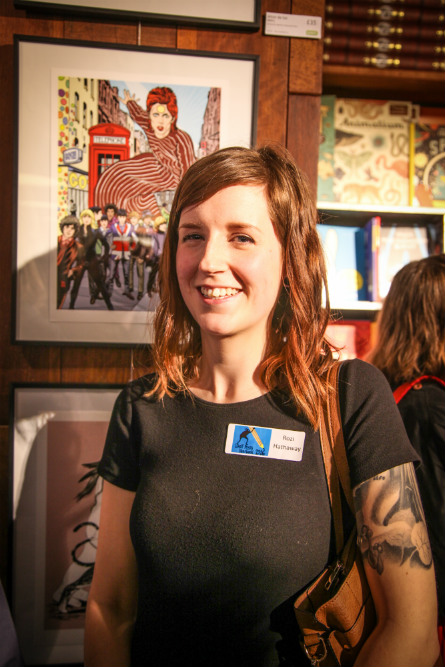 Have you backed Rozi Hathaway's Njalla Kickstarter yet?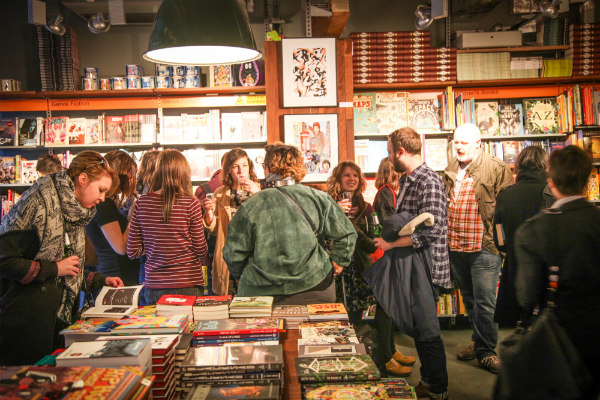 The punters begin to arrive…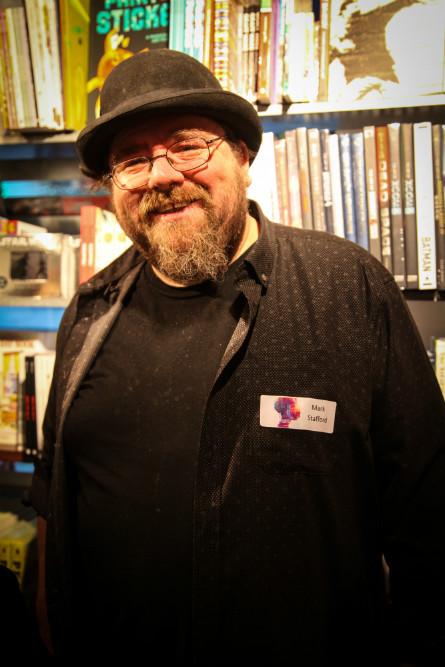 BF Anthology artist Mark Stafford.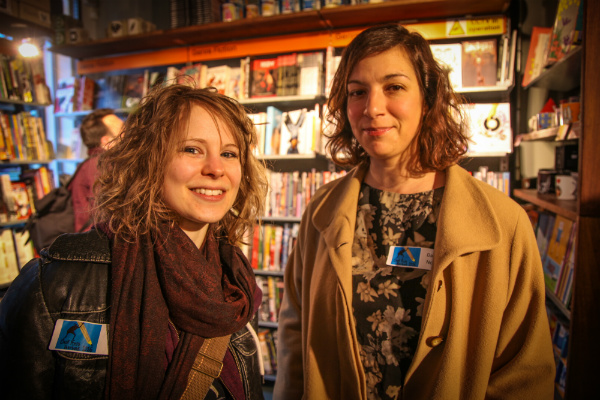 Two generations of the Broken Frontier 'Six to Watch' meet – Rebecca Bagley (left) and Danny Noble (right)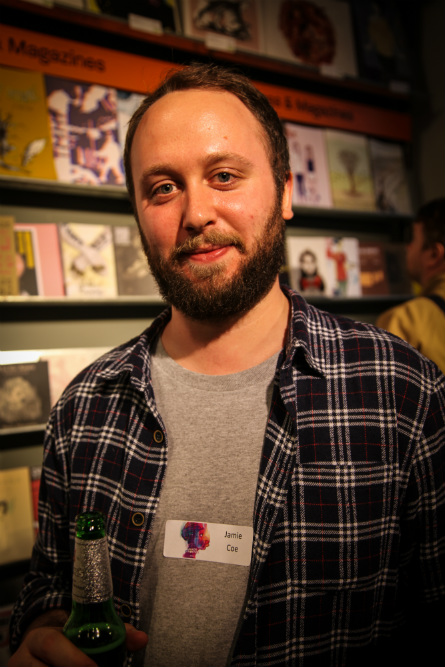 Anthology contributor Jamie Coe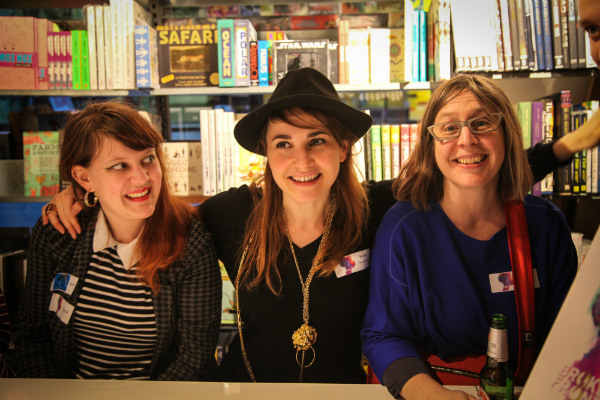 A signing trio of EdieOP, Karrie Fransman and Alison Sampson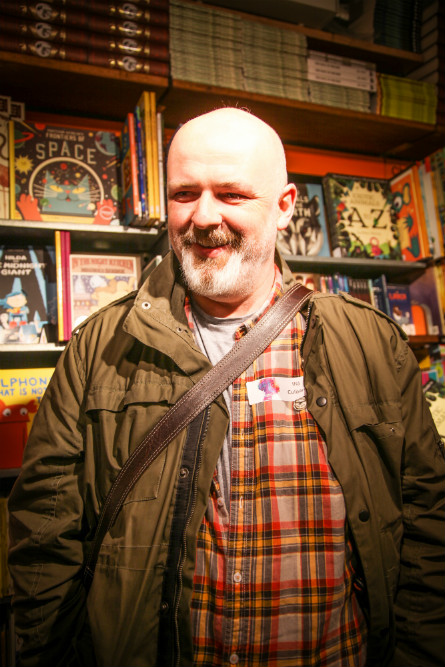 I.N.J. Culbard, creator of the Anthology's 'Last Dance at Omega Point'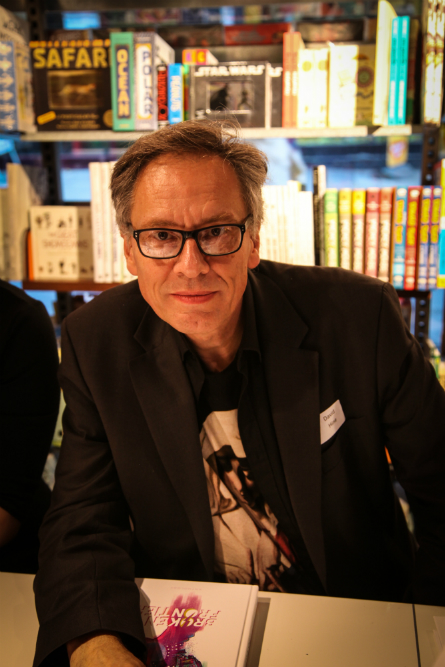 David Hine who collaborates with Mark Stafford in the Anthology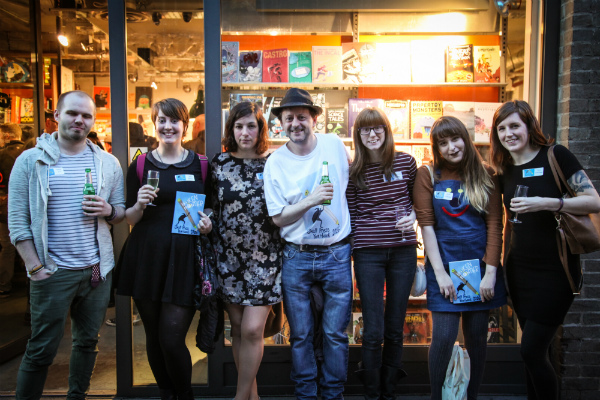 Broken Frontier Editor-in-Chief Andy Oliver (centre) with the original BF 'Six UK Small Press Creators to Watch'. From left to right – Adam Vian, Jess Milton, Danny Noble, Emma Raby, Alice Urbino and Rozi Hathaway.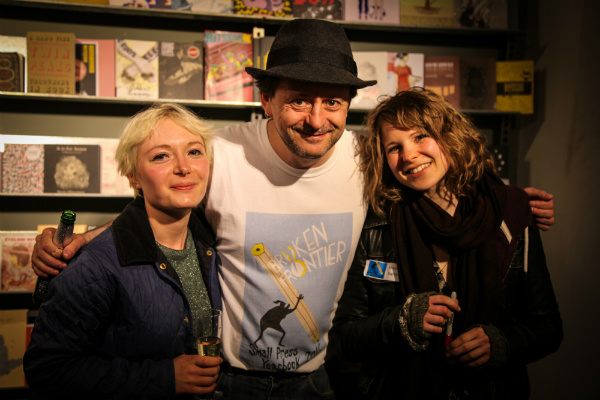 As one chapter ends, another begins. Andy Oliver with two of this year's new 'Six to Watch' Kim Clements and Rebecca Bagley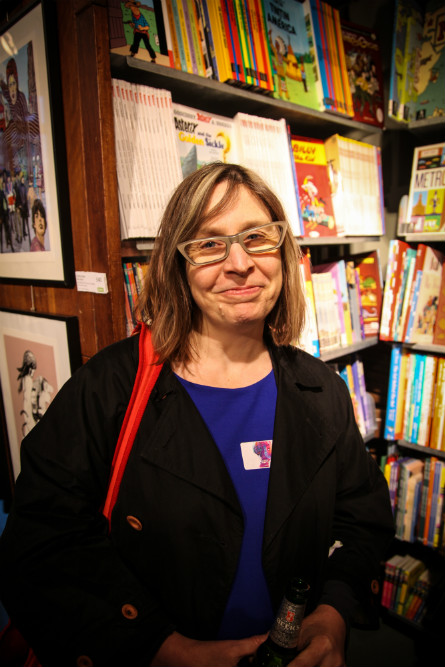 Alison Sampson who collaborates with Fred Van Lente in the Anthology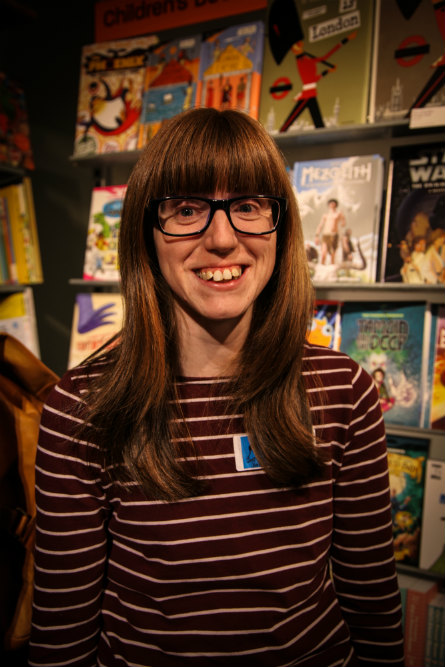 The Yearbook's own Emma Raby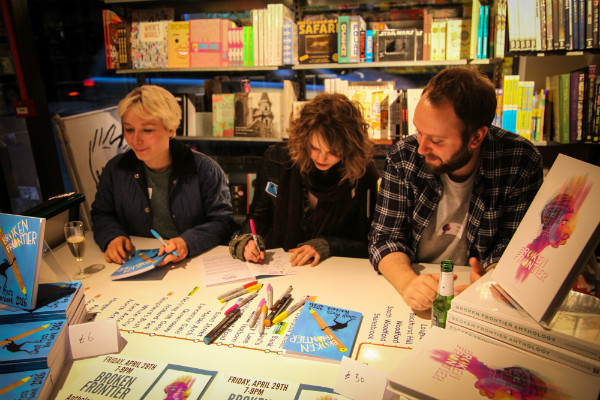 Kim Clements, Rebecca Bagley and Jamie Coe signing.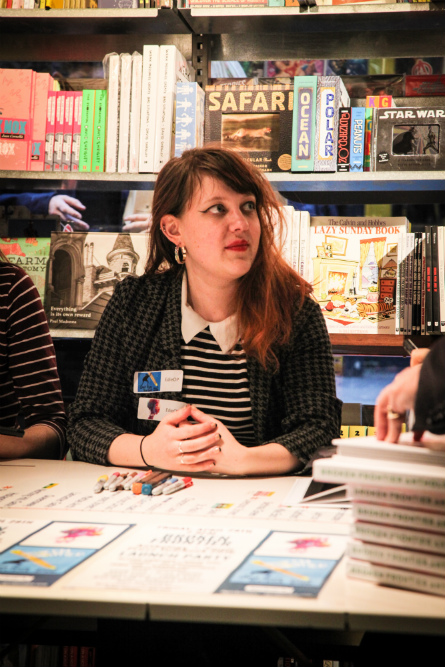 British Comic Awards-nominated EdieOP features in both books.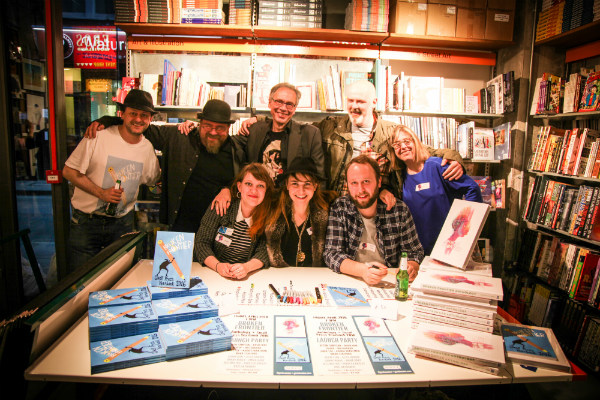 Anthology artists assemble!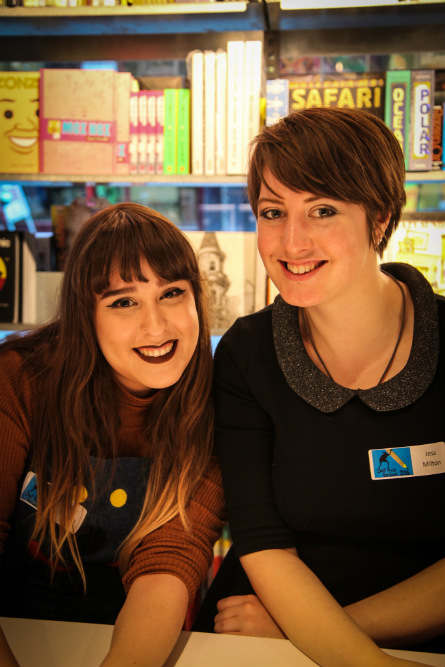 Alice Urbino and Jess Milton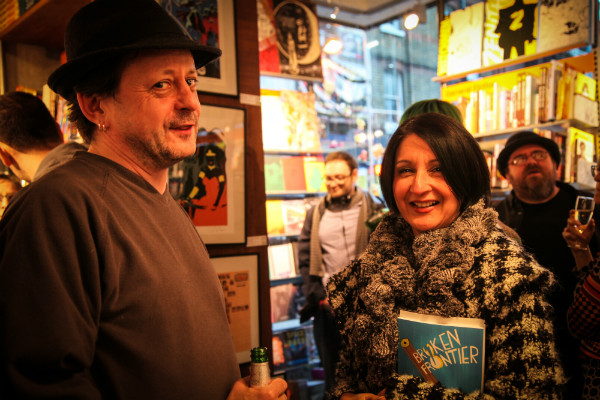 BF's Andy Oliver and Jessica Martin of Elsie Harris Picture Palace fame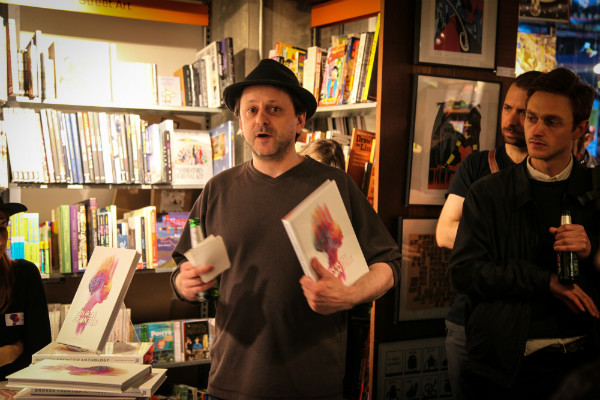 A few words about each project…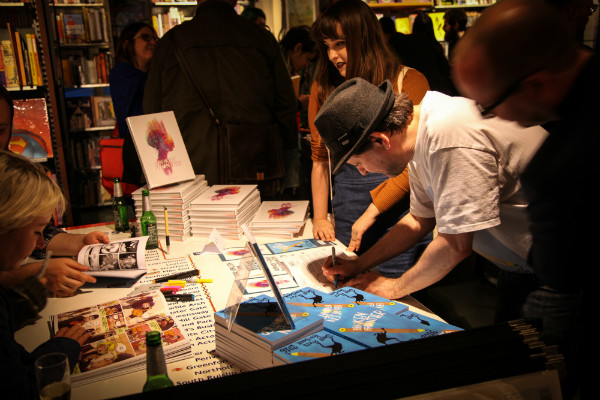 Crashing the book-signing act… 
For more on the regular line-up of events at Gosh! Comics visit their site here and follow them on Twitter here.