Jordie Bellaire, Warren Ellis, Eric Stephenson, Kieron Gillen, Jamie McKelvie and Declan Shalvey – that's a remarkable list of names for the discussion event at London's Gosh! Comics on the evening of March 17th between 7.30pm-9.30pm. Part of Gosh's celebration of 25 years of Image Comics that panel is immediately followed the next day by a similarly star-studded line-up on Saturday March 18th for an all-day Image signing in the shop from 1pm-5pm.
The comics industry has changed immeasurably  in the last quarter of a century and Image, of course, have played a central role in the creator ownership revolution. Expect an insightful evening's conversation on the 17th as guests look back on the history of Image and also forwards to where it may take its championing of artistic freedom in the years to come. Full details here. Update: due to demand this is now a ticketed event. Tickets can be booked online here.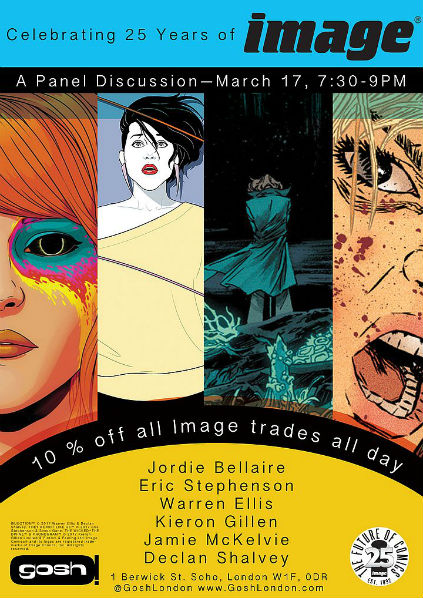 If that's not enough for you there's no less than four hours of signings on Saturday 18th March with John McCrea, Broken Frontier Anthology contributor Alison Sampson, Sean Phillips, Simon Gane, Emi Lenox, Eric Stephenson, Jordie Bellaire, Declan Shalvey, Si Spurrier, Tradd Moore, Christian Ward, Caspar Wijngaard and Dan Watters all in attendance. Full details here.
Our friends at Gosh! Comics offer a fantastic programme of regular events at the shop (including, of course, the monthly Gosh/Broken Frontier Drink and Draw) so be sure to check their site listings here and follow them on Twitter here for all the news on exclusive in-store comics happenings.