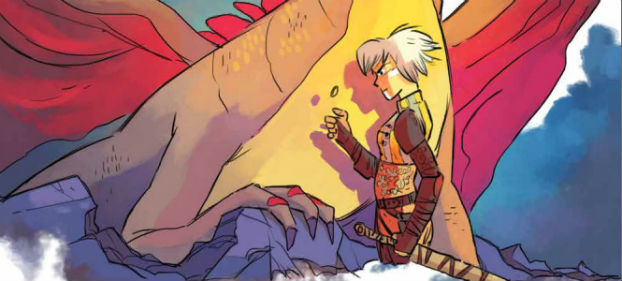 Scales & Scoundrels is a comic that wears its fantasy influences on its sleeves with the most ostentatious of flourishes. But while its tale of loveable rogues, adventurous camaraderie and treasure-seeking quests covers well-trodden genre ground it does so in such an obviously lovingly constructed fashion that it's almost impossible not to find appeal in its instantly likeable crew of characters.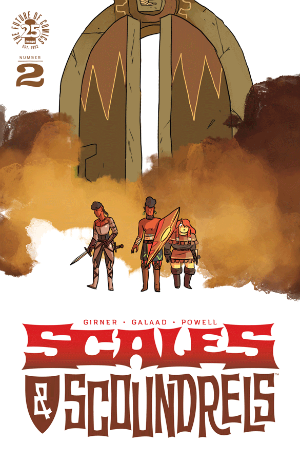 At the narrative's heart is the enigmatic Luvander (or "Lu"), a character whose mysterious secrets look set to be at the very heart of the series going forward. When we first encounter Luvander in issue #1 she's in the process of getting caught up in a barroom brawl. In the midst of that altercation she displays fiery preternatural powers that seem to indicate there's much more to the sometimes thief than meets the eye.
Shortly thereafter Lu falls in with a small group of treasure hunters, including Prince Akisbjorne of the Scarlet Sand Empire, his bodyguard Koro and their guide Lady Dorma. Together they prepare to embark on an exploration of the underground chambers of Dened Lewen for the spoils they hope to find there. For Akisbjorne the adventure marks a traditional rite of passage but, unknown to the quartet, Lu is also being pursued by a mysterious stranger…
With its Dungeons and Dragons-style roots and cosily familiar elements Scales & Scoundrels is hardly re-inventing the fantasy genre but this comic's strengths lie in other directions. Essentially, this is good old-fashioned comfort reading; escapist fun that is refreshingly undemanding with an immediately appealing cast. Writer Sebastian Girner ably balances playful character interaction with more ominous foreshadowing, contrasting the smaller but no less important moments of his cast's life with the sheer scope of this fantastical magical realm.
Galaad's visual characterisation adds further layers to our understanding of the various players' motivations and worldviews. The action sequences in these first two issues use skewed perspective to emphasise a slapstick physicality and sense of animated movement (above left) and there's a jaunty rhythm to the panel-to-panel storytelling. It's the use of colour that most impresses, though, drawing the reader into the atmosphere of this mystical environment and immersing them in its charm.
A light breezy read (at the moment anyway!), Scales & Scoundrels is perhaps not the most intricate offering in terms of plot, or the profoundest in theme for that matter, but it is an accessible, neatly paced adventure with huge appeal for a wide age range. Books like this are an excellent entry point for potential new readers and we need more titles like Scales and Scoundrels that remind of the sheer sense of fun that serial comics can embody.
Sebastian Girner (W), Galaad (A), Jeff Powell (L/D) • Image Comics $3.99