It's nearly Wednesday, and you know what that means: a fresh load of comics and graphic novels! With so many publications hitting your local comics store, comics events or digital storefront, the BF team are here to lead you through the woods with our weekly staff picks. Satisfaction guaranteed!
Comic of the Week
Prism Stalker Vol: 1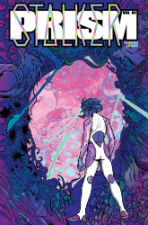 A colourful, radical collision of Frank Herbert, Sailor Moon and the sort of European sci-fi books that inform the work of Decadence and the rebooted Prophet, Sloane Leong's Prism Stalker is easily my favourite genre comic of the year so far. In both its aesthetics and approach to storytelling, it's unlike basically anything else on the stands right now.
Its premise may seem familiar — orphaned alien Vep is recruited by a space military force to colonise a new planet, where she is tested by strange new dangers and abilities — but what's really impressive is the way it's told. This first collection brings together the initial arc of five issues, establishing Vep's character and the strange, neon-tinged cosmos she inhabits.
Sloane Leong (W/A) • Image Comics, $14.99
– Tom Baker
Mortals & Immortals of Greek Mythology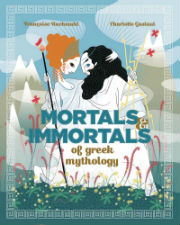 Francoise Rachmuhl is a French author whose focus is on the re-telling of classic tales and this graphic novel is no exception. It covers a variety of famous Greek mythology, focusing on heroes and their interactions with the gods. The narrative draws out the flaws of various characters as well as their strengths.
The Greeks' obsession with the extraordinary presents itself through a reading of the stories they told each other. With by Charlotte Gastaut's dream-like art style to accompany the mythological stories Mortals and Immortals of Greek Mythology discusses the exploits of Achilles, Helen, Jason, and numerous other heroes as well as the famous Olympian gods and goddesses.
Francoise Rachmuhl (W), Charlotte Gastaut (A) • Lion Forge, $16.99
– Holly Raidl
War Bears #1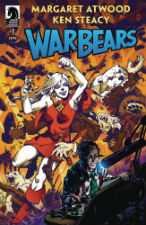 Dark Horse's new release War Bears has one of the most intriguing creative teams of the year. Booker Prize-winning The Handmaid's Tale author Margaret Atwood is joined by Ken Steacy, whose gorgeously rendered work on a number of more mainstream super-hero icons and indie projects in the '80s certainly caught this reader's attention at the time.
A historical tale of the creative world of Golden Age comics, War Bears follows wannabe creator Al Zurakowski who creates Nazi-fighting super-heroine Oursonette during the dark days of World War II. It's a story that follows his personal and professional journey and where his hopes for publishing renown eventually take him.
Margaret Atwood (W), Ken Steacy (A) Dark Horse Comics, $4.99
– Andy Oliver
Border Town #1 
If you aren't already, it's past time you got familiar with Ramon Villalobos. For those who have been following the artist since the early days of drawing Frank Quitely-inspired superheroes wearing Hypebeast-worthy trainers, the first issue of Border Town feels like a serious step up. Written by Eric M. Esquivel, previously best known for licensed work on the likes of Sonic the Hedgehog and Adventure Time, this new Vertigo series is the political allegory Fables might have been.
Beneath the simmering racial tensions of a town on the US/Mexican border is bevy of supernatural beasts drawn from familiar western and latino folklore, as a biracial teenager has to contend with the awkwardness of starting over at a new high school, and avoiding the man-eating monster rampaging through town. Esquivel's dialogue can be clunky in places, but Villalobos's art — clearer and more confident than the impressive but often rushed Nighthawk — is more than enough to carry this first issue past the finish line.
Eric M. Esquivel (W) Ramon Villalobos (A) • DC/Vertigo, $3.99
– Tom Baker
Bully Wars #1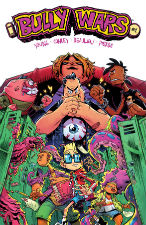 Skottie Young and Aaron Conley through us headlong into the Bully Wars this week via Image Comics, in a new all-ages series that provides both escapist fun and some very relatable shared experiences.
Twins Edith and Ernie and their geeky chum Spencer are about to start their first day at high school when they find themselves at the mercy of lifelong bully Rufus. But a new school means the rules have changed. Rufus is no longer top dog and the Bully Wars are upon us. Will his one-time victims become his newfound allies.
Find out all about a comic we spoke of as "a well-executed comfort read with a valuable message underlying all the hijinks and tomfoolery" featuring the work of  a creative team clearly having a ball with an oddball cast of characters" when we advance reviewed it at BF here.
Skottie Young (W), Aaron Conley (A), Jean-Francois Beaulieu (C), Nate Piekos (L) • Image Comics, $3.99
– Andy Oliver
Twisted Romance TPB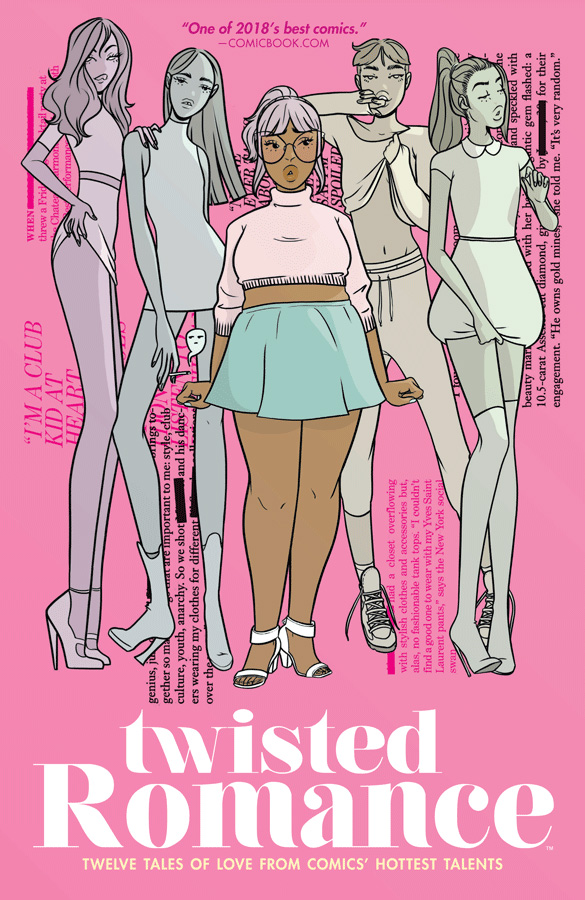 Alex de Campi presents twelve unique tales of love, loss and everything in between! Featuring four main stories written by de Campi herself and illustrated by a tetrad of talented artists from Katie Skelly, Alejanra Gutiérrez, Carla Speed McNeil and Trungles. Plus four additional back-up stories and four prose pieces.
From demons and discos, to a photographer's assistant and a movie star, to a space captain and pirates, to princesses and dragons, this collection proves that love truly knows no bounds.
Alex de Campi (W), Various (A) • Image Comics, $16.99
– Tyler Chin-Tanner