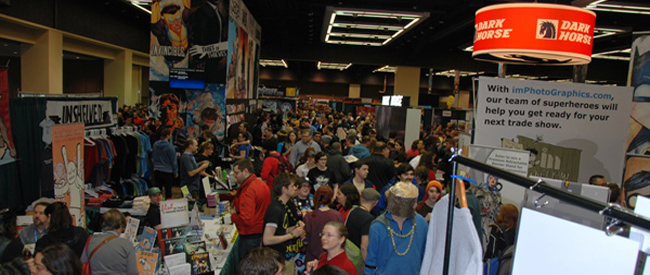 What stood out the most about this year's Emerald City Comicon was that it truly was a celebration of comic books. Despite the continual growth of the show (over 70,000 attendees this year) it has resisted the urge to become a pop culture or large media event. Sure, it had its share of "celebrity guests" in the autograph area, but no matter where I went on the show floor, I was reminded that this was an industry built between the pages of the great comics of our past and that continues to forge ahead through work of today's many talented creators.
This point was further punctuated by the lack of any real presence by the the big two, Marvel and DC, establishing an emphasis on creators and independent comics.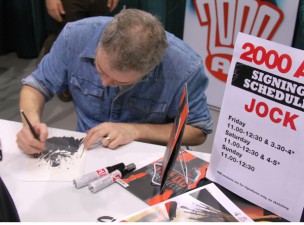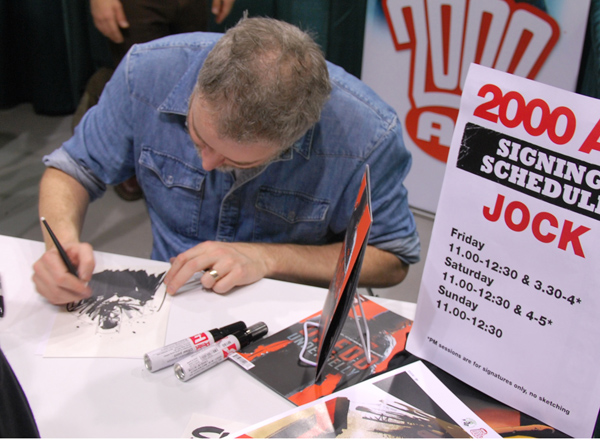 The largest booths at the show belonged to Boom! Studios, who set up in the sky bridge (the first time this space was used for exhibitors), and Image Comics. Other small publishers such as Dark Horse and Oni Press were nearby and all of them had a fair amount of creative talent on hand to promote both established series and new releases. 2000AD even brought along the artist Jock (Batman, The Losers) from the UK. This was a rare US convention appearance for Jock and the long line to see him showed how much fans appreciated his presence. The fact that he was also doing phenomenal sketches for everyone didn't hurt either.
Alongside these publisher booths were some well-known creators. Both Jeff Smith, creator of Bone, and Stan Sakai, creator of Usagi Yojimbo, had prominent spots on the show floor. It was especially significant to see Stan at this show. He's had a tough year with the deteriorating health of his wife, Sharon. Stan did end up having to leave early when he he received the news that Sharon was back on the hospital. He reported later that the ECCC staff were very helpful in assisting with his sudden change in travel plans. And I would like to also take this opportunity to remind everyone that the Sakai Benefit Auction is still going on. Please take a look and consider bidding on some of the great items donated to this cause.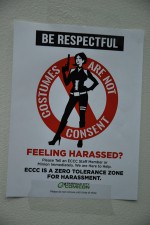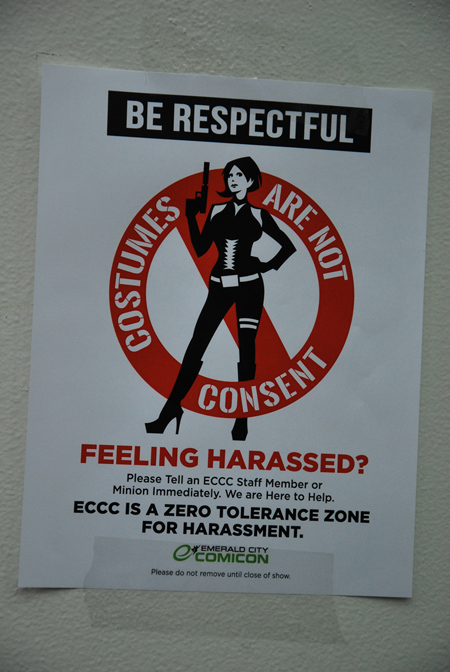 Overall, the Emerald City team did a great job making everyone feel welcome and creating a safe and fun environment. Not only were the volunteers easily visible, but they were very knowledgeable. They could be seen directing traffic, if not actually escorting people to where they wanted to go. They even manned some tables for exhibitors who were at panels or running off to get a quick bite to eat. The show also had a special kids section, a family break room, and an area called Brick Nation filled with elaborate Lego displays (which I'm sure appealed to more than just the kids). And around the show floor, there were signs posted explaining their anti-harassment policy, making it clear that any mistreatment directed toward cosplayers or anyone else would not be tolerated.
The only real complaint I heard was about the additional artist alley section added for this show. The convention already had two separate artist alleys which actually grew in size this year. The third section was placed down a set of escalators in a space used last year for autographs. This may have worked when lining up for special guests, but it didn't work well for attracting . This was a space used as an autograph area last year, which may have worked well for lining up for special guests but it was too far removed from the show floor and, separating it from the natural flow of traffic.
From what I heard, sales in artist alley were down slightly from last year, at least in certain spots. This may very well have been due to the amount of tables growing faster than the number of attendees. We'll have to wait and see if ECCC plans to keep this extra artist alley section, but I know that many creators will not be happy if they're placed there next year.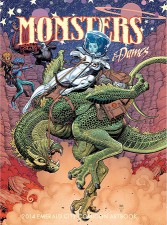 The other trend I noticed was an increase in "show exclusive" variant covers. The prices on these ranged from $5 to $20. I know this appeals to some people, but it's hard for me to image to market for some many premium priced single issues holding up over time.
The one show exclusive I do look forward to every year is the Monsters & Dames art book. This is a collection of illustrations done by artists exhibiting at the show. The print run of this year's book was limited to 1150 copies and a portion of the proceeds go to the Seattle Children's Hospital.
To see more of the photos I took from this year's show, please check out my full photo set.
Emerald City Comicon returns next year, March 27-29. Be sure to buy your tickets early as they're bound to sell out even faster than they did this year. And to see more of the photos I took from this year's show, please check out my full photo-set here.