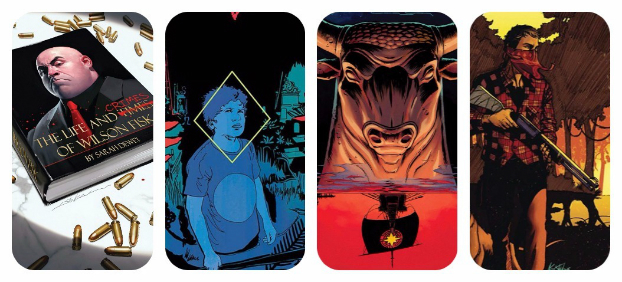 It's nearly Wednesday, and you know what that means: a fresh load of comics and graphic novels! With so many publications hitting your local comics store or digital storefront, the BF team are here to lead you through the woods with our weekly staff picks. Satisfaction guaranteed!
Look for our ELCAF Staff Picks Special later in the week…
Comic of the Week
Winnebago Graveyard #1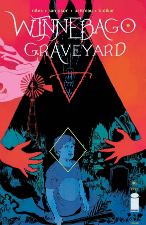 Come join this spine-tingling adventure through the back woods of the South as one family's road trip goes horribly wrong. Filled with creepy fairgrounds, seedy motels and a town full of satanists, this American horror story is bound to become a new cult classic.
The sketchy, hyper-realism of Alison Sampson's (Genesis) art style is the perfect fit for the author of some of comic's greatest horror stories written over the past decade. This duo is joined by colorists Jordie Bellaire (covers) and Stephane Paitreau (interiors) to create the perfect atmosphere for this beautiful but deeply disturbing tale.
Ships with a variant cover by Mingjue Helen Chen.
Steve Niles (W), Alison Sampson (A), Jordie Bellaire & Stephane Paitreau (C) • Image Comics, $3.99
– Tyler Chin-Tanner
Kill the Minotaur #1
Writers Chris Pasetto and Christian Cantamessa (Red Dead Redemption) have teamed up with artist Lukas Ketner (Witch Doctor) for a unique take on the legendary Cretian Minotaur. In this "horrific tale of heroism," Athens lost its war with the island nation of Crete and must pay tribute to the brutal King Minos by sacrificing its best citizens to his diabolical labyrinth and the creature within. Athenians seek to end the ruthless tribute by sending a champion, Theseus, to battle the Minotaur in its own home.
It's not often that we're treated to a series based on mythology. Unlike the historic accuracy prevalent in a comic like Eric Shanower's Age of Bronze, the creative team in Kill the Minotaur is reinventing a story around the myth's essential framework. It's bound to be a blood-soaked adventure, and I'm especially looking forward to seeing the color work of Jean-Francois Beaulieu (Invincible, I Hate Fairyland).
Chris Pasetto, Christian Cantamessa (W), Lukas Ketner (A), Jean-Francois Beaulieu (C), Clem Robins (L) • Image Comics/Skybound, $3.99
– Karen O'Brien
Trespasser #1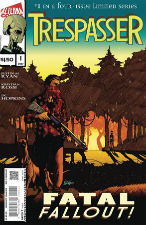 Survival is a daily struggle for Hector and his daughter who live on their own deep in the woods after a devastating war ruined the world's air and food supply. But fate takes an odd turn when an alien crash lands in their forest. Will this being's advanced technology finally offer the solution they desperately need, or will they find a more immediate use for this strange life form?
As part of Alterna's newsprint line with low cover prices, it's even easier to check out great new indie series like this one!
Justin M. Ryan (W), Kistian Rossi (A) • Alterna Comics, $1.50
– Tyler Chin-Tanner
Briggs Land: Lone Wolves #1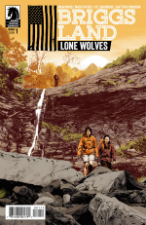 Last year, best-selling writer Brian Wood teamed up with artist Mack Chater and colorist Lee Loughridge for the Eisner-nominated series Briggs Land, taking readers into the fascinating world of an American family who sit at the head of a clan of antigovernment secessionists. This week Dark Horse releases the first issue of Lone Wolves, the second story arc of what Wood plans as not only one of the magnum opuses for his comics career, but also an upcoming TV show with serious potential to be a hit.
Isaac Briggs, one of three sons of clan matriarch Grace Briggs, has returned from a difficult military tour in Afghanistan to the family's sprawling hundred-square-mile wilderness. While taking a therapeutic walk on the land he encounters hikers who've accidentally trespassed onto the property, ultimately forcing him to make a dark choice or risk exposing his family to threats from the outside world.
So far, Briggs Land has been nothing short of exceptional in terms of its narrative and artistic quality – no big surprise coming from Brian Wood who is one of the industry's top writers and someone who's adept at choosing a solid creative team. Lone Wolves will surely thicken the plot of Wood's timely, socio-politically potent story, generating more excitement for the debut of the highly-anticipated television adaptation!
Brian Wood (W), Mack Chater (A), Lee Loughridge (C) • Dark Horse Comics, $3.99
– Matthew Box
Mother Russia #1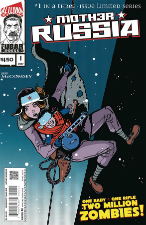 A Soviet sniper risks her life to protect an innocent baby boy when the zombie apocalypse breaks out in the middle of World War II. Armed with only a rifle and her wits, Svetlana must fight her way through a sea of the undead in order to protect her precious cargo.
The first stand-alone storyline to come out of the FUBAR anthology (where zombies take center stage in the world events throughout time), Mother Russia gets a new release as part of Alterna's newsprint line. Between the low cover price and the awesome tribute to G.I. Joe #21 on the cover, picking up this issue is a no-brainer.
Jeff McComsey (W/A) • Alterna Comics, $1.50
– Tyler Chin-Tanner
Kingpin #5
I've been reading serialised super-hero universe comics for more decades than I want to admit so you would think at this stage I would be used to the frustrating reality of those solid and intelligently crafted titles that inexplicably (and all too frequently) fail to find the audience they deserve.
Kingpin has been just one such book at Marvel. Everything was pitch perfect in set-up. Wilson Fisk was at his charmingly malevolent and manipulatively ambiguous best under writer Rosenberg's direction and the visuals (mostly from Ben Torres) were sublime in their sense of brooding menace. And in Sarah Dewey, the journalist hired by Fisk to write his "redemptive" autobiography, we had the perfect flawed protagonist to experience the Kingpin's world through.
While the run concludes here there will, no doubt, be a collection further down the line. If you haven't been following this tense and gripping series make sure to pick up that trade when it surfaces.
Matthew Rosenberg (W), Ben Torres (A) • Marvel Comics, $3.99
– Andy Oliver