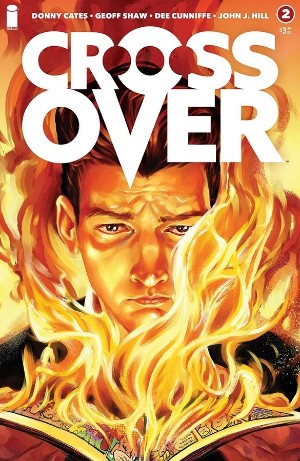 Last month, the hotly anticipated Image series Crossover landed, causing minor ripples throughout the comics community. Some found it filled with sparkling potential to address the nature of comics and storytelling itself. Others (including me) were more sceptical about a book where comic fans are an oppressed minority. Like it nor not, the premise of comic characters exploding into the "real world" and causing a prejudice against "true believers" established in Crossover #1 was an interesting talking-point that I already covered in last issue's review. Now, Crossover #2 is a less problematic (and also less interesting) issue to discuss. There are still references to both fictional characters and comic book figures, #2 opening with how "Brian K. Vaughan… has been found brutally murdered today." Yet overall, these surface-level call-outs are secondary to kicking off Crossover's actual plot, setting our protagonists to start marching towards the forcefield dome in Denver that contains the cataclysmic crossover event.
One is timid son of a preacher man Ryan Lowe, who after his anti-comics Evangelist father encouraged him to torch Ellie's comic shop, has been arrested. #2 does give much character development but it does show Ryan's repentance and that his name is actually short for "Orion" (which was not mentioned in #1), so at least he has that in common with Ellipsis aka Ellie. Ryan is brought to a shadowy government official who instructs him he must go to Denver for the sake of plot convenience. This is not snark, as Ryan is handed a mysterious letter with the same tone-of-voice as Crossover's narrator telling him to get to "the dome" for the "first act set up." This small device is an intriguing hint towards Crossover's meta-textual world. Another main piece of worldbuilding is that many of the comic refugees outside of Denver have been detained and kept prisoner.
This is where the majority of references lie, as Geoff Shaw illustrate rows of recognisable Superhero arms and silhouettes (potentially a homage to Spawn #10) poking through cages, with Dee Cunniffe maintaining his polka-dot colouring to maintain a striking visual distinction. Superheroes being imprisoned is nothing new really, but the context that they have been displaced from their home adds a political subtext. This is reinforced with Ellie and Otto, whose young "fake" Ava Quinn tells them about "camps" for the non-powered comic book civilians also transported out of the pages. The visuals and placement clearly making analogies with ICE detention camps. Crossover treats these camps as an obvious wrong that Ellie and Otto were ignorant of, and drawing from political reality (as many works often do) is not bad in itself. Yet you can't shake the feeling that this is all slightly surface-level, that it's another signifier that Crossover drops in like Brian K. Vaughan or Batman.
As before, all these critiques apply more to the conception than the technical execution itself. Shaw's artwork still pops well, even if #2 is a bit tamer than the first issue. But this allows the gestures and facial expressions to become the focus, with Cunniffe's colouring tinting different scenes with distinct but lovely hues; an oaky red for Ryan, a pleasant purple sunset for Ellie. Cates' writing also pulls you along and sets up enough intrigue on the side-lines to keep you coming back to Crossover. My problems with it still stand, but I remain curious to see how they turn out. Although Cates has this annoying habit, most noticeable with Ryan and Otto, of characters stuttering and second-guessing themselves mid-sentence in an effort to create "natural" dialogue. Yet since Cates doesn't commit to it, and Crossover is by no means a realistic book, it only serves to stifle the flow of his writing. Although perhaps this is appropriate for a comic that is still struggling to properly explore (instead of re-state) its concept, and to find its proper footing as it edges towards the Denver Crossover dome.
Donny Cates (W), Geoff Shaw (A), Dee Cunniffe (C), John J. Hill (L/D) • Image Comics, $3.99
Review by Bruno Savill de Jong