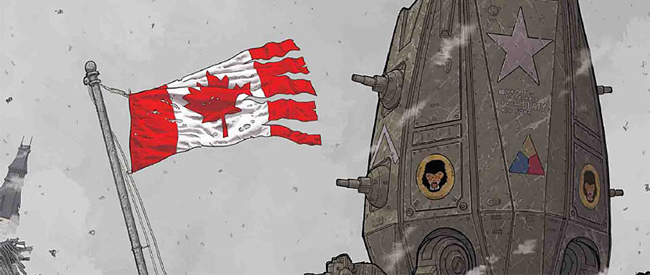 Due to a somewhat improbable premise, the real reason (some might say the only reason) to pick up this new creator-owned series from Image is to get in on the ground floor of fan-favorite Croatian-Canadian cartoonist Steve Skroce's return to full-time comics work.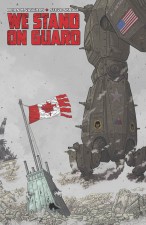 One of the first "adult" movies I ever saw was the deliciously cheesy Red Dawn, starring Patrick Swayze, Charlie Sheen, and Lea Thompson. Although it featured some of the most popular young stars of the 1980s, the film's plot felt contrived: somehow, Soviet forces (aided by allies Cuba and Nicaragua) manage to infiltrate American airspace to drop paratroopers outside a rural town in Colorado. A small cadre of high-school students, calling themselves the "Wolverines", mounts a resistance, at the expense of several of their number.
The film was notable for its gratuitous violence but not much else. The premise was so improbable it was hard for even an 11-year old boy to suspend his disbelief. But still, my friends and I were mesmerized by the buckets of blood and expansive action sequences.
I couldn't help but remember Red Dawn when reading the latest creator-owned offering from Brian K. Vaughn (Saga, The Private Eye) and Steve Skroce (Gambit, Doc Frankenstein). Set in a near future where the U.S.A. unexpectedly invades its northern neighbor to appropriate clean, pure Canadian fresh water, We Stand on Guard at least has a stronger, more realistic premise than my childhood guilty pleasure.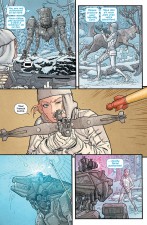 Having said that, I had a little difficulty buying in to Vaughn's central conceit. I just can't see the rest of the world's nations standing idly by while America brutally pacifies a peaceful neighbor under the flimsiest of pretenses (apparently Canadian terrorists are a thing). But perhaps I'm just a tad biased.
The plot follows an orphaned woman named Amber trekking through the snowy wilderness of the Northwest Territories after her older brother was captured by the invaders some weeks earlier. There, she encounters the Two-Four (referring to what we in Canada call a case of our far superior beer, containing 24 bottles), a motley band of freedom fighters waging a guerilla war against the occupying American military.
Let's be honest. We Stand on Guard is light years away from Vaughn's brilliant output on books like Saga or The Private Eye. This first issue is brain candy, pure and simple. Married to a Canadian, Vaughn takes great pains to scatter homegrown bits of Canadiana throughout his script, with references to the War of 1812, the Stanley Cup, and – of course – beer. Canada's multicultural population is also aptly represented and there's even a bit of untranslated French thrown into the dialogue to create verisimilitude.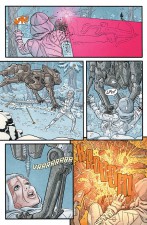 As much as it pains me to say it, though, it still feels like another American writing a bunch of kooky Canucks (a critical flaw afflicting most iterations of Marvel's Alpha Flight). To his credit, Vaughn admits in the letters page to steeling himself for the inevitable onslaught of complaints from bitter Canadians (and Americans) about their portrayal in the series.
Well, he should, because he'll be taking it from both sides, the poor man. It's a valiant effort that should spare him a night or two on the couch, but that's as far as it goes.
After spending the past several years focusing on providing storyboards for the Wachowskis' high-concept sci-fi epics such as the Matrix Trilogy and Jupiter Ascending, artist Skroce plunges into the frigid north with his filmic sensibilities fully intact. The action sequences anchoring the book are absolutely huge, taking full advantage of the vast wilderness setting through the use of widescreen panels and double-page spreads.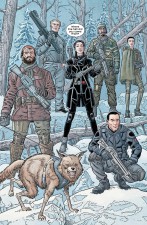 The real stars of the show aren't the Two-Four but Skroce's impeccably designed mech-style war machines stomping through the majestic Canadian landscape. Aided by the bright, garish color palette of Matt Hollingsworth, Skroce's visual storytelling is slick and bombastic, injected with a massive dose of visceral detail. Together, they work to drag what could have been just another grim and gritty dystopian epic into the crisp, brilliant sunlight of the Canadian north.
In spite of the world's perception of Canadians as a peaceful, overly polite people, we're actually a prickly bunch – especially when it comes to our portrayal in comics. Besides the legendary John Byrne, there aren't many creators who have got us just right.
Relying on spectacle more than substance, this beautifully-illustrated romp feels unbalanced and anti-climactic – a shame, because I really wanted to get behind this series, as both a proud Canadian and a huge fan of both creators. Thankfully, Skroce's return to funny books trumps Vaughn's superficial representation of Canadians in every respect, and I'll give the series another go next month.
For now though, it's "O (well) Canada"…
Brian K. Vaughn (W), Steve Skroce (A) • Image Comics, $2.99, July 1, 2015.