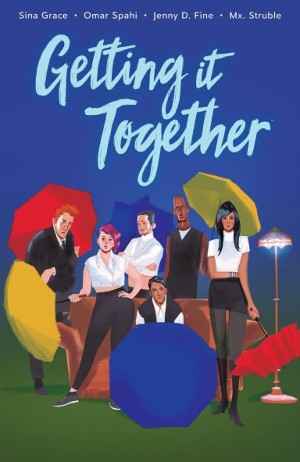 The world is falling apart, and Jack is stuck in the middle. Well, at least the relationship between Jack's best friend Sam and Jack's sister (and roommate) Lauren is. The opening pages of the frothy relationship dramedy Getting It Together alternates between each "side," as Sam accuses Lauren of cheating on him, whilst Lauren explains they'd discussed an open relationship. "But that was together," Sam protests through the designated mediator Jack, "she went and did something separate." But this miscommunication is only a symptom of a deeper division. Lauren comments how Sam "said some shit that made me realize we may not be a fit anymore." Now that the couple has broken apart, it may not be worth gluing them back together.
Getting It Together bathes in this melodrama of 20-something relationships, but doesn't become burdened by it. Instead, it's a warm revival in the vein of Friends (which the trade's cover directly homages), as the group navigate romances and personal developments through the 21st century. Getting It Together is also far more explicit and diverse, depicting Jack's numerous queer hook-ups and a general aura of sex-positivity in the hipster San Francisco Bay Area. It isn't as probing as something like Sex Criminals, but it isn't trying to be, instead displaying a sweet slice-of-life where people gently realign their lifestyles.
Sometimes this light touch makes the comic feel weightless, as the cushy jobs and hipster environment make the emotional outbursts feel, by comparison, unnatural. This isn't helped by a somewhat unfocused focalisation, as Getting It Together initially follows Jack before it eventually becomes about Lauren. This shift is more natural whilst reading, and it's a compliment to co-writers Sina Grace and Omar Spahi that you feel invested in most of the distinctive characters. They do have a tendency to overexplain their motivations and personalities, having them be explicitly laid out by others, but often enough it's couched in fun, snarky speeches that remain enjoyable to read. Getting It Together's humour, perhaps, doesn't always land, but it's more a cute and quirky attitude layered upon the book instead of anything jarring that jumps out. Getting It Together isn't aiming for full-on satire on modern relationships, but instead a flirtatious, sometimes sassy, but ultimately sincere depiction of them.
This is exemplified by the bright and expressive artwork by Jenny D. Fine (with Sina Grace doing it himself for flashbacks – differentiating time not only via style but framing and composition too). Fine's illustrated figures are elastic, subtly changing size and demeanour depending on the situation. This does mean the art's a little inconsistent, with the features of characters sometimes fully drawn and otherwise dots, or even entire pages being rough-cut with heavy inks while others are sleeker and leaner. Fine missteps when edging close to "realism," as certain detailed facial close-ups show (although there are many times this isn't true, which only makes it extra frustrating).
But Fine works best in more expressionist figure-sketches and group scenes that show the body language playing off each other. Getting It Together also permits certain stylizations – a "haze" around Jack's recent hook-up Colton, a "flowchart" of Sam's potential activities, or the melting rhapsody of a drug-fuelled concert session – that allow for dynamic and engaged reading of otherwise "everyday" events. Mx. Struble reliably amplifies the fuzzy feelings of Getting It Together's action, whether it be soft pinks when the group are all happy, or sober greens when they are frustrated.
Getting It Together is nothing revolutionary (notwithstanding the implicit political power of having queer characters so casually displayed) and this easy-going and gentle nature works in its favour. You become invested in the ensemble re-orienting themselves, whether it's Jack "slowing down" his incessant hook-ups, or Lauren leaving San Francisco (and her band) to forge her new direction. The world doesn't end with a break-up after all, but instead provides avenues for reconstruction.
Sina Grace & Omar Spahi, Jenny D. Fine & Sina Grace, Erika Schnatz (A), Mx. Struble (C), Sean Konot (L) • Image Comics, $14.99
Review by Bruno Savill de Jong