Brash and beautiful, Grrl Scouts: Magic Socks #1 is a street, punk, hip-hop, kickass-tastic thrill ride.
It's always a pleasure to see an artist fluid and comfortable in his style but not so comfortable that he forgoes opportunities to stretch, twist, and expand that style to suit the creative needs of a project. There is a rather fine line between being comfortable with one's style and being predictable. And fortunately for us, Jim Mahfood is anything but predictable. His graffiti and street-art influences are paired seamlessly with brash punk-rock characterizations and a pervading hip-hop vibe. It's a winning formula for Mahfood that he applies with unapologetic vigor in his latest creator-owned project, Grrl Scouts: Magic Socks #1.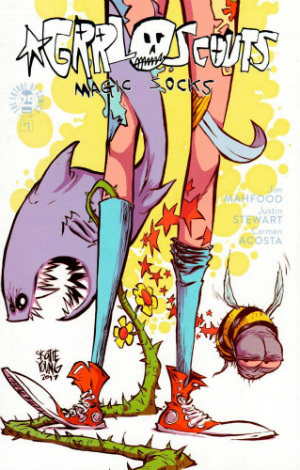 Complementing Mahfood's style is his willingness to employ more abstract page constructions, and this makes Freak City an ominous character with a unique identity. It's the kind of place that kicks your ass before you can feel the high from the line of coke you just snorted. I should mention that the book is labeled Mature and lives up to its rating—although I recommend checking out Mahfood's art to anyone inspired by street-based styles, this isn't a book for young readers. It's a violent title with adult themes and imagery. Fortunately, these themes are used with purpose in a well-crafted script that immediately establishes its badass characters in a society that only has an underbelly.
Gwen finds Daphne dancing at the Weird Hog, and they immediately have to fight their way out because Daphne's boss, Kurtis, caught her dealing the Grrl Scouts' brand of weed in his club. They reunite with Rita at her flat/art studio, and learn that their cousin Josie is out of the looney bin and out to kill them. Rita's place contains a number of references to Mahfood's earlier work and even that of guest cover artist, Skottie Young, so pay attention to the background details in this series.
Clever flashbacks throughout the issue update new readers regarding the hijinks of the last Grrl Scouts series—Grrl Scouts: Work Sucks from 2003—as Mahfood uses some of those scenes to motivate the current misbehavior of his leading ladies. All the action of the present and the past lead us to the real reason Gwen sought out Daphne—the magic socks she's been wearing as she kicked ass throughout the issue.
Mahfood's in-your-face modern indie underground style is transformed into a coherent over-the-top visual by the bold colors of Justin Stewart. Subtle is not on the menu here. Gwen's darker colorings in wardrobe and hair, including a hair style reminiscent of Aeon Flux (bitchin' idea, Jim!) work in contrast to Daphne's electric blonde and vibrant reds. Rita's mocha and teal coloring grounds her as the potential voice of reason but suggests we best not underestimate her ability to kick ass. Stewart's aggressive, fluid colors provide individual identities and reflect the base personalities of this volatile cast of characters while anchoring them in the present when the flashbacks illuminate in more muted tones the story's background details.
If you're already a Mahfood fan, this book is on your pull list. If you're new to this style, enjoy the trippy ride.
Jim Mahfood (W/A), Justin Stewart (C/L), Image Comics, $3.99