In recent years the Edinburgh Book Festival has incorporated quite a few comics-related events under its 'Stripped' strand. Its programme for this year – announced earlier this week – contains a few interesting events over the final weekend of the August festival. We've chosen a few of our highlights.
The full Stripped programme is here, including a whole range of kids' workshops, and tickets go on sale at 8.30 am on Tuesday June 23.
Stripped 2015: Capturing the world we live in through visual storytelling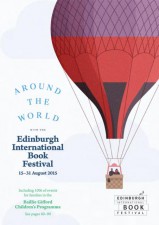 From the birth of democracy in Greece to the politics of the Middle East, from British political satire to memoirs of Poland beyond the Iron Curtain, this year's Stripped programme highlights the power of the picture to capture the world we live in.
From artists like Rob Davis, Stik, Neill Cameron and Laura Ellen Anderson of the Phoenix comic, we celebrate the joys of comics, graphic novels and visual storytelling.
Neill Cameron on Reading Manga
Fri 28 Aug 1:00pm – 2:30pm
Comics writer and artist Neill Cameron looks at the world of manga. In Japan, people of all ages read manga and the medium includes works in a broad range of genres. Developed in the late 19th Century, manga has a complex history in Japanese art and often draws on themes of mythology and legend as plot devices.
No previous knowledge of manga is necessary to enjoy this workshop. There will be an open discussion from the start.
Andrzej Klimowski and Danusia Schejbal: When Poland Made Its Mark
Fri 28 Aug 2:00pm – 3:00pm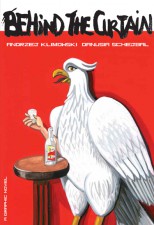 The 1970s was a dramatic period for Poland and two of its finest graphic artists detail the journey of a country.
While their peers fled the Eastern Bloc to head West, Andrzej Klimowski and Danusia Schejbal opted to stay at home with other creative types and so became first-hand witnesses to Solidarity and a Polish Pope. Behind The Curtain graphically tells their story.
Steve Bell: The Cartoonist's Election Campaign
Fri 28 Aug 5:00pm – 6:00pm
From the squint-eyed mania of Tony Blair to the condom-clad head of a super-smooth David Cameron, Guardian cartoonist Steve Bell's caricatures are fearless and uncannily accurate.
With cartoons including a bright pink Cameron cuddling Nicola Sturgeon in the guise of a newborn lamb, Bell doodled his way through the General Election campaign this summer, and he shares his hilarious, cruelly coruscating results today.
Rob Davis and Karrie Fransman: Unique Voices Telling Strange Stories
Fri 28 Aug 7:00pm – 8:00pm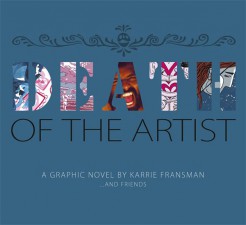 Last November, Karrie Fransman delivered a TED Talk insisting that comics and graphic novels should be taken far more seriously than they are. Her latest book, Death of the Artist, certainly sounds weighty, the result of a collaborative process with four friends who went to a retreat and told each other stories.
Rob Davis' dark graphic novel, The Motherless Oven, surreally tells of teenagers caught adrift in a parallel universe.
Joe Sumner and Evie Wyld: For the Love of Sharks
Sat 29 Aug 3:45pm – 4:45pm
Evie Wyld is fast shooting to international fame as a novelist. Already the winner of Australia's prestigious Miles Franklin Prize for All the Birds, Singing, her writing career takes a thrilling new turn in a graphic memoir, Everything Is Teeth, that she's produced together with illustrator Joe Sumner. This could be the most gorgeously moving, beautifully beguiling book of the year.
Abraham Kawa and Alecos Papadatos: Having a Democratic Party
Sat 29 Aug 7:00pm – 8:00pm
Following on from the surprise success of their Logicomix, Abraham Kawa and Alecos Papadatos have turned their graphic novelists' attention to Democracy, a book which begins in 490 BC Athens.
It's a brilliant story of battles, gods and tyrannies, of old Egyptian slave women and the mysterious 'father' of democracy. The result is a vivid depiction of personal upheaval and political transition.
Jura Unbound: Stripped Special
Sat 29 Aug 9:00pm – 10:30pm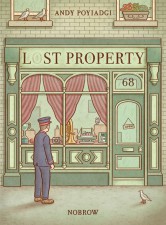 Pitch up, grab a drink from the bar and take a seat as we celebrate Stripped! our special strand on graphic novels and comics. Join comic creators as they whip up a whirl of words, pictures and much more besides. Full line-up announced in July in The Skinny and on our website.
(NB. It's not listed officially yet, but we have it on very good authority that this will be a Nobrow event, featuring Andy Poyiadgi, Joe Sparrow, William Exley and Ella Bailey.)
Jean-Pierre Filiu and Martin Rowson: Taking a Strip off Governments
Sun 30 Aug 5:45pm – 6:45pm
An event with illustrated works that poke fun while making serious points. Jean-Pierre Filiu has written the words for Best of Enemies, a penetrating look at the history of US and Middle East relations.
Martin Rowson isn't much of a fan of the previous administration in Britain, and with a book subtitled A Cartoon Catalogue of Britain's Worst Government in 200 Years, he's pulling no punches with his sketches.
Darryl Cunningham and Katrine Marçal: Who Hijacked the Global Economy?
Mon 31 Aug 2:00pm – 3:00pm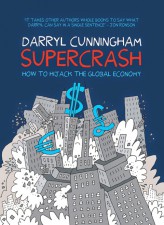 Meet two writers who take hedge funds, credit default swaps and modern day finance-speak, and tear up the rule book. Darryl Cunningham's Supercrash is one of the best graphic novels of the year, dealing with complex ideas with remarkable clarity. Katrine Marçal's Who Cooked Adam Smith's Dinner looks at economics from a feminist perspective, skewering Smith's notion of 'economic man'.
A Picture Tells a Thousand Words: Human Rights for Children
Mon 31 Aug 5:45pm – 6:45pm
Picture book and graphic novel illustrators are masters of storytelling, helping children to perceive, interpret and understand deep and complex ideas.
As part of Amnesty International's programme on fiction and human rights, illustrators Debi Gliori and Chris Riddell join educationalist Prue Goodwin to discuss how graphic novels and illustrated books can explore difficult issues and empower children to stand up for themselves and each other.