In this month's report from the Process group at London's Gosh! Comics, The House That Groaned's Karrie Fransman talks about how to package a submission and prepare a pitch to publishers while acclaimed Small Presser Rachael Smith joined us to talk about her new comic I Am Fire and her work on Aces Weekly.

Process is a comics workshop and discussion group that meets up on the first Wednesday of every month at Gosh! Comics from 7-9 pm. The idea is to have a place where creators and readers can get together and discuss the mechanics of comics, present work in progress and find new collaborators. Each meeting opens with everyone introducing themselves, continues with some more general chat and finishes up with half an hour or so at the end for everyone to mingle and discuss things less formally.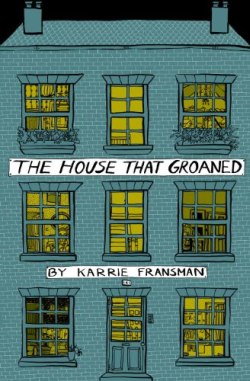 Karrie was originally invited along purely to talk about how she went about producing The House That Groaned (Broken Frontier review here), and how she was getting on with her upcoming book The Death Of The Artist, but Karrie was determined that if she was going to be in a roomful of aspiring creators she wasn't going just tell them how she made comics she was going to tell them how they could get comics made too.
Karrie opened by giving some general advice to creators, explaining that there is no 'right' way of making comics and that the important thing was to find your way. She also emphasized how important it was to make contacts and find people to talk to about your work. Karrie then gave a brief overview of her career and the steps that she took to get published.
After a few years working on various self-published projects Karrie was picked up by The Guardian to produce an autobiographical strip called My Peculiar World which ran in the G2 supplement and later had a fiction strip called The Night I Lost My Love appear in the Times2 section of The Times. Her first book, The House That Groaned, was published by Square Peg last year and her new book, The Death of the Artist, is currently in production.
It seems like a very straightforward, linear path. Self-publishing, newspaper strips and then book publishing, but Karrie went to great pains to emphasize the hard work and dedication required to pursue a career as a comics creator. Karrie never went to Art College and has no formal training but instead has a background in PR and it was the skills she had acquired in her work in PR that she used to promote herself and her work as an aspiring creator.
Having decided that she wanted her work published she sourced contact details from the Writers and Artists Yearbook and sent her ten best autobiographical strips to thirty-five different newspapers.
Only one replied.
But that was enough and My Peculiar World found its way into print. Karrie estimates that you can expect no more that 20 – 30% of people that you contact will even have the time to reply to you and of those only 20% again will be positive. But you only need one yes. Karrie suggested a follow-up email a week later to the people that haven't replied just asking if they've had a chance to have a look at your stuff. This email should be very short and extremely polite.

Karrie's My Peculiar World strip ran in The Guardian. You can read the full archive of comics here.
In terms of sending a pitch for a book to publishers Karrie emphasized that you are selling them the idea for the book. The chances are you haven't actually made the book yet so the idea has to be the thing that grabs them and how you present that idea is a large part of how much the idea will appeal to them. You must have an idea of your target audience. If you don't know who is going to buy your book then there's very little chance that a publisher will go to the trouble of producing it.
In this regard it's important to emphasise to publishers that your work will have appeal beyond the traditional comic reader. Publishers, like any business, are looking to expand their customer base all the time and if your story is going to reach people and places they haven't before it makes it more appealing to them.
Your pitch should include:
An artist's biography: Introduce yourself and show them that there is someone behind the story. This also allows you to let them know of your other work.
The idea: This should work as the blurb on the back of the book and, indeed, the summary that Karrie sent through with the pitch for The House That Groaned became the blurb on the back. It reads: The House That Groaned is a graphic novel that explores bodies and the spaces they inhabit. It is set in an old Victorian tenement housing six lonely individuals who could only have stepped out of the pages of a comic book. There is the retoucher who cannot touch, a grandmother who literally blends into the background and a twenty-something bloke who's sexually attracted to diseased women. Yet, as we learn the stories behind these extreme characters, it becomes apparent that we may share similar issues – as individuals and as a society.
A synopsis: An overview of the story from beginning to end. Publishers want to know that you have a complete story ready even if it's the idea that you're looking to grab them with.
Pages of artwork: At least four pages that show sequential storytelling.
Character pages: Individual character sheets for each character in the story that include visuals and a description of the person. For The House That Groaned Karrie included taglines for each character as well. ('The Retoucher Who Cannot Touch')
The story: A more detailed breakdown of the events in the book. For The House That Groaned this was a nine page piece but this can vary according to the story.
See Karrie interviewed by the Forbidden Planet International team in the YouTube video above
Karrie also emphasized how important it was to make your pitch stand out. Publishers receive a tremendous amount of pitches and you have to do something to grab their attention when they are scanning over the stacks. With the pitch for The House That Groaned Karrie included a die-cut image of the front of the house where you could look through the windows and see the characters inside. This tied in with the idea of the book while also providing such a compelling visual idea that the cover of the book itself is a reproduction of that very idea.
Karrie encouraged people to post through their pitches, the physicality of the work making it more real and immediate than anything sent to publishers digitally. Woodrow Phoenix then made the point that if you are sending work to publishers digitally it's important to make sure the files you send are compressed and will open quickly. Publishers simply won't take the time to look at your work if you make it hard for them.
Karrie also talked about other pitches she had seen; including one where the author had helpfully listed all the problems they saw in the project and the story. DON'T do this. You're giving the publishers a reason to look away from your work which is entirely counter to the point of the pitch. Take on issues that are raised and respond to them but you have to be selective about how you do this. If you change everything that everyone suggests you can end up with an entirely different project. Karrie's agent suggested early on that the story needed a lead character which Karrie was loathe to do but she took that point on board, made the change and created a pitch that publishers were interested in.
Karrie then listed the main publishers that are producing comics in the UK at the moment. She suggested Jonathan Cape, SelfMadeHero, Walker Books, Faber, David Fickling, Nobrow, Myriad, Blank Slate and Knockabout as the best places to look at but also made the point that it's worth seeing the sort of books these publishers are producing and targeting one that would be a good fit for your work.
Learn more about Karrie's graphic novel The House that Groaned in the trailer above and from the book's website here
Karrie then addressed the question of whether you need an agent if you do get a book deal. She made the contrast between Illustrators Agents and Literary Agents (again significant depending on the type of work you want to do) and made the point that the Society of Authors will look over a contract for their members. There was also the very interesting point that publishers will have entirely different contracts prepared for creators without representation than they would for those with an agent.
Karrie also pointed out that even if you get a publishing deal your advance is usually split into three separate payments that are released on signing the contract, on the manuscript being handed in and when the book is actually released. This means that you may have to look at other revenue streams while you are working on the book itself. For her latest book Karrie managed to secure an Arts Council award and funding such as this can be invaluable.
To close Karrie gave some general tips and reminders for creators:
Remember that even the best comic creators have been rejected at some point. Don't be afraid of rejection. The more you pitch the more rejections you'll get but you'll get the most work that way as well.
Make your work goal-oriented. Give yourself achievable targets that you can incrementally build on.
Spend 1/3 of your time creating and 2/3 of your time promoting. There's no point building up a stack of work if you're not showing it to people.
Don't chase perfection at the cost of production. If you're trying to make your work commercially viable you have to produce at a consistent rate. If you're spending hours perfecting a single line your productivity will suffer. Learn to accept when something is good enough.
Be realistic about your work. If you're making very personal or challenging work that has no mass appeal then it's unlikely to be of interest to a major publisher.
Realise you are a pioneer. You are working in a medium that is growing and moving from strength to strength. You have the opportunity to be involved and shape an artform.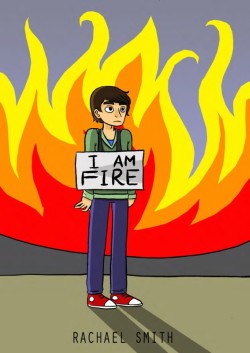 We were then joined by Rachael Smith who happened to be passing through London on her way to the U.S. where she was going to be working with David Lloyd and helping to promote Aces Weekly at a couple of shows including the New York Comic Con.
Emphasising a point made by Karrie earlier Rachael explained that she had been tabling near David Lloyd at a show and had given him a copy of one of her comics to look at. David was impressed enough to offer Rachael a spot in Aces Weekly which then turned into a role helping to promote the project in America.
Rachael talked first about Aces Weekly and Carlos Pascoa, another Aces Weekly creator who had actually talked about his strip for the anthology at the previous month's Process, also talked about his involvement. Rachael then talked about her latest comic, I Am Fire, a brilliant strip about work experience and pyromania that has been really well received (see the Broken Frontier review here).
We then wrapped up and headed over to a 'Drink and Draw' session to celebrate Mike (Wu Wei) Medaglia's birthday which was in a room to dark too draw in but entirely suitable for drinking.
You can follow the Process group here on Twitter, Karrie Fransman here and Rachael Smith here. Check out the Process group's blog here. And you can visit the Gosh! Comics website here.