After a winter break the Gosh! Comics and Broken Frontier Drink and Draw hosts its first event of 2017 this coming Tuesday February 28th with another talented trio of  comics creative forces in the shape of Rachael Ball, Sarah Gordon and Matthew Dooley.
We return to the scene of our festive Drink and Draw at the end of last year with another visit to the Coach and Horses pub on Great Marlborough Street. Once again, your co-hosts for the night are myself (Broken Frontier Editor-in-Chief Andy Oliver) and Gosh's very own Nora Goldberg. The evening begins at 6.30pm at Gosh on Berwick Street before we head off for our sketching and drinking antics at 7pm. Don't forget you can join the official Facebook event here.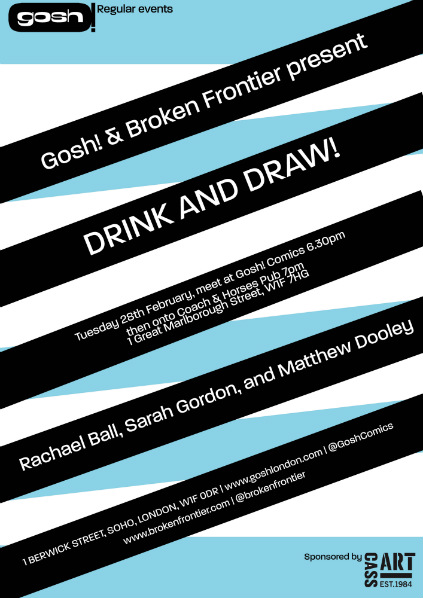 Rachael Ball's comics work first came to prominence in the pages of the truly iconic Deadline magazine of the late '80s-'90s. In 2015 her first full-length graphic novel The Inflatable Woman was published by Bloomsbury. Mixing graphic memoir with magic realism it's the darkly comic tale of Iris Pink-Percy, a zookeeper whose life is turned upside down when she is diagnosed with breast cancer. It was reviewed here recently at Broken Frontier when I said of it "graphic medicine quite unlike anything to come before it, The Inflatable Woman is a visionary use of this ever expanding area of slice-of-life comics.
Rachael's work has also appeared in the Graphic Canon, the Radio Times, the Times Educational Supplement and A Bit of Undigested Potato. She is one of the organisers of the monthly London Laydeez do Comics meetings and was one of the International Girl Gang at this year's Angoulême festival (below – photo credit Wallis Eates).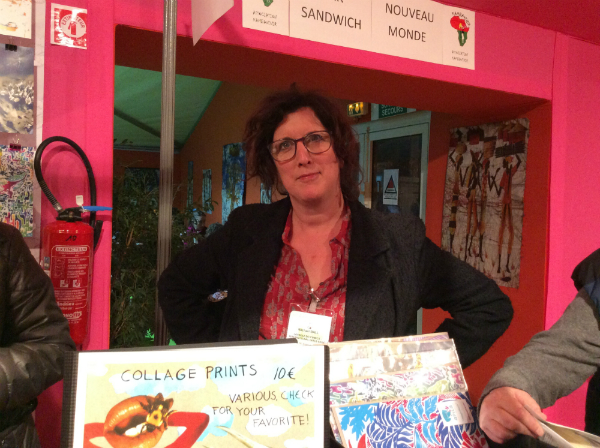 Matthew Dooley's profile has been rising in leaps and bounds over the last year or two as his delightfully off-centre mini-narratives have continued to reach new audiences. He's been featured in street press anthology Off Life (below) but most Broken Frontier readers will no doubt associate his name with popular anthology Dirty Rotten Comics where he's been a regular presence. Indeed, DRC's publisher Throwaway Press also published Matthew's Meanderings one-shot last year.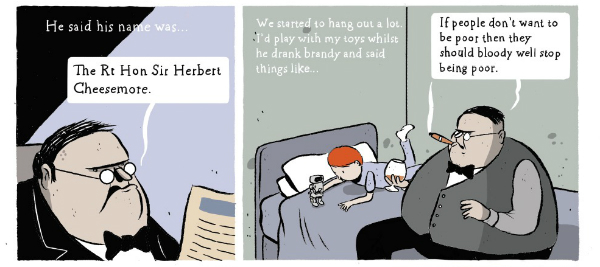 In addition to that list of credits he's also been shortlisted twice for the Cape/Observer/Comica Short Story prize which he won in 2016 for his strip 'Colin Turnbull: A Tall Story' (below) and has work in the new edition of Meanwhile… from Soaring Penguin Press.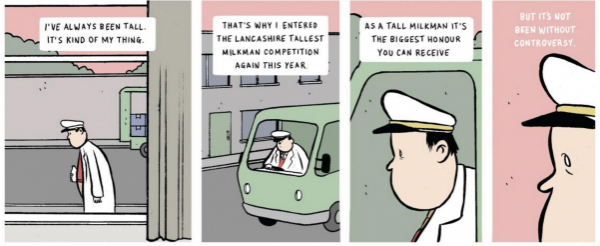 Sarah Gordon is a British Comic Award-nominated creator whose beautifully illustrated work has been seen in a whole host of self-published comics including Box of Things, Strip (below), Queen Rat and the wonderfully bleak Sad Pictures to Colour In. She has also been a part of renowned anthologies like Solipsistic Pop and ink + PAPER.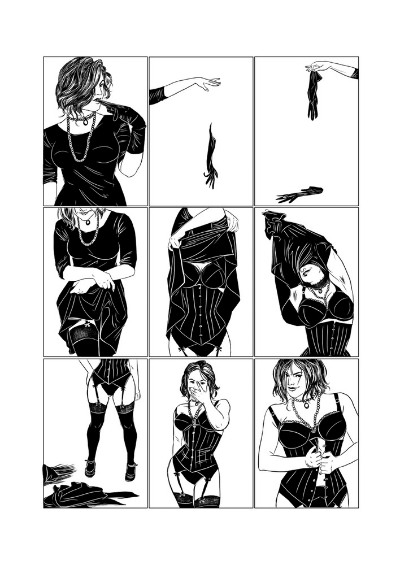 Sarah recently collaborated with Howard Hardiman on the successfully crowdfunded Deeds Not Words (below left) and also has a serialised comic that began in Soaring Penguin's latest Meanwhile… anthology.
Join us next Tuesday night, then, for another fun evening of drinking, drawing and comics camaraderie. We kick off at 6.30pm in Gosh with a chance to get hold of signed comics and books from our featured creators before moving over to the The Coach and Horses for 7. We look forward to seeing you then!
You can find the Facebook event group here.