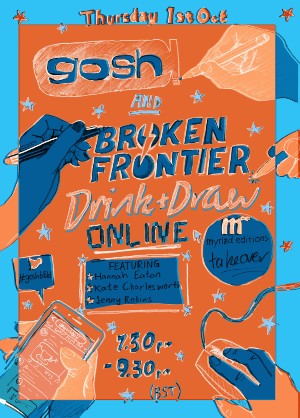 As Autumn approaches we've started planning well ahead for some very special Gosh! Comics and Broken Frontier Drink and Draw Online nights beginning with a Myriad Editions event this Thursday October 1st. As usual we're back again at 7.30pm BST on Twitter. Not only do our online D&Ds keep all those who would meet at The King's Arms in Soho, London every month (in those fondly remembered pre-March 2020 days) in regular contact, they also allow us to expand our reach for the event to a more global audience. We have three Myriad artists this time round with a special emphasis on Hannah Eaton's new book Blackwood which debuts soon!
(Poster art, right, by Jenny Robins).
So, once again if you're joining us online, here are the "rules"…
We're using our regular pub format, adapted for a digital platform. So if you've never attended one of our monthly sessions this is how it will work. Our guest artists will each choose a drawing theme for three sessions across the evening. We'll post each of these prompts with the hashtag #GoshBFDD in three batches at 7.30pm (BST), 8.15pm and 9.00pm from both the Gosh! Comics Twitter account and the Broken Frontier Twitter account. You have 30 minutes to draw something fitting that theme, after which we'll spend 15 minutes picking a winner before the next round begins. Don't forget to post your drawings with the #GoshBFDD hashtag so everyone can see and join in. And also so we can easily retweet!
Let's meet our guest artists!
Hannah Eaton's new book Blackwood has been described by Broken Frontier's Andy Oliver as "a frighteningly relevant mix of folklore and social commentary, and a quietly brooding indictment of British insularity." This time-hopping murder mystery is Eaton's second graphic novel after her acclaimed Naming Monsters (reviewed here at BF) which was also published by Myriad. Look for a full review of Blackwood later this week at BF.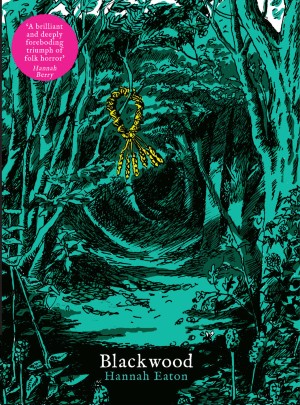 Broken Frontier's very own Jenny Robins is also (as you will no doubt be aware!) a comics creator and illustrator whose work has appeared in such anthologies as Solipsistic Pop, Dirty Rotten Comics, Over the Line and Soaring Penguin's Meanwhile… (you can read her BF work here).
Jenny's debut graphic novel won the last Myriad First Graphic Novel Competition. Biscuits (assorted) is described as " a look at a handful of women's stories in the city as they defy and comply with our expectations, and as they step out of the cookie cutter mould of what it means to be a woman today. " It's available for pre-order here for its November debut!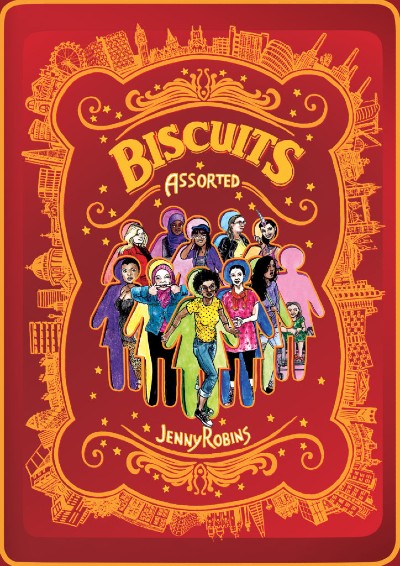 And finally we're delighted to have the participation of UK comics legend Kate Charlesworth. Kate has worked in cartooning and illustration since the 1970s. Her work has been seen in The Pink Paper, Gay News AARGH, New Scientist and The Independent. She illustrated Sally Heathcote: Suffragette with Mary and Bryan Talbot for Dark Horse and last year her graphic memoir Sensible Footwear was published by Myriad to huge critical acclaim. You can find out more about that book mixing autobio and LGBTQ+ history in an interview with Kate here at BF and our review here.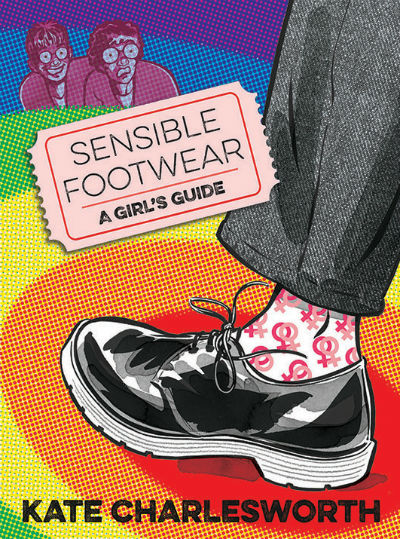 We'll see you all again on Thursday! Whether you're a regular or a newbie all are welcome so please do join in and be part of our international Drink and Draw fun! And if you enjoy this event why not check out the Gosh! Comics webstore here?