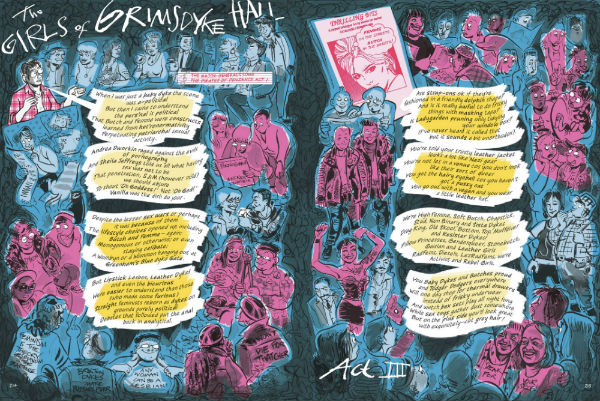 The title of Kate Charlesworth's acclaimed graphic memoir/LGBTQ+ history comes from an old saying that implied the kind of woman who "preferred to wear sensible shoes" may have been, or looked like, she was a lesbian. Charlesworth's Broken Frontier Award-nominated work has been years in the making but when it arrived last year it was to universal critical acclaim. This decades-spanning account is poignant, celebratory, informative and wryly humorous in equal measure, and entirely deserving of the laudatory attention it has received.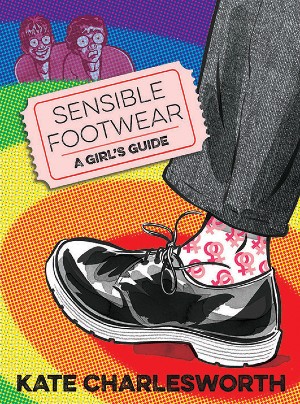 Sensible Footwear: A Girl's Guide is a largely linear account with two interweaving narrative strands. The main thread is Charlesworth's own very personal account of growing up in the '50s and '60s and coming to terms with her own sexuality. It follows her through her formative university years in the 1970s to the present day, initially exploring life in a world where homosexuality was a taboo subject and being openly gay a social impossibility.
It's in these early sequences that we observe Charlesworth's tentative steps into queer society and culture, her first relationships, and coming out to her parents and others. Indeed, in one of the book's most memorable asides Charlesworth pithily observes "Eventually I realised that you never stop coming out…"
Parallel to this the book is interspersed with historical interludes spotlighting key moments and developments in queer history from the pop cultural to the socio-political, sometimes sidestepping into more detailed accounts of pivotal figures and events. There are occasional flashforwards to a 2016 framing sequence as well, giving Charlesworth, her partner and friends an opportunity to provide additional commentary on the past with a contemporary eye.
It's a storytelling structure that allows Charlesworth to immerse her reader in LGBTQ+ history, balancing an intimately personal viewpoint (from an obviously lesbian perspective) with a wider account of a changing cultural landscape over the post-war decades. Her own story is beautifully observed. It's touching, witty and, unsurprisingly, occasionally angry and defiant as well. Scattered bursts into flights of fancy – a DC Thomson comic-style account of her schooldays or intermittent returns to a Gilbert and Sullivan operetta pastiche 'The Girls of Grimsdyke Hall' – giving extra layers of humanity and relatability to her account.
Giving extra veracity to the collage-style historical sections, Charlesworth includes a selection of ephemera and photographic material from each era. These pages make for a fascinating discrete read in themselves, displaying a slow, gradual breaking down of heteronormativity through the decades but also marking those crucial points, like the changes to the law regarding homosexuality in the late 1960s or the AIDS crisis of the '80s.
Colour (or a lack thereof) is used intuitively throughout to underscore mood and theme. Lettering and speech balloons, too, play a vital role in establishing characterisation and emotion. The scene in which Charlesworth comes out to her parents is memorable not simply because of its obvious importance within her story but because of the way her mother's angry dialogue threatens to overwhelm page, characters and reader.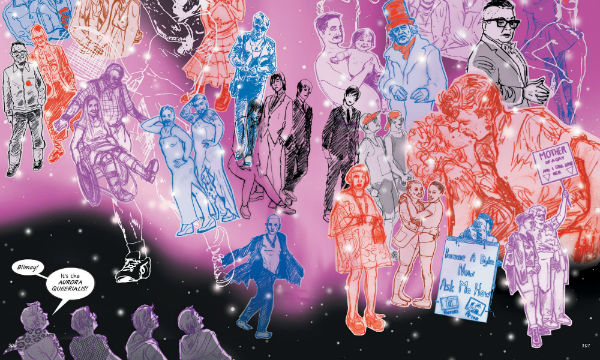 Finishing with a penny-dropping coda that manages to feel both revelatory and yet strangely obvious, Sensible Footwear: A Girl's Guide is a triumph of graphic memoir straddling the personal and the subjective, and the wider societal picture, with invention and insight.
To call this an essential read would be an exercise in the most woeful of understatement.
Kate Charlesworth (W/A) • Myriad Editions, £17.99
Review by Andy Oliver