Myriad Editions are a publisher we have long admired here at Broken Frontier. We do, of course, have our own associations with the Brighton-based outfit given that I was a judge on the 2014 Myriad First Graphic Novel Competition; their biannual event open to aspiring unpublished graphic novelists which has so far seen Gareth Brookes (The Black Project) and Jade Sarson (For the Love of God, Marie!) win and go on to Myriad publication.
Indeed, we celebrated Myriad's importance on the UK indie comics scene recently at Broken Frontier with our dedicated Myriad Week of coverage in April and reported on their merger with New Internationalist thereafter.
The importance of the First Graphic Novel Competition for new creative voices was also discussed at BF here last year by a number of creators and comics commentators so we're delighted today to be able to publish the press release for Myriad's new competition Myriad Comic Cuts, in collaboration with Roughcut Television.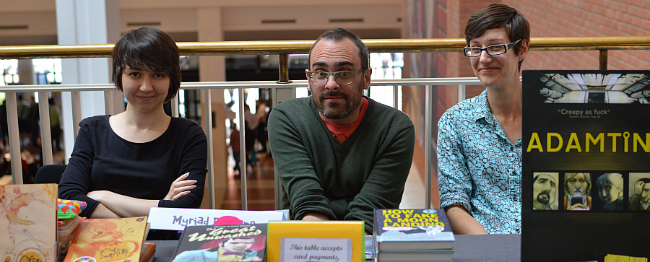 First Graphic Novel Competition winners Jade Sarson and Gareth Brookes with 2012 judge Hannah Berry at Comiket in 2014
The full press release follows…
Myriad has teamed up with the award-winning comedy television company Roughcut Television (Cuckoo, BAFTA-winning People Just Do Nothing, Trollied) in a call-out for a comedy or comedy/drama in graphic novel form that can be developed into a comic drama series for television. The deadline is 30 September 2017.
MYRIAD COMIC CUTS is looking for strong characters and setting which can support multiple storylines to give potential for sequels.
Tim Seale, Executive Producer with Roughcut TV, says: 'We're thrilled to be partnering with Myriad to search for the next standout comedy or comedy drama. This is a fantastic opportunity for new writers to get their work adapted for TV. We're very excited to be expanding our slate in this way and we can't wait to see the brilliant ideas come through the door.'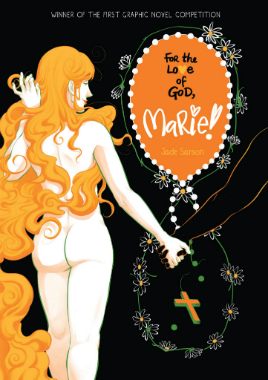 Corinne Pearlmen, Creative Director with Myriad Editions, says: 'We have absolutely no preconceptions about the content. This competition is open to ALL cartoonists, writers and artists, and a perfect complement to our First Graphic Novel Competition, which we will be announcing later this year.'
Entries may be from a single author or may be a collaboration between a writer and artist.
The successful entrant will have the opportunity to develop their work with Myriad and Roughcut's creative and editorial teams with a view to being offered a contract for publication and to develop the idea for television.
The entries for MYRIAD COMIC CUTS will be considered by Myriad's Creative Director Corinne Pearlman and Roughcut's Executive Producers Ash Atalla and Tim Sealey.
Entry Conditions
Submissions are open to writers over 18, of any nationality.
The extract (of no less than 10 pages and no longer than 20 pages) should be intended to be part of a longer work.
Entries must be previously unpublished by a professional or commercial publisher in print or online.
Entries must be original and in English.
Entries received after the closing date will not be accepted.
Entrants should retain a copy of their entries. No entry can be returned.
The winning entrant[s] agree[s] to the use of his/her name[s] and photograph[s] in relation to publicity material.
The winning entrant (or entrants) agrees that Myriad Editions has first option to consider the finished work for publication and
Roughcut Television has first option to develop for television or film.
Submissions must include:
a) One-page pitch of the story idea and key characters
b) Treatment outline
c) Ten- to twenty-page sample chapter / extract from longer work
d) CV including any previously published work
e) Name, postal address, email address, contact number and title of the submission.
Please send your entry by email to corinne@myriadeditions.com  by 30 September 2017.