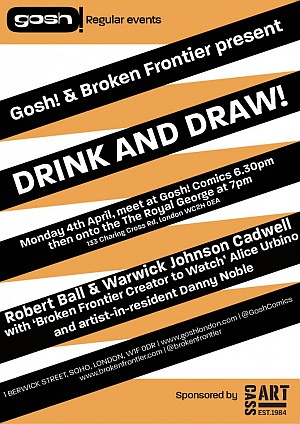 We're back! The Gosh! Comics and Broken Frontier Drink and Draw returns on April 4th, this time at The Royal George pub at 133 Charing Cross Road. Our second meet-up of 2016 is another multi-artist extravaganza including Dangeritis collaborators Robert M. Ball and Warwick Johnson-Cadwell, and two of the Broken Frontier Small Press Yearbook creators Alice Urbino and regular D&D artist-in-residence Danny Noble. Your co-hosts, as ever, are myself (Broken Frontier Editor-in-Chief Andy Oliver) and Gosh's very own Nora Goldberg.
Robert M. Ball burst onto the comics scene a few years back when his critically acclaimed debut comic Winter's Knight: Day One (below) won the 2013 British Comic Award for Best Comic. In 2014 Ball and co-creator Warwick Johnson-Cadwell's Dangeritis: A Fistful of Danger was also nominated in the same British Comic Award category. I described Ball's contribution to the second issue of children's horror anthology Boo! Comic as a show-stealer when I reviewed it here last year at Broken Frontier.
Warwick Johnson-Cadwell started his comics career in the self-publishing scene and contributed to small press anthologies like the influential Solipsistic Pop and New British Comics. His work has also been seen in books like the award-winning Nelson from Blank Slate and The Lovecraft Anthology from SelfMadeHero. He worked on the iconic Tank Girl (below left) for Titan Comics and also on a younger incarnation of the character in Jamie Smart's lauded anthology Moose Kid Comics. His Gungle graphic novel is a long-awaited work-in-progress (below centre) and he has collaborated with Robert M. Ball on the aforementioned Dangeritis (below right).
Alice Urbino was one of my 'Six UK Small Press Creators to Watch in 2015' in BF's 'Small Pressganged' column and is a featured contributor to the imminent Broken Frontier Small Press Yearbook. I described her self-published miniseries Dimension – a powerful example of graphic medicine wrapped up in fantasy metaphor – as "one of the most inventive uses of the graphic medicine genre of comics I have seen" when I reviewed it here at BF. She is also part of the Comic Book Slumber Party collective, contributing a story to their British Comic Awards-nominated Fairytales for Bad Bitches and the cover to their recent Greasy's Guide to Nookie. You can read a full interview with her here at BF and a creator's commentary here.
Danny Noble is another of my inaugural 'Six UK Small Press Creators to Watch in 2015' and a contributor/cover artist on the Broken Frontier Small Press Yearbook (below centre and right). She gained a much deserved nomination by the BF staff in the Breakout Talent category in last year's Broken Frontier Awards and was one of the standout talents on the UK indie scene in 2015. Her drunken slapstick thespian protagonists Ollie and Alan appeared in two collections last year – Was it… Too Much for You? and Ollie & Alan's Big Move – and her work also appeared in anthologies like Keara Stewart's A Bit of Undigested Potato and Dirty Rotten Comics (below left). You can read an interview with her here at BF and a creator's commentary here.
Join us next Monday night for another fun evening of drinking, drawing and comics camaraderie. We kick off at 6.30pm in Gosh with a chance to get hold of signed comics and books from our featured creators before moving over to The Royal George for 7. We look forward to seeing you then!
Join the Facebook Event page here.