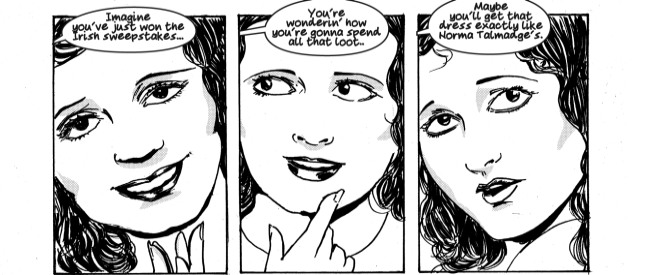 This first 'Small Pressganged' edition of 2014 provides us with a chance to reflect on and celebrate the last twelve months of micro and self-published comics in the UK as I follow up on last year's well-received 'Celebrating 2012' round-up column. We are, of course, entering a period of time where you may well already feel overwhelmed by an onslaught of similar "best of"-style lists. Think of this as more of an opportunity to give an extra boost to some truly outstanding small press work, though, rather than a lazy exercise in recycling material. The creators and projects below thoroughly deserve revisiting, and if you missed the BF coverage of them the original time round this gives you the ideal excuse to check out their sites and online stores!
Needless to say there were some incredibly difficult choices to be made here. As I said last year, this is not so much about claiming the books below are the "top" titles of 2013. It's more a compilation of ten excellent publications that showcase the diversity of British small press publishing covered in this column over the last calendar year. To that purpose I have favoured new(er) creative voices this time over the more established movers and shakers of the scene and, as this feature is about the titles 'Small Pressganged' featured in 2013, do expect the odd anomaly that actually came out in 2012. Finally, the only anthologies I've included are those that debuted in 2013; you all know that group efforts like ink + PAPER, The Comix Reader, Team Girl Comic and so on are obligatory purchases by now!
So read, make mental annotations and please, please do consider picking up at least one of these comics in 2014. There's some undeniably exciting work on this list!
Seasons
Mike Medaglia (writer/artist)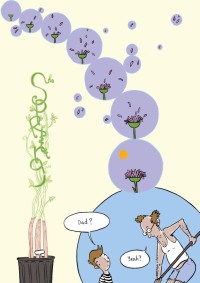 Without a shadow of a doubt Seasons was the most beautifully constructed comic I reviewed this year. Mike Medaglia provided a pensive, philosophical piece here linking the seasons of nature to those of life in four delicately understated slice-of-life style short stories. With his distinctive approach to page layouts and gorgeously evocative use of colour, Medaglia's subtle use of the medium to communicate his thoughts and convey themes marks him out as one of the creators you just have to watch in 2014.
Small Pressganged review here
Small Pressganged soundbite: The triumph of Seasons is that it's a comic that you perceive on an emotional level rather than an analytical or intellectual one. Simply put, it speaks to the reader because it's such an evocative recreation of shared experiences that we all understand.
For more on Mike Medaglia's work visit his site here. You can buy copies of Seasons from the Avery Hill Publishing site here.
It Girl
Jessica Martin (writer/artist)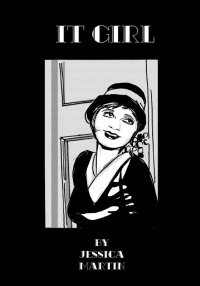 Successfully condensing as eventful a life as that of 1920s silent film star Clara Bow into just a handful of pages would have been a huge ask for a seasoned creator – let alone a debut self-publisher – but that was just what Jessica Martin achieved in her first comic. Combining a true passion for her subject matter with stunning period visuals, It Girl shows great promise for Elsie Harris Picture Palace, Martin's longer form work-in-progress. (The banner image at the top of this article is also taken from It Girl).
Small Pressganged review here
Small Pressganged soundbite: Jumping backwards and forwards in time, Martin uses the limited page count to economically recount the most salient points of her protagonist's career, immersing the reader in a real life melodrama, the poignancy of which would match any weepie that the silver screen of the time could have produced.
For more on Jessica Martin check out her official site here. You can order It Girl from her online store here.
The Festival
Jazz Greenhill (writer/artist)
A second entry on this list for Avery Hill who deserve a special mention here for the fantastically diverse line-up of newer creators they published this year. Jazz Greenhill's one-shot followed the misadventures of Ari, Lynda and Rob, three siblings who sneak out of their tent at a music festival and, away from their parents, find themselves lost in an intriguing new adult world. Greenhill's assured command of the possibilities inherent in the canvas of the comics pages in The Festival was quite remarkable. Another artist whose site you need to bookmark!

Small Pressganged review here
Small Pressganged soundbite: The Festival is quite beautifully played, underlining that strange mix of rivalry, conflict and concern that characterises the youthful brother-sister relationship.
You can discover more about Jazz Greenhill's work on her site here. The Festival can be ordered from Avery Hill Publishing here.
Beyond the Wire
Alys Jones (writer/artist)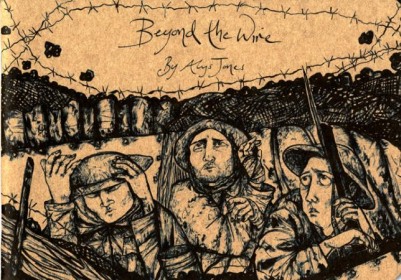 Published in 2012, but first covered in 'Small Pressganged' last year, Alys Jones's Beyond the Wire is ostensibly a graphic novelette focusing on the trenches that made up that most horrific theatre of combat, the First World War. What distinguishes the work of Jones though is the clever metafictional element to her story, brought to life by the layered narrative and the tactile technique of its playful storytelling. With a glowing endorsement from Charley's War writer Pat Mills – in my humblest of opinions the greatest (anti-)war comic of all time – you just know this a book that has to be investigated further.
Small Pressganged review/interview here
Small Pressganged soundbite: A triumphant combination of audience manipulation and accomplished technique, Beyond the Wire is that all too rare event in contemporary comics – a truly original piece of storytelling.
For more on the work of Alys Jones visit her site here. You can buy copies of Beyond the Wire (published by Atlantic Press) from her store here.
Wu Wei
Mike Medaglia (editor) Anthology – various creators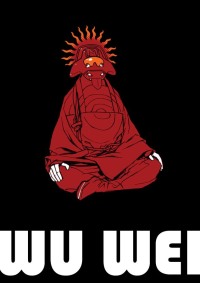 Wu Wei is the second Medaglia-led project on this list highlighting what a year of accomplishment it was for Mike! This spiritual comics anthology allowed its near thirty creators the chance to provide their own interpretations of the book's central theme resulting in diverse offerings from contemplative explorations of Eastern philosophy, to autobiographical stories drawn from personal experience, through to absurd slapstick humour. Names like Lizz Lunney, Howard Hardiman, Richy K. Chandler, AJ Poyiadgi and Owen D. Pomery all ensured this was a must-have book this summer.
Small Pressganged review here
Small Pressganged soundbite: To dissect this very special book is an exercise in redundancy that at best misses the point, and at worst seems like an act of unrepentant critical vandalism. That's because Wu Wei is a comic that fosters a most intimate relationship between creator and audience, and that interaction will elicit different reactions and evoke varied emotions from each reader to peruse its pages.
For more on Wu Wei visit the anthology's site here. You can buy copies here.
Jonah
EdieOP (writer/artist)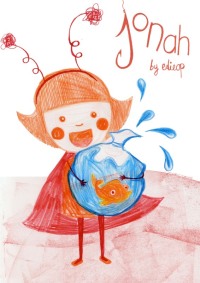 Small press fanboy alert now because I consider the comics of EdieOP to be my major self-published find of 2013! I'm going to nominally select one (Jonah) but I could quite easily have stuck other EdieOP books like Seven Blows to the Head or Callisto Close in the title of this section. Edie's approach to the form has a childlike innocence visually but it's imbued with a sense of almost malevolent glee. Her tagline of "The Sunny Side of Sinister" probably sums up her output most succinctly, economically and accurately. Darkly funny comics that make for compulsory reading.
Small Pressganged review here
Small Pressganged soundbite: A nefarious imagination is only one part of the recipe for success for EdieOP's tangled tales though. What really brings them to melancholic life is the ingeniously beguiling and childlike artwork that lures you into her narratives with an inoffensive charm, only to spring its grotesque visual trap on you when you are wholly incapable of escaping its clutches.
For more on EdieOP's work check out her site here.
Blood Blokes #3
Adam Cadwell (writer/artist)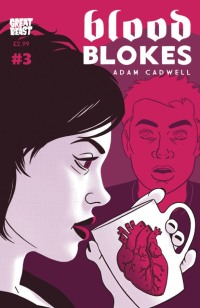 It would be a travesty not to have something by Great Beast on this list. In fact if we're using that term then I have to hold my hands up and admit it's also a travesty that I haven't featured more from the Brit micropublisher in this column to date! That will need to be remedied in 2014.
Adam Cadwell's vampire slacker comedy following Vince – a uni dropout who finds himself dumped into a whole new existence of undead ennui when he's transformed into a preternatural bloodsucker on New Year's Eve – was an absolute treat this year. As I said in my BF review it's vampire fiction for people who hate vampire fiction, and a knowingly sly supernatural sitcom that ensures I will never, ever view my The Munsters DVD box set in quite the same way again…
Small Pressganged review here
Small Pressganged soundbite: The humour is morbid and inventive, the banter between the cast snappy and naturalistic, and the whole package the very model of strong, character-led comics storytelling.
For more on Adam Cadwell visit his site here. You can buy copies of Blood Blokes from the Great Beast store here.
Between the Billboards
Owen D. Pomery (writer/artist)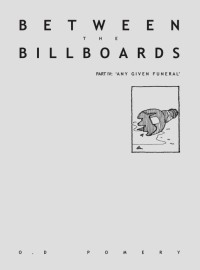 The reclusive James Ebner – a man who lives between two billboards on the roof a building – may be the protagonist of Owen D. Pomery's dark character study but, make no mistake, the cityscape he resides in as much the co-star in this multi-part series. Pomery's claustrophobic study of the perils of removing oneself from human company is a melancholic affair brought to life by the artist's always haunting page layouts. Pomery's versatility as a creator was underlined this year by his other major work The Megatherium Club with its self-indulgently over-the-top parodying of the great age of scientific discovery (also from Avery Hill) being a polar opposite of Billboards. You better not be bored of bookmarking people's sites yet because Owen's is another name you need to watch…
Small Pressganged review here
Small Pressganged soundbite: Between the Billboards presents an urban parable on the dangers of disconnecting and the necessity of human interaction. That it does so with such a confident and distinctive voice marks its creator out as someone whose work bears close watching in the future.
For more on Owen D. Pomery check out his site here. Details on how to obtain copies of Billboards are on his site here.
Smoo Comics #7
Simon Moreton (writer/artist)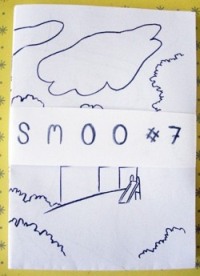 The most recent issue of Simon Moreton's autobio Smoo Comics displayed how his now familiar brand of evocative minimalism continues to build up that astonishingly intimate relationship between artist and reader that has been such a staple ingredient of his work over the last couple of years. Smoo #7 featured three minicomics and a map in a multi-item issue that poignantly examined childhood memories, physical spaces and revisiting our pasts.
Simon is the only creator to have made this list two years in a row and, beyond him going a year without producing anything at all, I can't foresee a point where he wouldn't be a fixture here. Quite simply, he is one of the most important and intelligent creative voices in current U.K. small press comics. It's no surprise to me at all that there are astute indie outfits who will be publishing his work in 2014 and, I sincerely hope, they will be bringing it to the wider audience it deserves…
Small Pressganged review here
Small Pressganged soundbite: Smoo Comics #7 is possibly Simon Moreton's most intensely personal work to date and yet it remains wholly accessible. Moreton has a canny knack of engendering an empathic response from his readership, inviting them into his meandering narratives and providing something both identifiable and familiar.
For more on Simon Moreton's work go to his site here. His online store can be found here.
Tiny Pencil
Amber Hsu and Katriona Chapman (editors) Anthology – various creators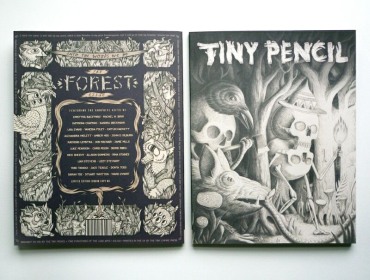 Amber Hsu and Katriona Chapman's artzine Tiny Pencil is a hybrid publication that combines single illustrations with comic strips all tied together through the medium of pencil art. I reviewed two of the three issues published to date in this column last year with the broodingly atmospheric forest-themed debut issue providing an interesting contrast to the all-ages second issue's collection of inventive kids-themed activities. It's a kind of graphite-loving Solipsistic Pop meets McSweeney's affair and every issue to date has introduced me to exciting new talents to investigate further. A very welcome addition to the ever growing family of UK anthology titles.
Small Pressganged reviews here and here
Small Pressganged soundbite: Not merely a book, Tiny Pencil is also an opportunity to lose yourself in the many enchanting and elaborate worlds that reside within its pages. A beautiful physical object that I guarantee you will come back to browse time and time again.
For more on Tiny Pencil including a plethora of creator interviews check their site here. Copies can be bought from their online store here.
 ###
As we begin another year, thank you to all of you out there who have engaged with our attempts to promote the worlds of small press, self-published, micropublished and altcomics in 'Small Pressganged' by tweeting, retweeting, mentioning on Facebook and otherwise linking to this column. The creators and the work here deserves all the support they/it can get so thanks for playing your part in the process.
(And additional thanks too to both Gosh! Comics and Orbital Comics for continuing to provide me with such eminently plunderable troves of small press treasures on their shelves/racks. If you're in London then do take a look at both shops' self-publishing sections.)