One of the early offerings from the exciting, up-and-coming U.K. micropublisher Great Beast, Adam Cadwell's Blood Blokes is vampire fiction for readers who hate vampire fiction. It centres on Vince, a university dropout going nowhere fast, who on an unfortunate New Year's celebration finds himself not just dumped by his girlfriend but attacked and killed by what appears to be a vampire in bat form. No, I've never been much of a fan of New Year's Eve either…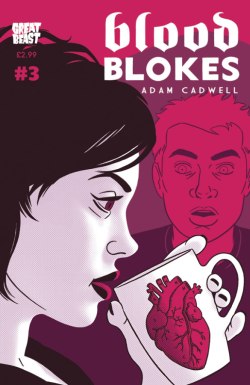 The first two issues took the bold narrative approach of telling the tale of that fateful December 31st from two different perspectives before the plots of both dovetailed into the most recent third issue. In #1 we saw the events of the night from Vince's point of view, introducing us to the motivationally-challenged mess that was his life in the hours leading up to his death. In issue #2 we met vampire flatmates Mike, Arianna and the dour Douglas, a trio of undead wasters who discovered Vince's predicament and inducted him into his new lifestyle.
With the lives of the cast converging in this latest issue the focus is on Vince as he wakes up three days after his death and begins to acclimatise to life as a blood-consuming creature of the night. And it's here where Blood Blokes really starts to come into its own. What Cadwell has crafted  is a kind of supernatural sitcom; a slacker comedy that will remind you of elements of Being Human, The Young Ones and Seinfeld. Vince spends the bulk of this instalment discovering what his new life entails, allowing his creator to provide some playful contemporary ideas on vampiric social niceties and some thoughtful little twists on themes that you thought had been done to death in this particular horror subgenre.
What I love about #3 is that, to all intents and purposes, nothing very much actually happens until the last few pages. What we have here is Vince hanging out with his new crew watching horror movies, visiting secret drinking haunts for others of their ilk, and having arguments about the continuity issues surrounding The Munsters. The humour is morbid and inventive, the banter between the cast snappy and naturalistic, and the whole package the very model of strong, character-led comics storytelling.
It seems contradictory to say it but Cadwell's well-defined linework has a gloomy clarity to it that suits the atmosphere of the story perfectly. He also has an intuitive sense of how to use the deep contrasts of the black and white page to brilliant effect; if you do pick up Blood Blokes #3 on the strength of this review then please check out pages 4-5 with the double-page spread of Vince's first post-vampiric encounter with sunlight to see just what I mean. But most engaging of all is his use of facial expressions to emphasise emotional states and advance characterisation; subtle but perfectly executed.
By the end of Blood Blokes #3 the comedy has morphed into poignancy as Vince begins to recognise what he's lost, but that's a tale for another issue. It's here that you realise Cadwell has reeled you in and you are totally invested in a character who was hardly even remotely sympathetic just two short issues before. If the ubiquitous presence of the vampire throughout pop culture over the last few years has bored you to the point of tedium then give Blood Blokes a look. This sharp, knowing and beautifully understated strip may just redeem the fanged fear fiends in your eyes…
Follow the links to find out more about Great Beast and Adam Cadwell. All three issues of Blood Blokes are available to order here priced £2.99 each for print copies or 99p for digital.