In 2014 Rachael Smith's debut graphic novel House Party propelled her unforgettably into the collective consciousness of the larger UK comics community. The rave reviews for her tale of a trio of housemates trying to find their way in the world post-university also ensured her name was a worthy addition to the nominations shortlist in the Emerging Talent category at the British Comic Awards last year.
Smith already had a proven track record in creating shorter-form self-published work long before House Party's publication, though, and I first covered her work when I reviewed her one-shot I Am Fire here in this column a couple of years ago. She's also a contributor to anthology projects as diverse as One Beat Zines' Sleater-Kinney tribute Not a New Wave and Jamie Smart's multi-creator children's comic Moose Kid Comics, and the creator of the humorous back-up strips in Titan's Tenth Doctor Doctor Who series.
With her new graphic novel The Rabbit published by Avery Hill this week I took the opportunity to chat with Rachael about her small press origins, the autobiographical influences on her comics, and a rather sinister leporine fellow named Craig…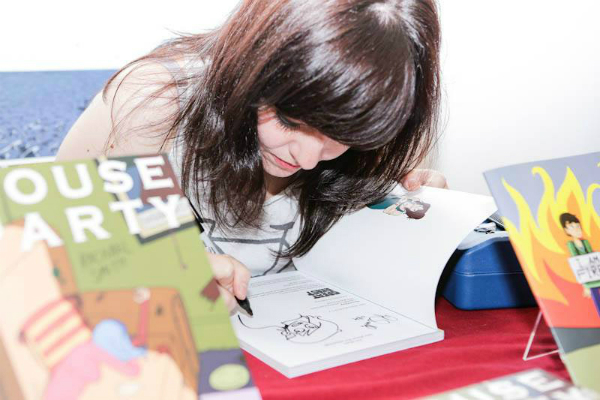 ANDY OLIVER: Can we begin with a short summary of the Rachael Smith story so far – from local newspaper strip to those earlier self-published and online projects like Flimsy and The Way We Write, all the way through to full-length graphic novels and British Comic Awards recognition?
RACHAEL SMITH: I started comics the way a lot of creators do – with autobio stuff. I started a little blog called One Good Thing in 2011 and updated it daily with a drawing about something nice that had happened that day. When I felt confident enough I started collecting the months together and making little books out of them. I had a job at a newspaper office at the time and the editor asked me if I wanted to pitch an idea for a comic strip. I've been doing Vicky Park (a strip about a teenage girl and her sister) every week for four years now! After doing Vicky Park for a couple of months I gained confidence and wrote a longer story which became The Way We Write, my first comic. After that I wrote I Am Fire which was a little more ambitious – it's about twice as long as The Way We Write and a lot more accomplished (I think).
Flimsy is something I've been doing for years and years. Again, she started life as a daily blog. Every day I'd draw Flimsy (a little blue kitten) trying to figure out an aspect of life, or doing something stupid. Nowadays Flimsy exists as a Q&A site on tumblr. I've done two Flimsy comics, Flimsy's Guide to Modern Living and Ask Flimsy, the latter is now out of print.
Once I had a few comics under my belt I started properly doing conventions – it was at my first London MCM that I met David Lloyd. He seemed impressed by my stuff and invited me to do a story for Aces Weekly – his online publishing company. I did a story called 'Clara's Shadow' which I was real proud of. It's available in volume 7 on the website. Being in Aces Weekly opened a lot of doors for me. I got invited to conventions in America and France, as well as in the UK.
In 2014 I released my first graphic novel called House Party with Great Beast Comics. It got amazing reviews [read the Broken Frontier one here]. People started taking me seriously. I had a book with an actual spine! Shortly after releasing the book I was making enough money on comics and illustration to be able to do it full time. House Party, along with my other comic work that year, got me nominated for the Emerging Talent category in the 2013/14 British Comic Awards. I didn't win, unfortunately (must have been an error in counting the votes or something??) but getting nominated did wonders for my profile.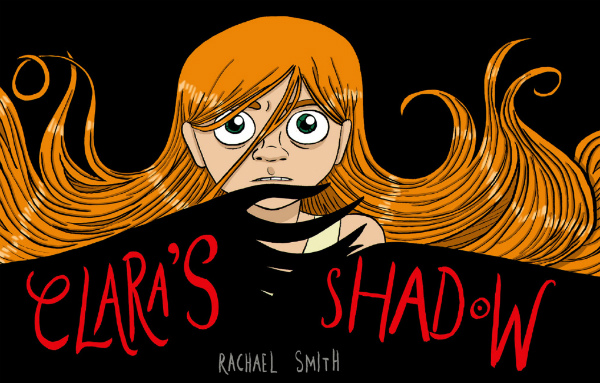 How vital has the self-publishing route been to you in terms of honing your craft? Looking back on some of that first small press work now are you conscious of how far you have developed as a visual storyteller in that time?
Self-publishing has taught me so much about the whole process of releasing comics. I don't know that if I'd always had publishers to do all that stuff for me would mean that my craft would be more/less honed…but doing it myself for those first few projects means I'm aware of how much work goes into each step.
Oh gosh yes, I've developed loads since I first started. I can't bear to look at the early One Good Thing stuff, haha! My writing has come on a lot. Writing's the part I find hardest. I'm able to write longer form things now too, which, back in 2011, would have seemed impossible to me!
Sample pages from I Am Fire, the bonus strip of Rachael's Seymore character from Moose Kid Comics (read the whole story here) and lastly a page from her contribution to One Beat Zines' Sleater-Kinney anthology Not a New Wave
You were one of the creators who contributed your thoughts about the current British indie scene to Broken Frontier's 'State of the Small Press Nation' series this year. In a more general sense how do you feel the self-publishing arena has evolved in the years that you've been involved in it? Is it in a stronger place now in terms of opportunities for up-and-coming talent to get their work seen?
I don't really think I've been in the industry long enough to be able to notice any changes. For me it's always seemed a very welcoming and supportive arena, not just at conventions, but online too. I find it quite easy to get my work seen and reviewed and talked about – but I also used to work in PR so that kind of stuff comes naturally to me I guess.
House Party would have been your breakout book for many, and it was one of my 2014 'Ten UK Small Press Comics You Need to Own!' at Broken Frontier. Can you give us a quick overview of the graphic novel's themes? And what were the particular challenges in working on a longer form narrative for the first time?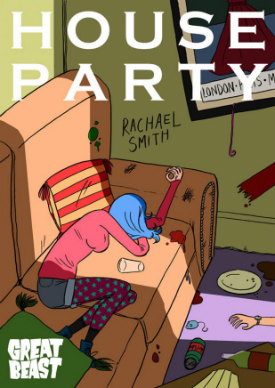 House Party is about three friends who are feeling lost and disillusioned since finishing uni. They have a big party to try to recapture their lost youth, which (of course) goes horribly wrong. I suppose the underlying morale is that it's OK to not know exactly what you want to do with your entire life when you're in your 20s. Even though that's the time when society keeps on asking you what you're going to do with your entire life. It heightens the feeling of being lost, and makes you feel like every other person in the world has it all worked out.
Writing a longer form thing was definitely challenging after only writing short form things. I kept feeling like the whole thing was getting away from me, like I didn't have the control over it that I needed. I wrote far too much at first and had to cut it down a lot. I made things difficult for myself by just having one huge word document with it all on. These days I use Scrivener to organise my ramblings.
House Party has such resonance for anyone who remembers that melancholy wilderness period post-university, and there's certainly a through-line to your humour that seems deeply rooted in the observational. How much of a role do autobiographical influences play in your work?
A lot I guess? I started writing House Party when I still had a full time job – one that I hated. Those first few pages with Michelle miserably making her way to work by going through the university campus that venerated her months earlier was a very real struggle for me. (See first House Party sample page below)
Even though your work is often quite self-contained one of the things that stands out – as I said when I reviewed I Am Fire (here) at Broken Frontier in 2013 – is that the cast of your books are so richly defined we feel completely invested in them, even though their on-panel time may be actually quite limited. Are you ever tempted to revisit some of those past creations?
Yeah a little! I'm half way through writing a short story about Siobhan (from House Party) and her little brother, Chris (from I Am Fire). Whether it'll ever see the light of day is as yet unconfirmed! I've thought about doing one-pagers about lots of past characters too, but I always seem to get distracted by the bigger projects.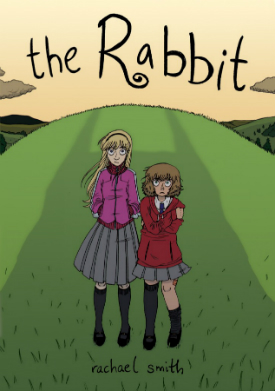 Your upcoming graphic novel The Rabbit will be published by the acclaimed Avery Hill Publishing, one of the nominees in the 'Best Publisher' category of last year's Broken Frontier Awards. How did AHP become involved with the book?
Yeah, they're good guys aren't they? They certainly know their stuff!
I pitched The Rabbit to a few publishers – AHP included. A few I didn't hear anything from at all, and I had a bit of interest from a few. AHP were the only ones to seem genuinely excited about the book, and when they started talking to me about what they would do with it and how they'd market it – I could tell we were on the same page (no pun intended).
Also Ricky [Miller, Avery Hill co-publisher] kept buying me wine until I said yes.
For those yet to have seen the advance publicity for the book what's the basic concept of The Rabbit in terms of both premise and characters?
The Rabbit is about two sisters: Eleanor (14), and Kathy (9) who have ran away from home. They're making their way through the woods when they find a little baby rabbit. They decide to take the little rabbit with them on their travels. Things get strange when the rabbit begins to get bigger and bigger and starts to talk to them. It's very surreal. A lot different to House Party! I went back to my childhood for inspiration for the girls – especially Kathy, she's a lot like I was when I was a little girl. Very whimsical and always thinking bigger than she should be. Eleanor is much more practical and controlling. Both have been an absolute blast to write.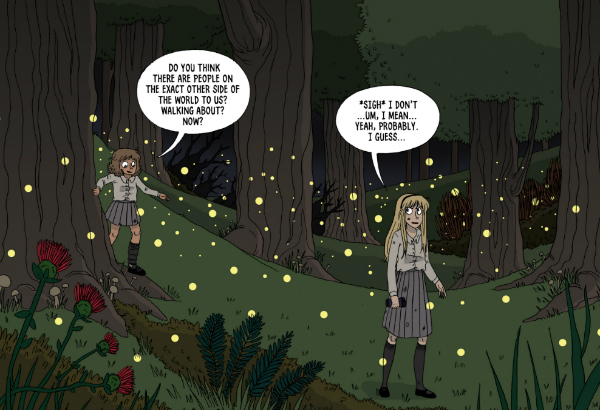 Something that is always intriguing about your work is that counterbalance of expressive and witty character-led storytelling with a darker narrative undercurrent. That juxtaposition has never been more extreme than it is in The Rabbit with a tender, heartfelt coming-of-age story contrasted with an overt and often sinister surrealism. Did you feel this was a diversion from the style of some of your previous work? Or, conversely, do you perhaps see it as a natural progression thematically?
Thank you! Hmm, I certainly didn't set off trying to create something that was a diversion from what had come before. It did feel like a very organic progression for me. My stuff has always been very character driven, so I spent a long time getting to know Eleanor and Kathy before I started drawing. Longer than I had spent with any other character – so I hope their coming-of-age-ness feels real. As for the sinister surrealism, once I'd started drawing Craig (the rabbit) I felt like he was in control of how dark things got from there!
Over the last year you started contributing to Titan's Doctor Who comics with back-ups in their Tenth Doctor comic. It's a rare example of you working with characters that obviously aren't your own creations. How difficult a discipline is it to be fondly poking fun at the world of that venerable franchise without crossing a line into irreverence?
I don't think my Doctor Who back-ups are considered canonical, which takes the pressure off a little! My back-ups are about adventures the Doctor would have if he had a cat – so the cat is my own creation, which makes writing her easier. I try to get a few Doctor Who references in each strip, as well as a few jokes that non-Whovians would appreciate too. I try to mimic the warm humour of the show. I hope people don't consider them irreverent…I hope they just make people laugh.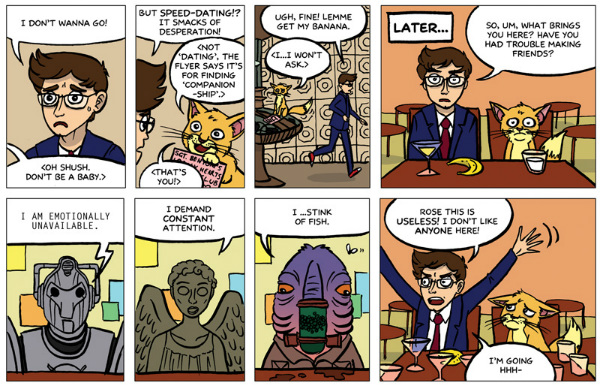 And, finally, are there any upcoming projects on the horizon that you're in a position to tell the Broken Frontier readership about?
Yes please!
I illustrated a graphic novel called Blue Bottle Mystery earlier this year which will be available through Jessica Kingsley Publishers in November. It's about an 11 year old boy who has Aspergers and who, with his best friend Andy, finds a magical blue bottle that grants wishes. It's super sweet and I loved how the characters were written. It's based on a children's novel by Kathy Hoopmann and was adapted into a graphic novel script by Mike Medaglia (sample images below).
I've made the insane decision to start a webcomic. It's called 'Bess' and will begin on November 3rd. It's about feminism and Japanese mythological creatures. And it's set in a supermarket. I plan to update it Tuesdays and Thursdays. You can see a little glimpse of it here.
This one is still in embryo stage, but I'm definitely planning on doing a longer Flimsy story called Flimsy on Holiday. Won't be until next year though.
The Rabbit is published by Avery Hill Publishing this Friday 28th August with a launch at Travelling Man in Manchester. It's available for pre-order here priced £10.99. 
For more on Rachael Smith visit her site here. You can buy her comics online here and follow her on Twitter here. 
For regular updates on all things small press follow Andy Oliver on Twitter here.