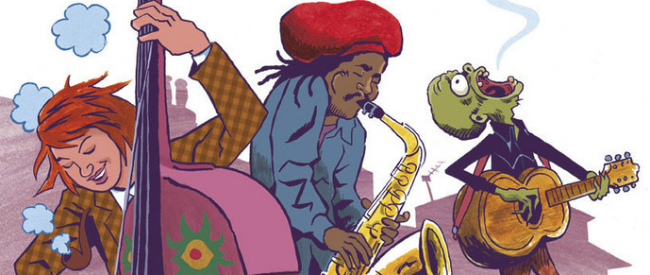 John Riordan and Dan Cox's animated music industry parody  Hitsville UK was one of the very earliest self-published comics to be featured in this column, and one I described at the time as "a riotous, frenzied whirlwind of a comic book". Since then the book has gone from strength to strength and is now a part of the formidable line-up of projects and creators that fall under the watchful eye of acclaimed UK micropublisher Great Beast.
Outside of Hitsville UK, Riordan has an impressive comics CV with appearances in noted British anthologies like David O'Connell's ink + PAPER, John Miers's Score and Script, and Mike Medaglia's Wu Wei. A witty, inventive and always unpredictable creator, Riordan's off-centre approach to the medium is appropriately encapsulated in projects like his William Blake, Taxi Driver strip for listings magazine Time Out, or his current short form webcomic Culture. In my latest 'Small Press Spotlight on…' interview in 'Small Pressganged' I chatted with John about the inspirations for Hitsville UK, why Great Beast were such a good fit for his creative approach, channelling the aforementioned Mr. Blake, and a startling encounter with Tank Girl's boyfriend…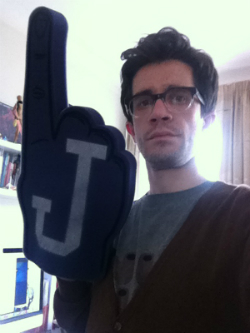 BROKEN FRONTIER: Regular 'Small Pressganged' readers will know you from your collaboration with Dan Cox on music industry satire Hitsville UK which has been covered at Broken Frontier extensively in the past. What was your pathway into the world of comics as both a reader and a creator?
JOHN RIORDAN: I can't remember a time before I read comics. Apart from a brief period in my early twenties where I wandered away from the medium, I've always read comics of some sort. My reading followed what I think of as the 'classic' UK route, Beano/Whizzer and Chips, then Action and Eagle (where I first encountered personal hero the Mekon) on to 2000 AD as a teenager, then dabbling with US superhero comics before following the Morrisons and Milligans into DC Vertigo weirdness. These days my tastes have broadened along with the variety of English language comics available. I like all sorts of things but would love to take home and read the whole of the ground floor of Gosh! Comics, then I'd feel like I actually knew what was going on!
I was always drawing as a kid so I started making my own comics, generally rip-offs of whatever I was reading. Having said that, I think I'm actually quite a late developer as an artist. I didn't go to art school first time round and I lost confidence in drawing for a large part of my twenties. The first half-decent comics that I drew were some of the William Blake, Taxi Driver strips for Time Out from 2007 to 2009, but equally I look back at some of them now and want to go full-Lucas on them and fix all the mistakes.
Sample pages from the often psychedelic interiors of Hitsville UK
BF: In one of my reviews I did note that there was something very reminiscent of the strips in subversive '80s/'90s comics magazine Deadline to Hitsville so I'm intrigued by its inspirations and that combination of parody, homage and pop cultural nods. How did your collaboration with Dan begin, and could you let us in on some of the secrets behind the genesis of Hitsville UK?
RIORDAN: Deadline's definitely an influence on the style and tone of Hitsville UK but it's as much the idea of Deadline as the actual mag, as Dan and I were both a bit young to read it when it was in its pomp. I remember picking up the odd copy in Smiths every once in a while, but I didn't really understand what it was about and it and found it a bit scary. I remember leafing through a Tank Girl story that had a double-page spread of Booga's erect fella, that scared the life out of me! Some of the Deadline artists (Jamie Hewlett, Philip Bond, Glyn Dillon, Jonathan Edwards) have gone on to be faves of mine and I hope that Hitsville UK has some of the brash, pop-cultural nous that animated Deadline.
Dan and I are both pop music obsessives so Hitsville UK is an excuse for us to indulge ourselves and spin tall tales and ridiculous skits out of the myths and clichés of pop culture. I think that some people get scared when they look at it that they're not going to get all the musical references, whereas there's actually not much to get. For example, the bands and musicians in our comic are all exaggerations of real musical types but you don't have to have an encyclopaedic knowledge of 80s agit-pop ska to get the characters or know what's going on.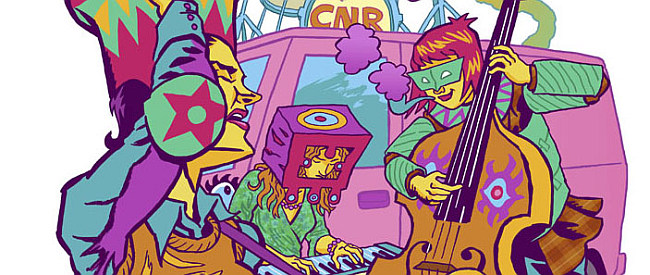 BF: For the woefully unenlightened yet to enter the world of Greg Pastis, Gerry Corden, Gwillum, The Carrie Nation's Revenge and company, could you give us a quick rundown of the book's premise and the type of characters new readers will encounter in its page?
RIORDAN: The basic premise is that washed-up bass player and wannabe music mogul Gerry Corden decides to set up a record label, the eponymous Hitsville UK. He recruits drug-addled maniac, Greg Pastis to be his producer and the pair of them sign up impressionable/desperate acts. These include Gwillum, a depressive country & western troubadour with the physique of a goblin, The Carrie Nation's Revenge, a supercool group of punk girls who find time to fight zombies and vampires, and Haunted by Robots, a bullied school boy with a possibly imaginary robot friend, who channels his intense hatred into terrifying, bowel-shaking techno-dirges. There's also a bunch of 60s-obsessed retronauts, which gives us an excuse to have a bad trip-psychedelic section in each issue.
With this ensemble cast, the comic has a soap opera kind of vibe but we also decided to write it so that it's made up of lots of two or three-page scenes, like a Vic & Bob sketch show. 36 pages, no filler, bang for yer buck!
BF: There was a considerable gap between the first two issues of Hitsville UK and, visually, the second issue feels slightly less frenetic than the first. How much of a learning curve was there between those initial instalments?
RIORDAN: Considerable gap is putting it mildly! There was a massive gap between the first issue and us republishing it with Great Beast because I decided to do an MA in illustration and foolishly thought that I would be able to keep the comic going along with my studies. We tried to make the second issue a bit less choppy than the first but it's also because we were starting to feel more confident about what we were doing. I'm drawing issue #3 (out this November) at the moment and I'm figuring out how to do things better with the artwork and storytelling all the time.
BF: I described your visuals in the first issue of Hitsville UK as an intoxicating and vibrant fusion of Shaky Kane and Brendan McCarthy. With that critical endorsement still ringing in your ears can you fill us in on your artistic influences?
RIORDAN: Gawd bless you, Mr. Oliver. Shaky Kane and Brendan McCarthy are right up there for me, along with the Deadline guys mentioned above. Comics artists who I love are too many to mention but those whose work has had an influence on mine include Jaime Hernandez, Steve Yeowell, Rian Hughes, Kevin Huizenga, Peter Blegvad, Chris Bachalo. In terms of comics writing, Grant Morrison and Peter Milligan are probably my all-time favourites. Outside of comics, loads of writers and artists but William Blake is a never-exhausted well of inspiration who I keep on coming back to.
BF: How did Hitsville UK become part of the Great Beast comics catalogue?
RIORDAN: After I finished the MA we wanted to relaunch Hitsville and Great Beast seemed like a good fit. I knew Adam (Cadwell) and Marc (Ellerby) a little from comics cons so we wrote to them and asked if they fancied adding Hitsville UK to the roster. Matthew Colegate wrote a thing for the Comics Journal about Nobrow's ELCAF festival, which really nailed the appeal of Great Beast for me: "Great Beast seem to be operating like the best kind of independent record label: lots of different styles on display but everything held together by a common irreverence and verve." It's like a badge of quality, when you see that, for example, the mighty Warwick Johnson Cadwell has a comic with Great Beast then you're inclined to give some of the other creators a try.
Pages from some of John's anthology strips, left to right: 'Meditato's Guide to Spuddhism' from Wu Wei, 'Rats!' from Score and Script, and 'The Inventor' from ink + PAPER 
BF: You've contributed to a number of UK anthologies including David O'Connell's ink + PAPER, John Miers's Score and Script, and Mike Medaglia's Wu Wei, generally with work that is more tongue-in-cheek than most of your fellow contributors. Subject-led anthologies often require creators to work within prescribed narrative guidelines. How valuable an exercise is that for you in flexing different storytelling muscles?
RIORDAN: I love doing anthologies for that very reason, it's just hard to find the time. When you're creating a story in response to a theme or with weird formal constraints (I'm looking at you John Miers!) then it leads your work in unexpected directions. I find it hard to get on with any literature, comics, music, whatever, that doesn't have at least a residual sense of humour, so there's normally something going on on a humorous level with me. I think there's something intrinsically absurd about creating and hoping to communicate anything with people and it's good to acknowledge that. I don't think that that necessarily makes the points you're making less serious. I think particularly of writers like Kurt Vonnegut, who on one level has a pretty depressing view of mankind, but also a compassionate sense of humour that makes his books a joy to read.

BF: For a couple of years you provided the aforementioned William Blake, Taxi Driver strip (example above) for listings magazine Time Out. Did you find the placement of recognisable faces of cultural and literary significance in unfamiliar locations and situations a particularly fertile basis for humour?
RIORDAN: Yeah, it was fertile but a lot of work! I came up with this ludicrously labour-intensive method of researching a different historical figure each week, then boiling all of that info down into a four-panel gag. I like the fact that it's quite a weird idea that got published in a fairly mainstream magazine. A lot of the credit for that should go to Peter Watts, the editor of the section that my strip appeared in, who's a London history obsessive in the Peter Ackroyd mould. I'm pleased that I managed to get a hundred strips out of it as well (all up on my website) and the bloody ending was inspired by the David Lynch-Twin Peaks approach to having your series cancelled!
BF: You recently completed your MA in from Camberwell College of Arts where you created, as part of your degree, the graphic poem Capital City (sample pages above). How did the idea for this ambitious project develop? And can you tell us more about your plans to expand on this William Blake-inspired analysis of the economic crisis? 
RIORDAN: I keep on coming back to William Blake. The idea with Capital City was that in the same way as Blake dealt with, say, the American War of Independence as a mythological battle between angelic and demonic figures, you could take a pseudo-mythological, fantastical approach to contemporary events, in this case the catastrophic cock-up that is the financial crisis. It was also a basis for me to try a lot of new techniques. I used more messy, 'analogue' processes, lots of splashy, messy paint, printing and ink, then combined it all on the computer to make these sickly cityscapes and nightmarish characters. I'm still trying to incorporate a lot of these techniques into my illustration and comics work. I think a longer version of Capital City probably isn't going to happen now. For one thing, real events have overtaken it. But I am working on a project with the poet Heathcote Williams which tackles similar ideas, so I've managed to apply a lot of the style and imagery of Capital City to that. Hopefully that will see the light of day at some point.
Culture – Microbes in a petri dish chat about topical cultural matters in John's weekly webcomic
BF: You're currently working on the webcomic Culture which has a very traditional newspaper strip feel to it in terms of structure and working up to a punchline in a set number of panels. Is Culture an attempt to push your storytelling in a different direction than Hitsville UK with a deliberately minimalist approach?
RIORDAN: Culture is an idea that I had knocking about for ages for a newspaper format strip in a weekend culture supplement. I sent it out to a few people a couple of years ago but no-one bit, so I put it on the back burner. Earlier this year I thought why not do it yourself, stick it up on Tumblr and see what happens? The format is very deliberately stripped back, the opposite of William Blake, Taxi Driver, so I can get an idea published quickly while it's still relevant. And I get to indulge my arty pretensions!
BF: And finally what can else should we be looking out for from John Riordan both inside and outside of comics now and in the near future?
RIORDAN: I'm going on holiday next week! Hitsville UK #3 will, god willing, be out at Thought Bubble and in all good comics shops and the odd record shop soon after. Culture will carry on, once a week or as often as I can manage. I'm illustrating some books for Dog 'n' Bone books on disreputable subjects and hopefully doing some more work on Heathcote's poem, 'The Red Dagger'. Busy busy busy!
For more on John Riordan's work visit his website here. You can also buy print copies of Capital City from his online store here or Hitsville UK from the Great Beast site here.
For regular updates on all things small press follow Andy Oliver on Twitter here.