BROKEN FRONTIER AWARDS – BEST PUBLISHER! 
There's been an almost parallel evolution between acclaimed UK indie publisher Avery Hill Publishing and Broken Frontier over the last several years. Back in 2011, when Avery Hill were in their early days of producing DIY culture-style material and zines, Broken Frontier had started to move its coverage more directly towards self-publishing and micropublishing.
Since then our paths have continued to cross and interweave – AHP's Ricky Miller and Dave White were both very kind in pointing to this column's influence on their output when it celebrated its fifth birthday in 2016 – and there's no doubt that their rise to the position of one of the most important and influential indie publishers in the UK has been a huge source of inspiration to us here at BF. We have allied mission statements in promoting and championing the very best in new comics talent after all!
And that's what we're celebrating in this major interview today – the remarkable list of creative voices at Avery Hill whose work so impressed our audience last year that they voted AHP Best Publisher in the 2017 Broken Frontier Awards, and the creators who will be part of their 2018 line-up of books. Those wanting to learn about the origins of Avery Hill and their previous publications can discover more in our interviews with the team back in 2015 and also here in 2014.
Get ready for some lively back and forth today as I chat with Avery Hill founders Ricky Miller and Dave White, Head of Marketing Katriona Chapman and Head of Sales Steve Walsh about a year of growth, expansion, recognition and huge critical acclaim……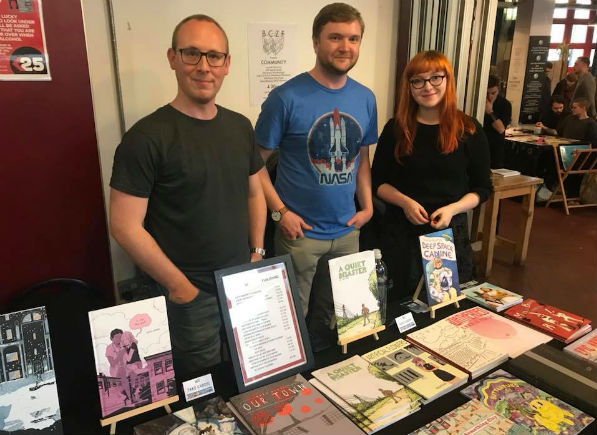 Avery Hill's Dave White and Ricky Miller with 2017 Broken Frontier Breakout Talent Award winner Ellice Weaver at last year's Bristol Comic and Zine Fair
ANDY OLIVER: It's been quite a year for Avery Hill Publishing. If each of you could sum up 2017 in a tweet-sized sentence how would you describe it?
KAT CHAPMAN: Really exciting artwork, branching out into new formats (printed our first hardback,) and making huge inroads into wider distribution overseas.
STEVE WALSH: New books, new creators, new faces, new spaces.
DAVE WHITE: [INSERT MULTIPLE FLAME EMOJIS HERE]
RICKY MILLER: 2017 was our experimental album. New creators, different kinds of books, different formats, new distributors, new shows… It'll probably be most significant for featuring our first tour of the US. Next time we go back we'll be bigger than Jesus.
Kat Chapman's cover on AHP's first 2017 release – the science fiction-themed Comic Book Slumber Party's Deep Space Canine anthology – and interior art by Lucy Haslam
You began the year by teaming up with another firm fixture on the UK small press scene when you published Comic Book Slumber Party's Deep Space Canine anthology. How did that collaboration come about?
KAT: From my perspective, Hannah [Chapman, Comic Book Slumber Party founder] approached me at the East London Comic Arts Festival and asked me to illustrate the cover. I was really excited as I hadn't done a cover for anyone else before (aside from my work in children's books.) I was excited to work with CBSP and I was even more excited when I found out it was sci-fi themed – that really made it a dream collaboration for me!
DAVE: Hannah was pretty busy at that ELCAF, as that's where we first started talking about AHP working with CBSP as well! We were already big fans of the anthologies CBSP had put out, and whilst the exact details escape me, I think I asked Hannah about what they were planning next. I was sold at Deep Space Canine, but when she started listing off the creators she'd already enlisted, I pretty much volunteered anything we could do to help, which soon became publishing it. Hopefully we'll get the opportunity to work on more projects together in the future, it was such a great fit.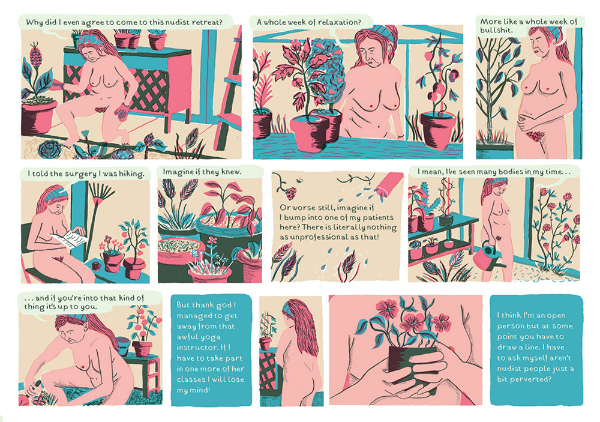 Interiors from Ellice Weaver's Something City – a collection of interlinked stories about the very different communities that make up the titular locale
No doubt 2017 will go down as Ellice Weaver's breakout year with the publication of her acclaimed debut graphic novel Something City (above). Ellice was one of our 2016 'Six to Watch' creators and her growing confidence in her practice has been a joy to watch over the last couple of years. What first drew you to her work and how did the concept/process of Something City evolve as Ellice worked on it?
DAVE: I think the first work of Ellice's we came across was Collector Cabinet, which she self-published in 2015. Our table was opposite hers at BCZF that year, and I'd already seen it previewed on Broken Frontier. It was one of those rare occasions where both myself and Ricky bought a copy of the same comic, which is always a good sign, and we were both blown away by the combination of Ellice's beautifully evocative art and unique narrative voice.
RICKY: It's a tough thing to pull off having ten different stories and getting them to come together as a cohesive whole. Each part has to be dramatic and satisfying in itself, but not be too much that it takes you out of the overall pacing of the book. That coupled with Ellice's (literal) multi-layered drawing process meant there was a lot of work involved for her. She would send me each part separately and we'd work on that and gradually the book started coming together. I wasn't really aware of how everything was going to fit together until the end and at that point we got to flesh it out with fun things like the sport and news sections. I'm so pleased with how it's been received and that people have got what we were trying to do with it.
Pages from the dreamlike allegory of Charlo Frade's Goatherded
You published two North American creators last year as well with Charlo Frade's Goatherded and George Wylesol's Ghosts Etc. In their different ways both artists have a more abstract or representational approach to the page that underlines your very eclectic 2017 publishing line-up. How did you first discover their work?
DAVE: Online, most probably through Twitter. We're constantly keeping an eye on social media, seeing what people are making, and seeking out new creators whose work we've not seen before. The first half of Goatherded was already on Charlo's website, so we got in touch with him to see if he wanted to do anything with it, which quickly turned into developing the second part. He was in a different place with his art and the story he wanted to tell by the time we got in touch, so it was a pretty intense process of working with him until he was comfortable with the whole. We released Goatherded at TCAF, and were lucky enough to have Charlo join us in Toronto – for a shorter comic which is pretty different to a lot of the other books we'd published to that point, it's been incredibly well received.
The often abstract comics of George Wylesol in Ghosts Etc.
RICKY: I think we surprised people with those books as they're not the kind of things we have done in the past. I'm pretty sure we saw George's work on Twitter as well, possibly from It's Nice That, as he doesn't have an account himself. His style was so unique and interesting that I was immediately drawn to it and was really pleased to discover that he also had strong writing skills and interesting ideas. We signed him up and then next thing we knew he'd won an award in the US and people like the editor of Rough Trade magazine and bigger US publishers were talking about him.
The first longer-form work of UK small press stalwarts B. Mure and Alex Potts was also on your schedule last year. Both books clearly showcase the distinctive voices of the two artists involved. What has reaction been like to Ismyre and It's Cold in the River at Night?
KAT: I love both books but I think they're quite different as Ismyre has a real sweetness and warmth, whereas It's Cold in the River at Night is funny yet very bleak. I really enjoyed the We Should be Friends podcast discussion of Ismyre – they really look at comics in a lot of depth and they loved everything about the book (and nothing makes you happier as a publisher than connecting your books with readers who really respond!). I'm personally very partial to stories with complex/unsympathetic characters, and I think It's Cold in the River at Night has appealed to readers like me who enjoy delving into the psychology and behaviour of characters who are struggling and failing.
Magic and mystery combine in B. Mure's very touching tale Ismyre
DAVE: We released Ismyre at BCZF in October, and the reception was pretty overwhelming. B. lived in Bristol for quite a while, but I don't think we were quite prepared for it – people were queueing to buy it before we finished setting up! There's been a wonderful reaction to the book in the US as well – Kat mentioned the episode of We Should Be Friends which was dedicated to the book and B.'s wider work – to hear creators we love like Carolyn Nowak and Carta Monir wax lyrical about a book we'd been able to help bring to life was pretty special.
RICKY: As both of those books came out at the end of last year, we're still at the beginning of the process of getting them out there and so they both feel very current. People are discovering these books all of the time and I think they're going to be ones that people keep talking about for some time to come. B is a creator I've been following for as long as I've been involved in publishing and Alex was one of the first creators who we published, so they're proper Avery Hill family.
It's Cold in the River at Night, the first longer-form book from Alex Potts, is a bleak psychological journey of self-non-discovery for its protagonist Carl
Ex-Gosh! Comics favourite Steve Walsh was announced as joining the AHP set-up last October. What does Steve's role as Head of Sales entail?
STEVE: My main aim is to find new shops and spaces to sell our books and then create and maintain relationships with people in those places so they get as much information as possible about our books and creators. I'm also reaching out to shops who already sell our stuff to give them someone to talk to if they have any questions about our work.
RICKY: Steve has long been one of our favourite people in comics and was our biggest customer when he was the buyer at Gosh! (those two things might be related…). His knowledge and enthusiasm for selling and promoting comics and also for broadcasting, were skill sets that we needed more of and when we found out he was leaving Gosh! we decided to see if he'd be interested. It's great that someone who has been championing us from the sidelines for so long can join the team and help us improve.
Of course AHP's very own Katriona Chapman's first graphic novel Follow Me In (above) is released next year. From the gorgeous colour sample pages we've seen in previews this looks to be some of her very best work to date. What are the different levels on which this multi-layered piece of autobiography works?
RICKY: The first thing to say is that this book is epic. It's about a trip that Kat made around Mexico with her then boyfriend about ten years ago. It covers a period in her life where she's rediscovering a passion for drawing and when she began to realise boyfriend has an alcohol problem that isn't going away. More than that though, it's about her love for Mexico and the links that she established there that have lasted to this day. There are factual pieces about the history and culture of the various places that she visited and also pages from her original sketchbook that she took with her. It's a big and complicated book to try to control, so we've spent a lot of time thinking about the structure and layout and moving pages and sections around. I think it's going to blow people away and I doubt there'll be a better looking book out from anyone this year.
One of your first releases of 2018 is Luke Healy's Permanent Press (above). There are some very meta motifs being explored in this one aren't there?
DAVE: When Luke first outlined what he wanted to do with Permanent Press, I couldn't stop grinning. Part of our approach to working with creators is to give them as free a rein as we can, and we're delighted when they really grasp that – which I think it's fair to say Luke has done in this case! Without getting too deeply into it, the main protagonist is a comics creator called Luke Healy, who is obsessed with making an award-winning comic – and it features two comics that Luke previously created in real life, which fictitious Luke makes in the book – so there's a lot going on! It's also incredibly funny, which might not be a facet of Luke's work that people are familiar with. It's an award winner for sure…
Talking of awards, British Comic Award winner Tim Bird is back after a couple of years with The Great North Wood (above), another of his psychogeographical offerings. Tim's work is astonishing in that he plays with time and memory to such a resonant degree to pull the reader into a largely protagonist-free narrative. What are the prominent themes he's exploring in this upcoming one-shot?
DAVE: Tim's work just gets better and better and better, and he's doing it again with The Great North Wood. It's his longest work to date by quite some distance, and it's totally paying off. He's really settled into a groove with his art, which sits somewhere between his award-winning From the City to the Sea and his last comic Our Town, and he's working with a beautiful colour palette. But it's the extra narrative space he's got available to him which he's really exploiting – as well as the beautiful, poetic voice that he's known for, gently transporting the reader across centuries in the space of a couple of sentences, he's branching out to touch on folk tales, personal experience, and more – and he's taking the opportunity to take a deeper, more nuanced look at the footprint history can leave on a place. South London has rarely looked as beautiful, and been treated with such care.
No doubt your collection of Tillie Walden's universally lauded On a Sunbeam will be one of AHP's highest profile books of 2018. As a publisher with a stock-in-trade of bringing exciting new talents to a wider audience how has it felt seeing Tillie's meteoric rise since you published her debut book The End of Summer in 2015?
KAT: For me it's been not only very exciting and gratifying to watch but also inspiring. She's such a hard worker, seeing how she approaches her work always inspires me to 'channel my inner Tillie' when I have a lot to get done!
RICKY: I think it's roughly about the third anniversary of when we started working on The End of Summer and a lot has happened since then. I will always consider the time that I spent editing those first few books that we made with Tillie as a great privilege. It's very rare that you get to be there at the very start of something so special. I'd say it's still too early to tell what Tillie is going to do, it feels pretty linear at the moment through our books, then Spinning and On a Sunbeam. I think what she does after this is where it's going to get interesting and if all goes as expected then we'll continue see her breaking through to new audiences and areas of the media.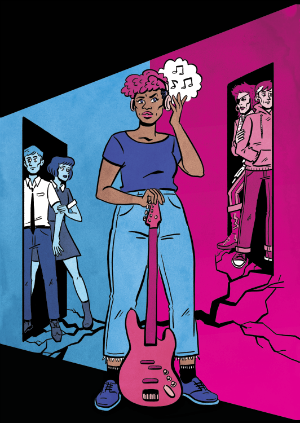 This year also sees time-travelling music drama Metroland making an eagerly awaited return to the shelves. What have you got in store for the cast in the fourth issue? And can you describe artist Julia Scheele's contribution over the course of the series in defining its distinctive world?
DAVE: I honestly don't know. Ricky made me sign an NDA, and he still hasn't told me anything about it.
RICKY: No one is more eager for this to be out than me! I decided that as we took so long on this one we should make it a double-sized final issue. Which obviously just made the whole process even longer. It wraps up the first arc (I think there will be 3 in total), which is the story of the band 'Electric Dreams' and reveals some secrets about Jessica Hill, Ricky Stardust and how the world is going to end. There are some scenes in this one that I've had in my head for about 4 years, so I'm very pleased to finally get them out there. Julia is a fantastic artist who has got better and better with each issue. Her pages for this one are beautiful. She's responsible for how everyone looks, what they wear, what posters they have on their walls, what their bedrooms look like…she's basically the cool one who I rely on to keep me up to date as otherwise the whole thing would probably be about music from fifteen years ago.
Seekan Hui may be a newer name to some readers. What can you tell us about the premise of A Projection coming next summer?
RICKY: This one is still in the very early stages, so pretty much the only thing I can tell you is that it's a meditation on memories; making them, preserving them and keeping them secret. Also that it's going to be wonderful. We first discovered Seekan's work through a book that she did for Zainab Akhtar's Shortbox label and decided that she's be a perfect fit for us too. Her work is funny, edgy, contemporary and sweet. Plus she's super nice, which always helps. I recommend people pick up a copy of Fish Flake from her store immediately!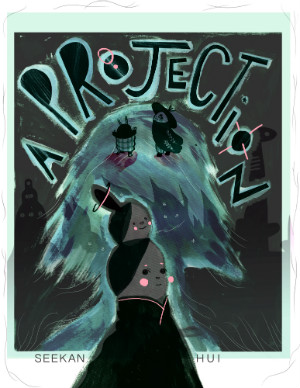 And, finally, what shows and events can we expect to see you at over the course of the next twelve months?
KAT: There's still a few shows to be confirmed, but we'll be at the Dublin Comic Arts Festival in April and Thought Bubble in September, and hopefully ELCAF and Glasgow Comic Con in June.
DAVE: We're desperate to get back to Bristol Comic & Zine Fair in October (so we can launch a very special sequel that we haven't told anyone about yet), and hopefully we'll be in Edinburgh in December as well.
RICKY: Also at least one US show, although I'm not sure which one yet. Having SPX and Thought Bubble on back-to-back weekends was a bit of a killer last year, but we'd love to do that again if we can make it work. But also another one, hopefully in New York, Boston or LA (yes, this is a 'come and get us' plea)! We'll be using events to launch books a lot more this year and are trying to build a lot more things for our creators to do into our schedule. So there will be book launches, panels, talks, signings, exhibitions and all other sorts of things going on around them. We've got two other new books out this year as well that we're planning on announcing imminently, so look out for them debuting at a show near you soon!
For more on Avery Hill check out their website here and their online store here. You can follow them on Twitter here.
There's a full preview of their announced 2018 books here at Broken Frontier. 
For regular updates on all things small press follow Andy Oliver on Twitter here.