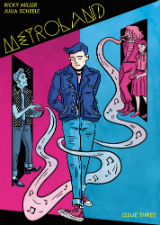 In 'Covers Album' each Wednesday we ask comics creators, publishers and commentators to pick three of their favourite comic covers …but with a small twist. One must be chosen for aesthetic reasons, one for inspirational reasons and one for pure nostalgia!
Today's guest is Ricky Miller, co-publisher of the esteemed Avery Hill Publishing who have brought us award-winning and award-nominated books from such notable names as Tillie Walden (I Love this Part), Tim Bird (Grey Area), Gillian Hatcher (The Beginner's Guide to Being Outside), Matthew Swan (Parsley Girl) and Broken Frontier's very own EdieOP (Maleficium). Their next book is Something City by BF 'Six to Watch' artist Ellice Weaver.
Ricky is also the writer of Avery Hill's time-travelling/music series Metroland, illustrated by Julia Scheele. You can read an extensive 'Inside Look' on Metroland complete with art and script breakdowns here at Broken Frontier.
Aesthetic Choice: The Knights of Pendragon #6 (1990) by Simon Bisley (Marvel UK)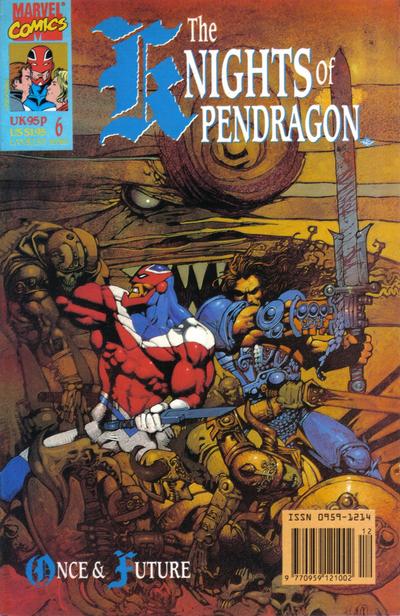 This could well have won out in any of these categories, but I decided to put it in as "Aesthetic Choice" just so I could talk about how absolutely beautiful it is. The colours, the composition, the action… all perfect. Aside from Alan Davis's work on the character, Captain Britain has never looked better. No one draws grim-faced muscly men with swords better than Simon Bisley. Also axes. He's the master of the axe. If I could have the original art to any cover ever, then it would be this. Finally, if you haven't ever read the first UK run of The Knights of Pendragon then get to it, it's really quite brilliant; Arthurian legend meets environmentalism meets Captain Britain supporting cast.
Inspirational Choice: Love & Rockets #24 (1987) by Jaime Hernandez (Fantagraphics Books)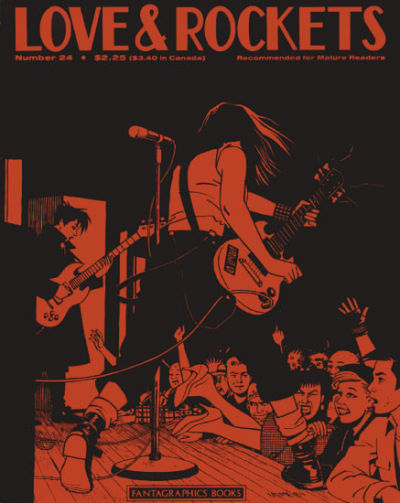 This is inspirational to me for many reasons. Firstly, from my point of view as a publisher of indie comics, is the fact that it's from an indie, creator-owned series that has survived and triumphed and gone down in history. The tone and aesthetic is very like what I want Avery Hill books to be. Secondly, from my point of view as the writer of Metroland, there's never been a better bringing together of art and music than this cover. I feel like I've been to that gig and seen that band. I was probably drunk and standing by the bar, but I was there. I wish that band existed. But in many ways it does exist in the spirit of hundreds of bands that were knowingly and unknowingly inspired by this image, the things it influenced and the things it was influenced by.
Nostalgic Choice: The Transformers #100 (1987) By Alan Davis (Marvel UK)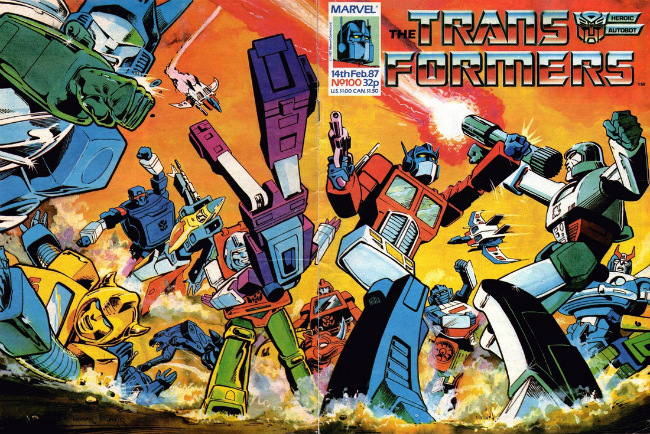 As a kid, Marvel UK's Transformers series introduced me to the world of comics. I joined the Transformers UK fan club and started writing and drawing my own strip for their comic, so it's had a massive influence on what I do today. I should really have chosen a Geoff Senior cover as he epitomizes TFUK for me (particularly #117, check it out), but this one is by the legendary Alan Davis and there's a lovely story attached to it so I'm choosing this one.
I've told it before but I'll tell it again. On doing some research I found out he had drawn it with his son Thomas, who was six at the time and a Transformers fan. Thomas suggested Alan couldn't be that good a comic artist since he didn't draw the Transformers. So, desperate to gain his son's approval, he phoned the editor and asked if he could do a cover. Alan worked out a rough composition and Thomas told him which characters to place where and ensured that the details were right. Actually, I take it back, if I could have the original art to any cover it would be THIS one.
You can buy Avery Hill Publishing's books here and follow them on Twitter here. The first three issues of Metroland are available to buy here as a bargain bundle and you can follow the series here on Twitter.