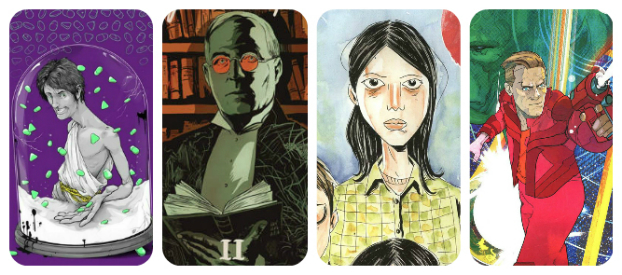 It's Wednesday, and you know what that means: a fresh load of comics and graphic novels! With so many publications hitting your local comics store, comics events or digital storefront, the BF team are here to lead you through the woods with our weekly staff picks. Satisfaction guaranteed!
Comic of the Week
Ghost Stories of an Antiquary Volume 2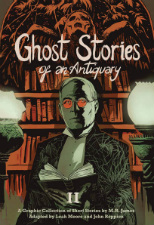 Any doubts fans of the seminal British ghost story writer M.R. James had about the translation of his sometimes oblique supernatural stories to the comics form were quickly dismissed last year when Leah Moore and John Reppion (alongside artists Aneke, Kit Buss, Fouad Mezher and Alisdair Wood) brought his tales to a whole new audience with such a terrifying flourish in the first volume of this SelfMadeHero adaptation series (reviewed here at Broken Frontier).
While James's tales are usually associated with a Christmas tradition they seem just as appropriate for a Halloween reading. This time around the Moore/Reppion team are joined by artists Al Davison, Abigail Larson, George Kambadais and Meghan Hetrick for four more spine-tinglers that include one of his most famous chillers 'Oh, Whistle, and I'll Come to You, My Lad'.
Leah Moore & John Reppion (W) Al Davison, Abigail Larson, George Kambadais and Meghan Hetrick (A) • SelfMadeHero, £9.99
– Andy Oliver
Time & Vine #4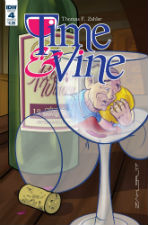 Comics creator Thom Zahler can tell a story featuring well-developed characters and believable settings that will make you laugh, cry, and beg for more pages. Don't believe me? Check out the trades for Love & Capes and Long Distance. Zahler's latest series from IDW is Time & Vine, the story of a very special winery and the family that owns it. In a magical twist, the wine drinker can travel back in time to the year the vintage was bottled.
Trips through time take their toll, however, and Megan barely survived the American Civil War in her pursuit of her mysterious aunt last issue. With the series conclusion in issue #4, Megan will finally ask winery owner Jack to take the one trip that he doesn't want to make. I'm pretty sure that as Zahler provides the solution to the mystery, he's also going to break my heart just a little.
My advice: Issues #1-3 are probably still available and you should pick them up now. Then settle in and enjoy your binge reading before #4 arrives. You'll be glad you did.
Thom Zahler (W/A) • IDW Publishing, $4.99
– Karen O'Brien
Ismyre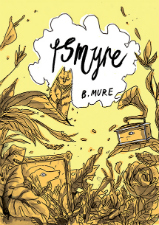 B. Mure's fantasy mystery is the latest offering from Avery Hill Publishing who continue to amaze us with a seemingly neverending run of savvy publishing decisions.
Sculptor Edward Goodwill struggling with a commission from the government alongside the haunting singing coming from a neighbouring home and the strange occasional disappearances of pieces of his work. Added to this mix are vanishing locals, eco anarchists and the enigmatic magic-using Faustine…
With a truly lush use of colour and central plotlines that converge from unexpected directions this is a spellbinding reflection on loneliness and self-doubt. I described Ismyre here at BF as "undoubtedly the breakout work of a small press creator who has long been due far greater recognition" when I reviewed it last week. This one is currently only available exclusively online from the Avery Hill shop here.
B. Mure (W/A) • Avery Hill Publishing, £8.99
– Andy Oliver
Atomahawk #0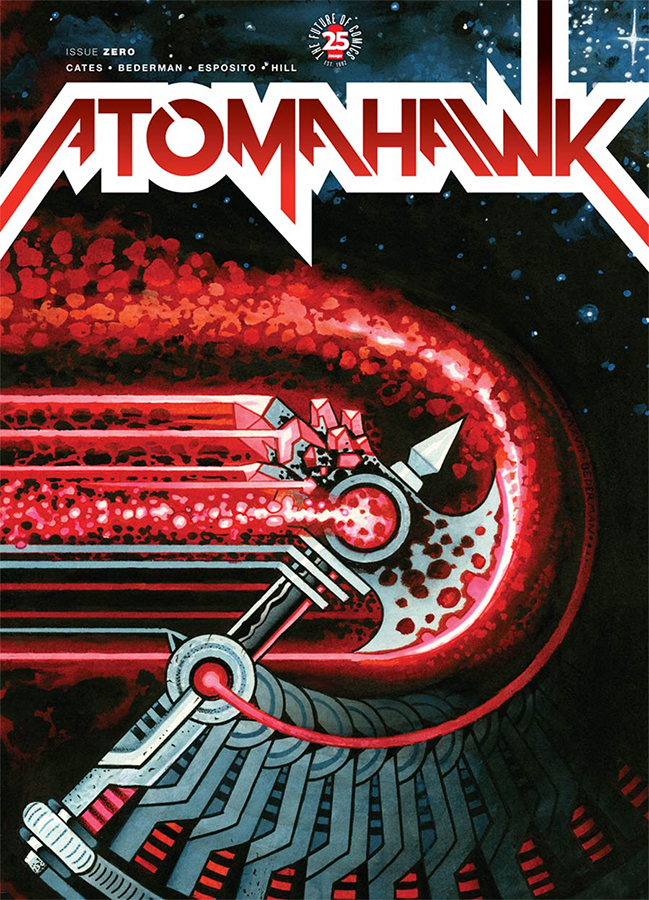 If the concept for this comic sounds like it was dreamed up in a tattoo parlor, it's because it was. Rising star Donny Cates (Godland, Redneck, Baby Teeth) teams up with his tattoo artist, Ian Bederman, to tell the tale of a robotic barbarian named Cyberzerker who wield the crystal-powered Atomahawk on a quest to free his imprisoned God by battling through the kingdom of metal knights.
This oversized zero issue collected the complete story originally serialized in Heavy Metal Magazine (see if you can spot the four heavy metal album homages the artist snuck in there), with new stories beginning in Image+ #2, on sale later this month.
Donny Cates (W), Ian Bederman (A), Taylor Esposito (L) • Image Comics, $5.99
– Tyler Chin-Tanner
One Year Wiser: An Illustrated Guide to Mindfulness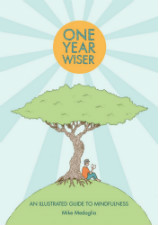 Since he first featured on the site as the guiding force behind the Wu Wei anthology of spiritual comics  we've been huge fans of the ever thoughtful, ever enlightening work of Mike Medaglia. From Seasons at Avery Hill to his One Year Wiser series at SelfMadeHero Medaglia's work speaks to us with its fundamental truths and wise reflections on the human condition.
His latest book One Year Wiser: An Illustrated Guide to Mindfulness explores the concept of mindfulness and the positive benefits it can reap. Take another journey of self-discovery with this latest Medaglia offering this week.
Mike Medaglia (W/A) • SelfMadeHero, £12.99
– Andy Oliver
Lazaretto #2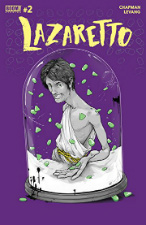 The first issue of this series – featuring the art of Broken Frontier 2016 'Six Small Press Creators to Watch' star Jey Levang – was a stomach-churning body horror hit last month. Written by Clay McLeod Chapman it tells the tale of a small number of students caught up in a viral outbreak on their university campus.
Last month we met up with protagonists Charles and Tamara as the contagion began in Chapman's tensely paced thriller. With Levang's wicked imagination promising more shock, gore, effluvia and horror this is a series that bears serious watching.
Clay McLeod Chapman (W), Jey Levang (A), Aditya Bidikar (L), Ignacio Valicenti (CA) • BOOM! Studios, $3.99
– Andy Oliver
Dan Dare #1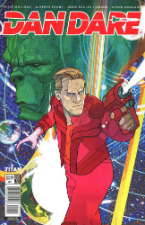 When it comes to UK comics we're all on a bit of a retro trip at the moment. Rebellion's acquisition of so many IPC properties and their new Treasury of British Comics series has been a great thrill for the nostalgists and let's not forget that Titan have also been putting their own spin on some golden oldies over the last couple of years.
This week it's the turn of that quintessentially British hero Dan Dare to return to the spotlight at Titan. In this new run the universe is on the brink of a utopian peace and the titular pilot of the future is bored senseless as a result! But that galactic accord is about to be shattered when all of reality is threatened by a menace on a truly epic scale. Peter Milligan and Alberto Fouche collaborate on Dan's latest stellar adventures with a cover by artist-of-the-moment Christian Ward!
Peter Milligan (W), Alberto Fouche (A) • Titan Comics, $3.99
– Andy Oliver
Royal City #6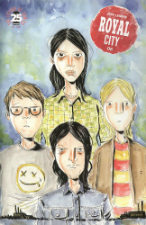 As we have now said ad infinitum (or possibly ad nauseum) Jeff Lemire's Royal City series from Image Comics is not just one of the best new serial comics of the year it's also some of the very best work we've ever seen from one of the modern masters of graphic storytelling.
With Royal City #6 a new story arc begins as the story of the Pike family shifts back in time to 1993 and we begin to discover just what did happen in the last week of Tommy Pike's life. You can read a full review of the first issue of the series here at Broken Frontier and don't forget that the trade of the first five issues is out for those wanting to catch up.
Jeff Lemire (W/A) • Image Comics, $3.99
– Andy Oliver